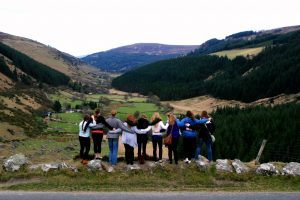 Students study abroad for many different reasons. For those who are passionate about social justice, Augsburg's Center for Global Education and Experience (CGEE) has long offered unparalleled engagement with local communities in Mexico, Central America, and Southern Africa. 
Now that portfolio includes a fourth global site in Northern Ireland. 
In Spring 2023, CGEE will welcome its first cohort of students to a new semester program in the vibrant city of Derry–Londonderry. Based at Ulster University, the Conflict, Peace, and Transition program will critically examine the work of justice, reconciliation, and repair in relation to the history and legacy of the Troubles. 
"This program will give students a unique opportunity to wrestle with the question of building a shared future from a divided past and to witness the hard work of reconciliation after conflict," said Patrick Mulvihill, assistant provost for global education. Coursework will focus on understanding the politics of the Northern Ireland conflict and the transition to a sustainable democracy. Students will also participate in internships at local peacebuilding organizations and engage in field visits to Belfast, the Antrim Coast, and the border counties of Fermanagh, Tyrone, and Armagh.
Augsburg CGEE programs are open to students from any undergraduate institution. Prior to its transition to CGEE, the Conflict, Peace, and Transition in Northern Ireland program—formerly known as Democracy and Social Change in Northern Ireland–was delivered through the Higher Education Consortium for Urban Affairs (HECUA), with the first group of students participating in 2002.
"After the disruptions to study abroad over the past two years, we're thrilled to be in a position now to expand our offerings," said Mulvihill. "We're particularly grateful to our program partners in Northern Ireland, whose commitment to experiential learning reinforces everything we're about here at Augsburg." 
To learn more, request information, or apply for the spring semester, visit go.augsburg.edu/northernireland.