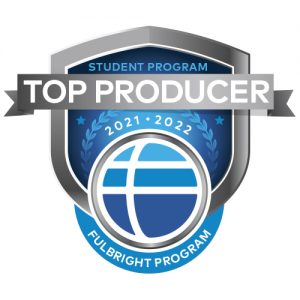 Augsburg University has been named a top producer of Fulbright students among U.S master's institutions for 2021-22. Each year the U.S. Department of State's Bureau of Educational and Cultural Affairs announced the top producing institutions for the Fulbright Program, the U.S. government's flagship international educational exchange program. The Chronicle of Higher Education publishes the lists of top producers of Fulbright U.S. scholars and students annually. With three awards this year, Augsburg ranks among the top 10 master's institutions in the United States for Fulbright students.

The three Augsburg students who received 2021-22 Fulbright Awards to teach English abroad are Shamsa Ahmed '21 (South Korea), Citlali Escobar '21 (Taiwan), and Ciashia Shiongyaj '21 (Taiwan).
The Fulbright competition is administered at Augsburg through the Office of Undergraduate Research and Graduate Opportunity.
About the Fulbright Program
For over 75 years, the Fulbright Program has provided more than 400,000 participants-chosen for their academic merit and leadership potential-with the opportunity to exchange ideas and contribute to finding solutions to challenges facing our communities and our world. Over 1,900 diverse U.S. students, artists,and early career professionals in more than 100 different fields of study receive Fulbright U.S. Student Program grants annually to study, teach English, and conduct research overseas. For more information, visit eca.state.gov/fulbright.
About Augsburg
Augsburg University offers more than 50 undergraduate majors and 11 graduate degrees to approximately 3,200 students of diverse backgrounds at its campus in the vibrant center of the Twin Cities and nearby Rochester, Minnesota, location. Augsburg educates students to be informed citizens, thoughtful stewards, critical thinkers, and responsible leaders. An Augsburg education is defined by excellence in the liberal arts and professional studies, guided by the faith and values of the Lutheran church, and shaped by its urban and global settings.