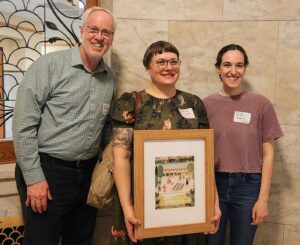 Last week, the City of Minneapolis honored the Sabo Center for Democracy and Citizenship with a Local Public Health HeroAward in the category of Healthy Living and Healthy Food Systems. Project Manager Jenean Gilmer, Food Initiatives Program Manager Natalie Jacobson, and Director of Community Relations Steve Peacock were specifically recognized for their efforts. Paula Guinn and Sieglinde Thetard from The People's Center nominated the Sabo Center for their food access work in the Cedar-Riverside neighborhood. They wrote:  
"Augsburg University's Sabo Center for Democracy and Citizenship works to build community connections and engagement in pursuit of more equitable systems and resources in the Cedar-Riverside neighborhood. The Center plays a major role in food access and systems work through the Cedar-Riverside Food Initiative group, which draws representatives from healthcare organizations, community-service centers, higher education institutions, and local non-profits. They have shown great leadership in their dedication to continuing food access work as a collective, which is exemplified by their commitment to uplifting diverse community voices to shape and direct food initiatives. 
"The Center has been instrumental in connecting neighborhood organizations and community members with fresh produce and healthy shelf-stable items. For example, the team works with Health Commons, a healthcare collective, to distribute thousands of pounds of free fresh produce to community members in and around Riverside Plaza. The Center has also made a significant impact in building sustainable food-distribution models that incorporate grassroots organizations into existing food distribution frameworks and community programming. With so many long-term partnerships, The Sabo Center has a broad range of organizations and community members engaged in adapting existing and future programming to healthy living and healthy food system goals."
Learn more about Augsburg's Sabo Center for Democracy and Citizenship and how you can get involved.