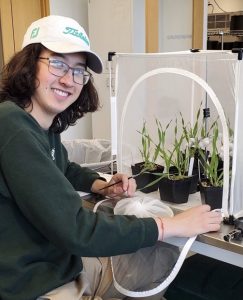 Augsburg University biology major Justin Holewa '23 has received a $25,000 Boren Scholarship to study Korean in South Korea for a full year.
Boren Scholars study a wide range of critical languages, come from diverse fields of study, and immerse themselves in the language and cultures of selected world regions through study abroad. Scholarship recipients make a commitment to work in the U.S. federal government for a minimum of one year. Having recently completed a summer of research under the mentorship of Dr. Leon van Eck, Holewa envisions working for the U.S. Department of Agriculture, including on a plant disease called citrus greening.
An initiative of the U.S. Defense Language and National Security Education Office, the Boren awards focus on geographic areas, languages, and fields of study critical to U.S. national security that are not emphasized in other U.S. study abroad programs. Applicants are selected through a national merit-based competition that emphasizes both academic achievement and a strong commitment to public service.