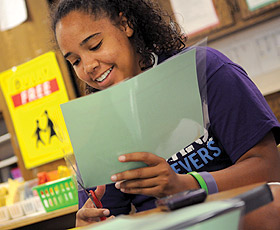 At the Minnesota High Tech Foundation awards ceremony held earlier this month, mathematics and physics major Jazmine Darden '13 [left] was one of eight Minnesota undergraduate students to receive a Tekne Scholarship. The scholarships are awarded to students seeking careers in the STEM (science, technology, engineering, and mathematics) fields or in STEM teaching.
At the ceremony, Darden was able to network with representatives of many of Minnesota's leading technology companies and make connections for future internship and career opportunities. "It was like the Academy Awards of the technology industry in Minnesota," she said. "Everyone was there."
Darden said she was especially interested in meeting the women working in the industry. "You hear that the science fields are looking for minorities and females," she said. "I don't see that issue much here because Augsburg is very diverse, but at the awards, I didn't see anyone who looks like me. That was my first time seeing how it really is, and that's motivating me."
Darden, a McNair, Phillips, and North Star STEM scholar, plans to attend graduate school in mechanical engineering. She said her dream job would be to build a roller coaster.
Watch a video about Jazmine Darden and the other scholarship recipients.