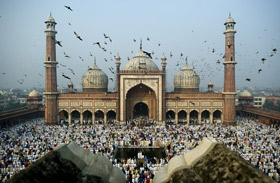 This Friday, the Augsburg Muslim Student Association will celebrate Eid-al-Adha, or the "Festival of Sacrifice," with a dinner and program. The Augsburg community is invited to attend to learn about this important festival and to celebrate with Augsburg Muslim students.
Eid-al-Adha is an important religious holiday celebrated by Muslims worldwide to commemorate the willingness of Abraham (Ibrahim) to sacrifice his son Ishmael (Isma'il) as an act of obedience to God.
Eid al-Adha is celebrated annually on the tenth day of the twelfth and the last Islamic month of the lunar Islamic calendar. Eid al-Adha celebrations start after the Hajj, the annual pilgrimage to Mecca by Muslims worldwide. This year Eid al-Adha began at sunset on November 6 and ended at sunset on November 7.
Shakur Ali '12, a member of the Muslim Student Association, hopes that Augsburg students, faculty, and staff will attend the Eid celebration. "It's a chance to raise awareness about Muslim students and the celebration but also a chance to come together, relax, share a meal, and learn about another tradition," Ali said.
At the celebration, Mohamed Sallam, director of Pan-Afrikan Student Services, will speak about the importance of the Eid and share his childhood stories about the holiday. Students will also present a documentary they created featuring Augsburg students talking about their own experiences with the festival and traditions. Food will be served from the Falafel King.
The Eid-al-Adha feast will be held Friday, Nov. 11 from 7:30-9 p.m. in the East Commons, Christensen Center. RSVP by email to hire@augsburg.edu or text/call 612-598-6258.
Image AFP/ Getty Images / Pedro Ugarte