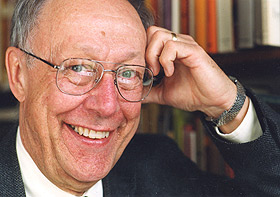 Wondering how a college with Lutheran roots can be great place for people of diverse beliefs to cooperate in the learning enterprise? This year's Founder's Day theme, "Brother Martin Goes to School: Luther and the Modern University," will be sure to enlighten.
Wednesday, November 9, 7:00 p.m.
"Theology of the Cross and Higher Education"
Thursday, November 10, 10:00 a.m.
"Martin Luther and Interfaith Connections on Campus"
Note: Thursday is not a "convocation schedule" day; the second lecture takes place during second hour classes.
Our speaker is Darrell Jodock, Gustavus Adolphus College. He helped found the Institute for Jewish-Christian Understanding (Muhlenberg, PA) and is a recognized expert in inter-faith connection, conversation, and cooperation on college campuses.
The Augsburg College Founders Day Reformation Lectures are sponsored by the Office of the President. According to Paul Pribbenow, "The Founders Day Reformation Lecture, now in its sixth year, connects Augsburg's history and heritage to the founding of the Lutheran Church and helps us link Luther's theology to issues we face in living our mission and vision as a college. As we move closer to the 500th anniversary celebration of the Reformation in 2017, these lectures help us build a strong Augsburg tradition around the 95 Theses and the issues of the Reformation that inform our vocational education today."