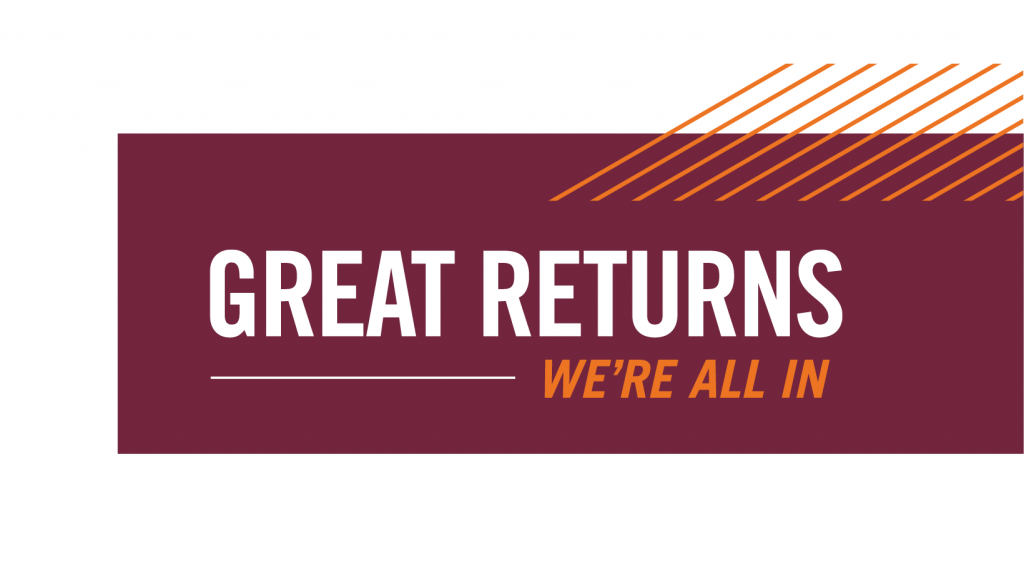 Augsburg University leaders today announced the public phase of Great Returns: We're All In, a comprehensive campaign to raise $125 million in endowment and core mission support. With commitments of more than $105 million received to date, it is already the university's largest-ever campaign. A public launch event will take place on Friday, May 6, at 4:30 p.m. at the Hagfors Center for Science, Business, and Religion on Augsburg's campus.
Rooted in Augsburg's current strategic plan and following Augsburg's sesquicentennial celebration in 2019, Great Returns seeks to provide long-term stability as the university looks ahead to the next 150 years. Specific campaign priorities include growing Augsburg's endowment, including endowed scholarships and professorships; drawing on unrestricted community support for operating activities and athletics in the wake of the pandemic; and investing in campus improvements like the renovation to the athletic training center and locker rooms in Si Melby Hall.
"Donors who care deeply about our mission have made the initial commitments that set the pace for the broader campaign," said campaign co-chair and Regent Emeritus Paul Mueller '84, MD. "Through endowed funds, we can invest in students and faculty and produce great returns for many generations to come. A gift to an Augsburg endowed fund for scholarships can help ensure that an Augsburg education is affordable in perpetuity." 
In recent years, Augsburg has become one of the most diverse private institutions in the Midwest. Fifty-eight percent of traditional undergraduate students are students of color, and half are the first in their families to attend college. More than 97% of Augsburg undergraduates receive financial aid. Great Returns donors have made 111 gifts to endowed scholarships to date, out of a campaign goal of 150 such gifts, along with five new endowed professorships.   
"Our vision is to be a new kind of urban, student-centered university," said Augsburg President Paul C. Pribbenow. "The hardships of the past few years, and the challenges facing higher education as a result, make our work to educate students as stewards of an inclusive democracy all the more critical. We are profoundly grateful to the supporters who invest in making this vision a reality."
About Augsburg
Augsburg University offers more than 50 undergraduate majors and 11 graduate degrees to approximately 3,200 students of diverse backgrounds at its campus in the vibrant center of the Twin Cities and nearby Rochester, Minnesota, location. Augsburg educates students to be informed citizens, thoughtful stewards, critical thinkers, and responsible leaders. An Augsburg education is defined by excellence in the liberal arts and professional studies, guided by the faith and values of the Lutheran church, and shaped by its urban and global settings.