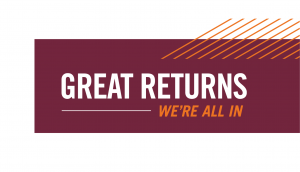 Today Augsburg University announced the close of its Great Returns: We're All In comprehensive fundraising campaign. The largest campaign in Augsburg's history, Great Returns raised over $128.8 million, surpassing the campaign goal of $125 million.
"I have had the privilege of meeting many Auggies during my time as chair of this campaign and it's evident how much people love Augsburg," said Regent Emeritus and campaign chair Paul Mueller '84, MD. "The investments made by Great Returns benefactors will yield transformational results for Augbsurg students and faculty for generations to come."
Nearly 15,000 alumni and friends of the university made more than 55,000 gifts over the course of the campaign. Campaign priorities included endowed funds for scholarships, teaching and programs; campus improvements; athletics; and unrestricted operating support to provide flexibility in responding to students' needs in an ever-evolving higher education landscape.
Campaign highlights include:
Creation of the John N. Schwartz '67 School of the Arts, an interdisciplinary hub for the visual and performing arts
More than 150 gifts of $25,000 and above to endowed scholarships
Six new endowed professorships and chairs in music, interfaith studies, business, entrepreneurial studies, and sociology
Improvements to athletics facilities, including the Donny Wichmann '89 Weight Room and Patricia Piepenburg '69 Women's Locker Room
Gifts totaling over $10 million to endow the StepUP® collegiate recovery program
$6.1 million raised to support diversity, equity and inclusion initiatives
$1.6 million raised for the President's Strategic Fund
"We are humbled and grateful for the extraordinary show of support for Augsburg's mission and vision from the thousands of alumni and friends who participated in the campaign," said Augsburg President Paul C. Pribbenow. "These investments will transform the lives of our students, who go on to lead and serve in their communities and throughout the world. From all of us at Augsburg: thank you."