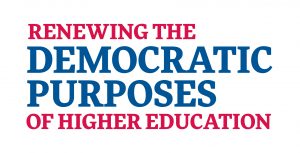 "Democracy and higher education are inextricably linked in the United States." This is the central claim of a February 2019 essay, "Renewing the Democratic Purposes of Higher Education," published by the Association of Governing Boards. The lead author of the essay is Augsburg University President Paul C. Pribbenow, with editorial assistance from Green Bouzard, administrative program coordinator in Augsburg's Sabo Center for Democracy and Citizenship.
The publication is part of AGB's Guardians Initiative, focused on reclaiming the public trust in higher education. To address emergent challenges to democracy—including political polarization, the devaluation of evidence and truth, and deficient levels of civic engagement—higher education leaders must understand democracy as a way of life rather than as isolated volunteerism or participation in elections, the article argues.
"A healthy democracy requires engaged citizens, and engaged citizens require preparation and practice," the essay states. So, while education may be aimed at preparation for careers and professions, the essay affirms that it also must, at the same time, be preparatory for citizenship.
The essay discusses the economic, social, and civic impacts of colleges and universities—cultivating engaged citizens, serving as community partners, and connecting work with public purpose and community-building in our nation.
In April, Pribbenow will lead a session on this topic at AGB's National Conference on Trusteeship, and in July will lead a session with a select group of university presidents and trustees at a Kettering Foundation event.