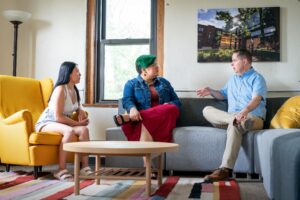 Professor Tim Pippert and Madelyne Yang '26 were recently interviewed by The Imprint about Augsburg Family Scholars, a program to narrow the opportunity gap for students with foster care backgrounds.
Augsburg Family Scholars builds on Minnesota's Fostering Independence Higher Education Grant. This "last dollar" program provides state funding to cover tuition, fees, room and board and other expenses related to the cost of attending college. Pippert told The Imprint that the state grants are "a game changer," but aren't enough on their own. 
To bridge the gap, Augsburg Family Scholars supplements the state grant with comprehensive academic and community support. Last year, a dozen Augsburg students participated in the program, which provides help moving to campus, laptops, access to year-round housing, a dedicated lounge space on campus, community outings, and more. Pippert, the Joel Torstenson endowed professor of sociology, directs the program and serves as an advisor to the participants, helping them strategize how to navigate the demands of higher education. 
"If you've made it to college, you've overcome so many hurdles already," he said. "If you've made it this far, it's our responsibility to help students finish the job and get a degree."
Read the full story from The Imprint or learn more about Augsburg Family Scholars.