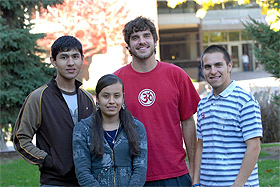 Three current Augsburg students and a recent graduate have received 2008 Vincent L. Hawkinson Foundation scholarships in recognition of their involvement in peace and justice activities.
Selected annually by the Minneapolis-based Foundation, the scholarships are aimed at furthering the commitment to peace and justice of the late Rev. Vincent L. Hawkinson, who served as pastor of Grace University Lutheran Church in Minneapolis for 30 years. The scholarship program has awarded more than $100,000 to 87 students since 1988, and 20 students are receiving the 2008 scholarship awards.
The Augsburg scholarship recipients are (l to r) Ulises Ayala-Beltran, Maria Alvillar Hinojosa, Ryan Treptow, and Juventino Meza-Rodriguez.
Ulises Ayala-Beltrán '11, accounting major, French minor — He has been active in Project Navigate, aimed at increasing the number of immigrant students pursuing higher education in Minnesota. At Augsburg, Ulises is involved with the Spanish Club, Queer and Straight in Unity, and is a member of Allied Latino/a Augsburg Students (ALAS).
Maria Alvillar Hinojosa '12, biology major with a pre-med emphasis — In 2008, she graduated from Roosevelt High School in Minneapolis, where she was president and historian of the National Honor Society and took part in student council and yearbook club. At Augsburg she volunteers twice a week with the Augsburg Reads program.
Ryan Treptow '08, marketing and business administration major, specializing in international business — He served as a teaching assistant in China. While at Augsburg, he was active in the Augsburg model United Nations Committee, participated in the annual Nobel Peace Prize Forum, and tutored refugee students in local schools.
Juventino Meza-Rodriguez '11, sociology and justice and peace studies majors — At Augsburg he is active in student government, Diversity Committee, Allied Latina/os Augsburg Students (ALAS) and other organizations, and volunteers at a community center in the Pillsbury Neighborhood (Waite House). He is an intern with Project NAVIGATE to increase the number of immigrant students pursuing higher education and volunteers with organizations like Admission Possible, which helps promising low-income students obtain admission to college.
In addition to scholarships, the Foundation presents a lifetime achievement award to individuals who have made significant contributions to peace and justice. Receiving the 2008 honorary awards is Augsburg alumni Arvid "Bud" Dixen, '52, an ordained Lutheran pastor who marched for civil rights with Martin Luther King Jr., organized efforts to support farmers during the farm crisis and helped found the Nonviolent Peaceforce.
The honorary award and scholarship recipients will be recognized at the Foundation's annual program at 4 p.m., November 16, 2008, at Holy Trinity Lutheran Church, 2730 East 31st St, Minneapolis. The event is open to the public.