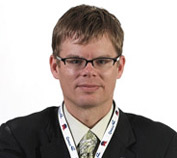 Eric Franzen makes his to-do list at about 5:30 a.m. each day and hopes to get through half of it. Josh Linde calls the past two months, "the most stressful and packed of my life."
The reason is simple: The two Augsburg College graduate students are trying to juggle class and campaigning.
Franzen is the Republican candidate for the Minnesota House of Representatives in District 60A, an area of Minneapolis that includes Loring Park and Uptown. Linde is running for a seat on the Apple Valley City Council.
With less than a week remaining, the two Augsburg students — who both acknowledge they are underdogs in their races — are looking forward to having schedules that aren't quite so packed.
"I didn't realize how much of a toll it would take," Linde said of the campaign and class combination. "I definitely learned that you have to have balance and that sleeping is important."
Taking on the Speaker
Franzen was approached in February about running for the House of Representatives. There was a catch: His district is a DFL stronghold and his opponent is Margaret Anderson Kelliher, a five-term representative and the current Speaker of the House.
"It's probably the most liberal district in the state," said Franzen, a student in the Master of Arts in Education program.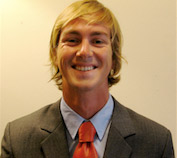 Part of Franzen's motivation in running was to ensure that the voters at least had a choice. In addition, his ability to raise $1,500 in $50 increments allowed his campaign to receive about $4,000 in state funds and kept that money from going to his opponent.
Franzen knew his odds were long when he accepted the nomination, but got a better taste of it when he talked to the Republican that ran in his district two years ago.
"I asked him, 'Did you ever have a debate?'," said Franzen, who joked that he has a mail stack that is several feet high. "And he said, 'They wouldn't even return our calls.' They're not really threatened."
If he is defeated, Franzen has to decide if he is going to run again in 2010 and spend the next two years building a base in the district and gaining name recognition. Before that happens, he does need to spend some time catching up on his coursework.
"School has suffered in some respect," Franzen said. "I've been putting out a lot of fires. Fortunately the semester doesn't end Nov. 4.
"When you're running for office, you don't have a personal life, you don't have a life. Weekends don't exist. There's always something more to do."
Continuing to serve
Linde's motivation to run stemmed from wanting to continue to serve the public in some way. That was missing after a seven-year stint in the National Guard.
After earning a Bachelor's degree in history from Augsburg, Linde was empowered to run for office. That's something that he doesn't think would have happened if he had graduated from another school.
The 26-year-old Linde hopes that voters in the southern suburb see him as an alternative and a fresh voice. Linde said that while the average Apple Valley resident is about 35, every current member of the city council is 55-years-old or older.
Linde's campaign strategy has to been to make connections with the families of soccer players he coaches. While taking graduate courses at Augsburg and running his campaign, he is coaching three 11-and-under club soccer teams and is the sophomore soccer coach at Eastview High School.
"I've asked them to go to their neighbors and and work their neighbors for me," Linde said.
Linde, who is working on his Master's degree while also getting a license to teach physical education, acknowledged he is fighting an uphill battle. His opponent, Sharon LaCombe, is a vice president at Dakota County Technical College and well known in the community.
"I'm really passionate about the parks in Apple Valley," Linde said. "If this race doesn't end up the way I hope, it has been suggested that I join the Parks and Rec Board. That's something I would probably do."
Read more about Josh's campaign at http://www.linde7.com/.