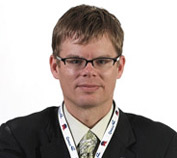 Eric Franzen makes his to-do list at about 5:30 a.m. each day and hopes to get through half of it. Josh Linde calls the past two months, "the most stressful and packed of my life."
The reason is simple: The two Augsburg College graduate students are trying to juggle class and campaigning.
Franzen is the Republican candidate for the Minnesota House of Representatives in District 60A, an area of Minneapolis that includes Loring Park and Uptown. Linde is running for a seat on the Apple Valley City Council.
With less than a week remaining, the two Augsburg students — who both acknowledge they are underdogs in their races — are looking forward to having schedules that aren't quite so packed.
"I didn't realize how much of a toll it would take," Linde said of the campaign and class combination. "I definitely learned that you have to have balance and that sleeping is important." Continue reading "Auggies on the ballot" →