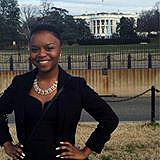 Augsburg College student Kitana Holland '19 has been named to the inaugural Student Advisory Board for First Lady Michelle Obama's Better Make Room campaign, which celebrates education and elevates the voices of Gen-Z students. As one of only five college students selected to the 17-person board, Holland will advise a new public awareness campaign designed to improve college access, college persistence, and college graduation on campuses nationwide.
Holland and her fellow board members traveled to the White House on Friday, January 6, to attend the First Lady's School Counselor of the Year Ceremony.
Holland is a first generation college sophomore from Coon Rapids, Minnesota, majoring in sociology and a minoring in religion and leadership studies. While at Augsburg she has served as a senator in the Day Student Government, an URGO research assistant, a LEAD Fellow, an Auggie tour guide, and as a member of College Possible and TRIO. Through these experiences, she has used her creativity, relationship-building skills, and process-thinking strengths to positively influence her community.
According to a news release about Better Make Room, Holland is driven by her motto, "If the opportunity doesn't knock, build a door" and aspires to help first generation, low-income, and underrepresented high school and college students push through barriers to attain a college degree."