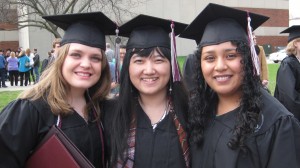 The Student Support Services (SSS) program is one of three TRIO programs originally funded under the Higher Education Act of 1965, whose objective is to help students overcome class, social, and cultural barriers to complete their college education.
Augsburg TRIO/SSS started in 2001 and is funded by the U.S. Department of Education and Augsburg College. The Minnesota Department of Education Summer Food Service Program (SFSP) provides additional funding for Summer Bridge. Augsburg TRIO/SSS annually provides individual and group services to 160 students.
All Augsburg TRIO/SSS services are provided at no cost to program participants. Students participate in TRIO/SSS throughout their enrollment at Augsburg College.
Augsburg TRIO/SSS also selects 25 incoming first-year, TRIO-eligible students to participate in its Summer Bridge component.
Additional TRIO-related information (the following links will open a new webpage):