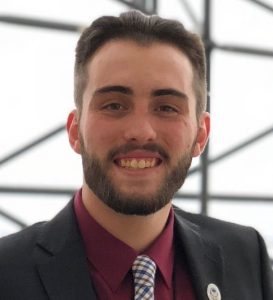 My name is Noah Greenfield and this is my last year at Augsburg University. I have been studying Public Policy and Leadership Studies and one day I hope to represent the people of Minnesota in public office. During my time at Augsburg, with the help of TRIO, I have participated in a number of programs. I've been a LEAD Fellow, a Sabo Scholar, a 3x member of Day Student Government, and I was able to represent Augsburg as the 2018 Newman Civic Fellow. Off campus, I volunteer at First Covenant Church, a temporary shelter for people experiencing homelessness and was recently selected for the nationally competitive Public Policy and International Affairs (PPIA) Junior Summer Institute, a fully-paid program that will help prepare me for graduate school in public policy. I participated in the 2016 Summer Bridge program which gave me an opportunity to get a head start on my college career and taught me the necessary actions and resources I needed to take to succeed. The program is five weeks long and in that time I took two courses (Public Speaking and Religion, Vocation, & Search for Meaning) totaling 8 credits (Free!).
Summer Bridge gave me the time and support to explore my educational interests. As a first generation student, I understandably had a lot of anxiety about attending college. To be able to learn about public speaking from such an amazing professor in Bob Groven, I learned things that I did not expect to learn. This transferred into my college career very well and helped me be confident in myself and pursue opportunities at Augsburg. Along with interpersonal skills, I was taught and had experience learning extremely valuable intrapersonal skills. The religion course with Mark Tranvik we took was one of my first ever classes that was discussion based. We had the opportunity to voice our opinions in a safe place where we could learn and grow together, questioning one's beliefs and thinking critically while taking multiple perspectives into account.
Summer Bridge is not just a rigorous five-week college course schedule, as we were also able to explore the Minneapolis community and the Augsburg community. We learned how to use the transit system and to utilize resources around Minneapolis. As a cohort we grew so close, because for those five weeks, we were really the only students on campus. It was this aspect of Summer Bridge that I hold dearest to my heart. To this day, I speak daily with my Summer Bridge family. To add to the tremendous value of the TRIO Summer Bridge Program, TRIO brought in multiple resources and offices located at Augsburg, such as the Sabo Center, the CLASS office, UpTurnships, and many more. Getting to know these people and the work that they do let me wrap my head around the different opportunities available to me on campus. Everything can get very confusing and in your face in college and it all seems to be like too much. This can lead to apathy and you put blinders up to it all. TRIO helps out so much with this by assigning you an advisor. I can say right now that I would not be where I am at today without my TRIO advisor.  
This is such an important time in your life and applying to the Summer Bridge program is really an amazing opportunity for first generation students to learn how to college. Also, being a low-income student, the Summer Bridge Promise Grant alleviates the financial stress that comes with attending college. If you are reading this, just know that Summer Bridge is worth it. The application process is long and it is hard, but I urge you to apply and try your best to showcase your true self in the application. I will always be thankful for my Summer Bridge experience and family.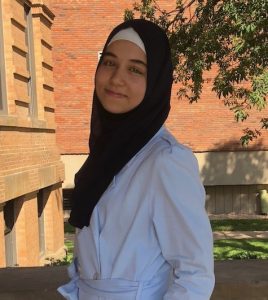 Hello, my name is Falak Tawakalna and I graduated from Burnsville High School. I'm a first year Biology major with Chemistry and Communication Studies minors. My dream is to attend medical school to be an emergency doctor. At Augsburg I am a part of TRIO/SSS and participated in the 2018 Summer Bridge program. Summer Bridge was a head start for me at college. I participated with amazing peers, learned from great professors, and was introduced to the Augsburg community.
My experiences in the public speaking class and religion class were very positive. The religion course allowed me to see and discuss with my peers how people have different viewpoints and opened the space for us for better understanding while learning to respect our differences. The public speaking class helped me to organize my ideas and present them in a more effective way. I especially enjoyed the speech tournament at the end of program.
I was excited to meet the people I would spend the next five weeks with during Bridge. My roommate was originally from El Salvador and despite our cultural differences she was a supportive person. My roommate was always interested to learn more about my culture and religion, such as Islamic rules of the hijab and interactions between men and women. Sometimes we talked late into the night, building our friendship.
Summer Bridge helped me understand myself. I am passionate about my faith and I learned from Summer Bridge how to feel more confident in my beliefs, how to speak with others about my religion, and to not just assume that folks would know everything about me or my culture. Summer Bridge also introduced me to the many valuable resources available at Augsburg. I have an incredible support system that will help me be successful during my college experience. I'm glad I had the opportunity to participate in this experience.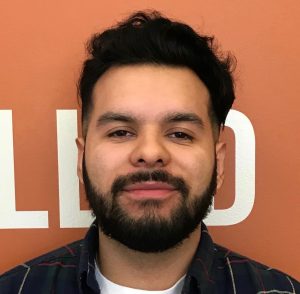 My name is Anthony Villagrana and I am a sophomore here at Augsburg University majoring in Secondary Education and Communication Arts/Literature. I graduated from Park Center Senior High and I am a part of TRIO/Student Support Services (SSS). I attended Summer Bridge in 2017 and it was truly one of the best experiences of my life.
I was very nervous on move-in day because I didn't want to leave home and be on my own. But then I realized that all of us at Summer Bridge were new and going through the same thing, so I knew that I would be fine. I was right because I made such good friends during the summer. We all ate together, went through classes and workshops together, and even went on fun adventures like visiting religious establishments or doing the "Amazing Race" scavenger hunt together. I lived with three other Bridgers in the residence hall and it was a fun experience because we were on our own, although sometimes it was not so fun because we had to accept that we were now grown ups and had to be more responsible. Over the five weeks of Bridge I took religion and public speaking classes and they helped me prepare for the courses I am taking now in college. Religion made me a more critical thinker and improved my reading, while public speaking made me a more confident and better speaker. After class, we usually had presentations from organizations and departments about the resources on campus. Here, I also learned about scholarships and job and internship opportunities which was great because at the time we were the only first year students to know about all of this! When I wasn't in class or busy doing homework, I would use my "open-time" to go out to the mall or to just watch Netflix in my room. I had never used the light rail or the public bus system until Summer Bridge and now I use it all of the time without any issue. Summer Bridge didn't just give me college credits, it taught me key things that helped me transition into college.
Before Summer Bridge I was worried about study skills and keep up with my classes in college but luckily, we were taught how to take notes, organize them for our classes, and use them more effectively. I learned how to manage my time better using the Google Calendar. The schedule during the summer was extremely rigorous so I had to be organized and do my work before each deadline. I am also fortunate enough to have an amazing TRIO advisor who is always there to help me with any issues and to give me the best advice, whether it is school related or not. As the program went on, I felt more comfortable being away from home and I enjoyed being on campus and around all of my peers. Summer Bridge helped Augsburg feel more like home.
I advise incoming Summer Bridge students to take advantage of the opportunities being given to them. Pay attention in the workshops, be early and participate in class and befriend your fellow Bridgers because they will make the first year of college easier for you. Listen to your mentors and advisors because they are people that care and want to help you be successful. This is a great opportunity because you get to take two college classes for free and the professors are here to work with you and prepare you for classes in the fall. And being a TRIO/SSS student will give you huge benefits throughout your time here at Augsburg. Please take the time to apply for this program. A short application could end up leading to memories and skills that will last a lifetime.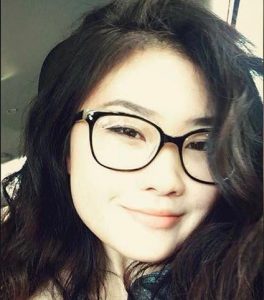 I am Nancy Lor. I am a third year student at Augsburg University studying Clinical Psychology and one day hope to be a therapist or a counselor. At Augsburg, I am an active member of Asian American Student Association and a participant in TRIO/Student Support Services. Off-campus, I am a volunteer at AVIVO Mental Health Center.
I participated in the 2016 Summer Bridge program. Summer Bridge allowed me to get a head start on my college career and to explore the campus. This program was five weeks long and in those five weeks I took two courses (Public Speaking and Religion, Vocation, and Search for Meaning) and earned eight credits.
I am a shy person who never spoke in high school, but coming to Summer Bridge and taking Public Speaking helped me practice my social and public speaking skills. I learned how to speak confidently, persuasively and informatively which are all good skills to have in life. I also learned how to voice my opinions in a presentable manner and I learned how to compromise with group members. Taking this course was like testing the waters. It made me realize how different college and high school classes are from one another.
The religion course was discussion based. My peers and I were able to voice our opinions which allowed for me to see things from a different perspective. It made me question what I knew or what I thought I knew, which was good because it made me think critically. This course made me feel like a well rounded person in terms of religion. I learned about different religions and was even able to visit a mosque. I was exposed todifferent cultures and different ideas that I never knew existed. This course overall taught me how to be more open-minded and accepting.
Going to college for the first time can be a little scary, but having the amazing opportunity to be in the Summer Bridge program made my college life so much easier. Summer Bridge gave me a head start on my classes. I also received the Summer Bridge Promise Grant which pays for my tuition and takes a lot of financial stress off of my shoulders.
In Summer Bridge we were also able to explore our community through the activities that we did when not in classes. One activity that I enjoyed was the Amazing Race. We were split into groups and had to use clues to find a destination in the Twin Cities. To reach our destination we had to walk, use buses, or the light rail. That was the day I learned how to use public transportation. The Amazing Race allowed the teammates to bond. It brought us closer and we to learn how to work together outside of the classroom.
Being in Summer Bridge means that you also work with TRIO/Student Support Services staff during each school year until you graduate from Augsburg. The advisors provide academic support, and there are resources such as workshops that inform TRIO students about the many different opportunities that are available on and off campus, and there's useful equipment  (laptops, smart pens, notebooks, calculators etc) you can borrow for your academic success.
Overall, Summer Bridge has helped me become a better college student by preparing me for college. The staff members still help me with my academic needs and help me stay on track to graduate on time. Summer Bridge was the start of my college career and I am grateful for it, so I recommend for you to apply to Summer Bridge to take full advantage of this amazing opportunity to learn, explore, and build a community. I will see you soon!