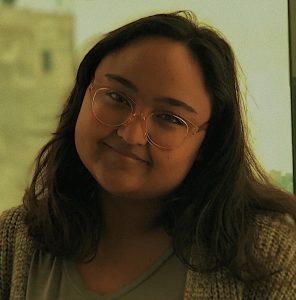 My name is Shevon Greene and I use she/her/hers pronouns. I'm a junior at Augsburg University and I am a 2017 Summer Bridge alumna. My major is Communication Studies with minors in Leadership Studies and Religion. I love to sing and have been a part of various choirs, worship teams, a cappella groups. Singing is one of my main passions.
Augsburg was my first choice when applying to college, but I was extremely hesitant to submit an application because of the high tuition. In order to help me and my family financially, I applied for an Augsburg scholarship that, if I got it, went toward tuition. I was extremely confident that I would get it, but I didn't even make it through the first selection round of applicants. This caused me a lot of grief and I didn't think I would receive any other scholarships because I didn't receive that one.
Shortly after being admitted to Augsburg I received an e-mail from TRIO/SSS saying that I was eligible for their program and its component called "Summer Bridge." It sounded like just what I needed–an opportunity to learn more about the campus before the school year started, credits to help me stay caught up, and a community of people just like me surrounding me to help me be successful. And there was another bonus: if I were admitted to Summer Bridge and eligible for it, I would receive the Summer Bridge Promise Grant that would help with tuition for all four years.
Because of the disappointment from not getting the other scholarship I was still a little bit hesitant about pursuing this new opportunity. There was a bit of self doubt in my mind telling me that if I wasn't receiving other scholarships or opportunities, why would I get accepted into THIS program? After some pep talks from my mother and friends, I ended up applying and eventually got accepted to TRIO/SSS and Summer Bridge!
Something I'll always appreciate from Summer Bridge is the connections I made. Going into your first year at college is always difficult, especially when you don't know anyone. But luckily, I had a community by my side of students and staff. I chose Communication Studies as my major because I loved the way our Public Speaking professor, Bob Groven, taught and I could eventually see myself doing more public speaking or something related to those studies in the future. Mark Tranvik, the religion professor, is now somebody I look up to and meet with regularly. I consider him a mentor, and oh, Dr. Tranvik convinced me to also declare a religion minor. I've made some lifelong friends through Summer Bridge and even gained a life-changing connection with my former TRIO advisor, Melody. I think that gaining connections is just one good reason to join Summer Bridge.
I also believe that preparing for college is super helpful, which is why Summer Bridge is such an awesome experience. During Summer Bridge you receive one-on-one advising, you get to see what classes are like before fall term starts, you learn helpful study tips, and you get to learn more about the campus as a whole. My participation in Summer Bridge helped me be a light for those who were lost in their first years at Augsburg. I had many resources I could give my peers because Summer Bridge gave those resources to me first. Before Summer Bridge my study habits were all over the place and a bit disorganized. But after that summer, and learning about various ways of studying and taking notes, I would say I'm a lot more organized and my study habits now are better than they've ever been.
I would 110% recommend applying for Summer Bridge because the staff TRULY cares about you as a person and they want you to succeed! I also believe that the community is so strong and you will make some life changing connections. TRIO is always there for you and they want to see you thrive! I hope to see you on campus.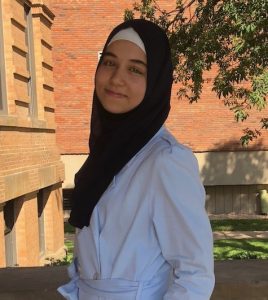 Hello, my name is Falak Tawakalna and I graduated from Burnsville High School. I'm a second year Biology major with Chemistry and Communication Studies minors. My dream is to attend medical school to be an emergency doctor. At Augsburg I am a part of TRIO/SSS and participated in the 2018 Summer Bridge program. Summer Bridge was a head start for me at college. I participated with amazing peers, learned from great professors, and was introduced to the Augsburg community.
My experiences in the public speaking class and religion class were very positive. The religion course allowed me to see and discuss with my peers how people have different viewpoints and opened the space for us for better understanding while learning to respect our differences. The public speaking class helped me to organize my ideas and present them in a more effective way. I especially enjoyed the speech tournament at the end of program.
I was excited to meet the people I would spend the next five weeks with during Bridge. My roommate was originally from El Salvador and despite our cultural differences she was a supportive person. My roommate was always interested to learn more about my culture and religion, such as Islamic rules of the hijab and interactions between men and women. Sometimes we talked late into the night, building our friendship.
Summer Bridge helped me understand myself. I am passionate about my faith and I learned from Summer Bridge how to feel more confident in my beliefs, how to speak with others about my religion, and to not just assume that folks would know everything about me or my culture. Summer Bridge also introduced me to the many valuable resources available at Augsburg. I have an incredible support system that will help me be successful during my college experience. I'm glad I had the opportunity to participate in this experience.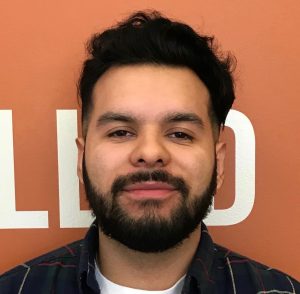 My name is Anthony Villagrana and I am a junior here at Augsburg University majoring in Secondary Education and Communication Arts/Literature. I graduated from Park Center Senior High and I am a part of TRIO/Student Support Services (SSS). I attended Summer Bridge in 2017 and it was truly one of the best experiences of my life.
I was very nervous on move-in day because I didn't want to leave home and be on my own. But then I realized that all of us at Summer Bridge were new and going through the same thing, so I knew that I would be fine. I was right because I made such good friends during the summer. We all ate together, went through classes and workshops together, and even went on fun adventures like visiting religious establishments or doing the "Amazing Race" scavenger hunt together. I lived with three other Bridgers in the residence hall and it was a fun experience because we were on our own, although sometimes it was not so fun because we had to accept that we were now grown ups and had to be more responsible. Over the five weeks of Bridge I took religion and public speaking classes and they helped me prepare for the courses I am taking now in college. Religion made me a more critical thinker and improved my reading, while public speaking made me a more confident and better speaker. After class, we usually had presentations from organizations and departments about the resources on campus. Here, I also learned about scholarships and job and internship opportunities which was great because at the time we were the only first year students to know about all of this! When I wasn't in class or busy doing homework, I would use my "open-time" to go out to the mall or to just watch Netflix in my room. I had never used the light rail or the public bus system until Summer Bridge and now I use it all of the time without any issue. Summer Bridge didn't just give me college credits, it taught me key things that helped me transition into college.
Before Summer Bridge I was worried about study skills and keep up with my classes in college but luckily, we were taught how to take notes, organize them for our classes, and use them more effectively. I learned how to manage my time better using the Google Calendar. The schedule during the summer was extremely rigorous so I had to be organized and do my work before each deadline. I am also fortunate enough to have an amazing TRIO advisor who is always there to help me with any issues and to give me the best advice, whether it is school related or not. As the program went on, I felt more comfortable being away from home and I enjoyed being on campus and around all of my peers. Summer Bridge helped Augsburg feel more like home.
I advise incoming Summer Bridge students to take advantage of the opportunities being given to them. Pay attention in the workshops, be early and participate in class and befriend your fellow Bridgers because they will make the first year of college easier for you. Listen to your mentors and advisors because they are people that care and want to help you be successful. This is a great opportunity because you get to take two college classes for free and the professors are here to work with you and prepare you for classes in the fall. And being a TRIO/SSS student will give you huge benefits throughout your time here at Augsburg. Please take the time to apply for this program. A short application could end up leading to memories and skills that will last a lifetime.