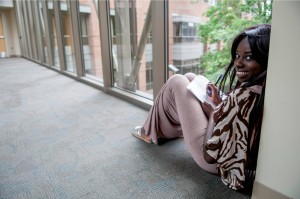 We are proud of our Auggie TRIO/SSS participants and their achievements.  Scroll down and click the links below, or visit our Monthly Student Spotlight or Testimonials sections to read more about our students who are working hard and have overcome many obstacles to achieve their academic and personal goals.
Currently enrolled Augsburg University TRIO/SSS Students
Augsburg University (College) TRIO/SSS Alumni
Shamsa Ahmed '21
Shamsa returned from her Fulbright English Teaching Assistantship in South Korea. Soon she travels to D.C. to complete a paid congressional internship as part of her Payne Fellowship. In the fall, she will begin a Master's of International Affairs at Columbia University, supported by the Payne Fellowship and additional dollars awarded to her by Columbia. Next summer she will participate in a paid overseas internship. When she finishes her Master's at Columbia she will have a position waiting for her with USAID.
Nou Chang '10
Lorreal Edwards '16
Lorreal was selected to be a Traveler's EDGE Scholar. Dustina Granlund '14, was also a Traveler's EDGE scholar.
Kassie was a featured educator for Education Post, a a nonprofit, nonpartisan communications organization dedicated to building support for student-focused improvements in public education from preschool to high school graduation.
Mary Godi '13
Mary was the May 2013 Commencement speaker. Mary is quoted here and there are pictures of her and the graduating class.
Tenzin Paichang '16
Tenzin was chosen to assist His Holiness the 14th Dalai Lama during the Dalai Lama's 2014 visit to the Twin Cities for the Nobel Peace Prize Forum and the Tibetan New Year celebration. Stories about Tenzin's involvement were featured in the St. Paul Pioneer Press and on local CBS affiliate WCCO.
Abdulkadir Sharif '20
Abdul has finished his first semester at Georgetown School of Foreign Service studying for a Master's in International Security funded by a Pickering Fellowship. This summer, as part of his Pickering Fellowship, Abdul will be interning in D.C. with the Bureau of Educational and Cultural Affairs, Office of the Global Leaders Division. He will be focusing on public diplomacy efforts in the Western Hemisphere and Sub-Saharan Africa. Next summer he will have an overseas placement with the foreign service. Once he completes his internships and master's he will enter the foreign service as a U.S. diplomat. In addition to winning a Pickering, Abdul won a Boren African Flagship Initiative award where he studied Swahili at the University of Florida and in Tanzania. He also won a Public Policy and International Affairs Junior Summer Institute Scholarship to study at Princeton as well as an Fulbright English Teaching Assistantship in the Netherlands.
Christine Smith '13 and Houa Lor '13
Kuoth Wiel '13
Kuoth was selected for a role in the Warner Bros. feature film "The Good Lie," about "The Lost Boys" of Sudan. The movie stars Academy Award Winner, Reese Witherspoon (2006 Best Actress in a Lead Role for "Walk the Line"). Kuoth has been featured in several articles in the St. Paul Pioneer Press (May 19, 2013 and October 2, 2014). Kuoth was also interviewed for the Augsburg University Student Newspaper, The ECHO.