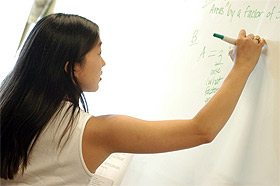 Augsburg College was recently selected as a partner in the Minnesota Mathematics and Science Teacher Academy initiative. According to the Minnesota Department of Education, the Academy is a result of Governor Pawlenty's efforts to improve teacher effectiveness particularly in the areas of math and science.
The Academy is comprised of nine regional teacher centers, each including at least one K-12 school district or education service cooperative and one higher education institution. Augsburg is partnering with Resource Training and Solutions in St. Cloud. Augsburg math professor Tracy Bibelnieks is one of three instructors leading the training for the St. Cloud center.
The initial goal of the program is to prepare teachers to implement new math and science standards, which will be used beginning with the class of 2015. These standards involve introducing algebra into elementary school lessons. The centers provide training and technical assistance to help teachers implement Minnesota's content standards, master the use of multiple instructional approaches, and improve skills to diagnose student learning needs using assessment of student performance.