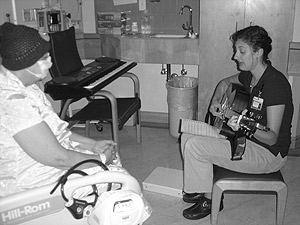 While internships in most majors give students a competitive edge, in music therapy they are required and rigorous. Every music therapy student must log 1,040 hours during an internship — six months at full time.
In April Christi Schmit began her internship at University Hospitals, Case Medical Campus, in Cleveland, Ohio. This 950-bed hospital gives her broad experience in varying situations to help develop her music therapy skills. She explains that as a therapeutic intervention, music therapy has been found effective in relaxation and pain management, and in treating chemical dependency and memory loss.
Schmit's daily schedule at the hospital includes visiting patients to sing favorite songs with them or help them write their own songs for loved ones. She also helps with physical and occupational therapy for patients with joint replacements or in stroke recovery, where music helps entrain the movements to make exercise more fluid. For patients with mood disorders, Schmit uses interventions like drumming, lyric analysis, and songwriting to augment the psychologists' work.
The therapists also visit with families and patients at Ronald McDonald House and Hope Lodge, encouraging group support, coping, songwriting, and fun.
"Music takes a person's mind off what is not so good and allows people to relax," says Schmit. "Music uses a different part of the brain. A stroke victim who cannot speak can sing an entire song. An Alzheimer's patient may not be able to remember a family member's name, but they will remember a favorite hymn from childhood."
Schmit's supervisor, music therapist Deforia Lane, was recently featured on NBC Nightly News' "Making a Difference" segment, as she made rounds in the hospital and sang with patients. Lane explained how a patient's blood pressure, heart rate, and respiration can all decrease just by listening to her singing or humming — the slower the rhythm, the more calming the effect.
NBC News also featured "Toddler Rock," a program for inner-city kids at the Rock and Roll Hall of Fame in which Schmit and other music therapists teach preliteracy skills through music.
At the end of her internship in October, Schmit plans to return home to northern Wisconsin where she is exploring job options. At some point, study toward a master's degree is also in her future.
To see Christi Schmit in the NBC newsclip accompanying the singing with her guitar, go to www.msnbc.msn.com/id/3032619/#25626828.
For the newsclip on the Toddler Rock program, go to www.msnbc.msn.com/id/3032619/#25627218.