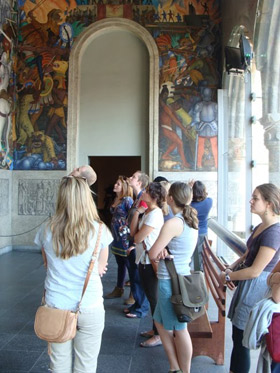 It's not too late to study abroad next fall! Augsburg Abroad is accepting applications for Center for Global Education summer and fall study abroad programs in Central America, Mexico, Namibia until April 1. Augsburg Abroad is also accepting applications for summer and fall International/Exchange Partners Programs in Norway, Germany, Finland, Slovenia, and China. Please note that the deadline for programs other than those coordinated by CGE and IP has passed.
There are currently eleven Augsburg students studying in Mexico at Augsburg's campus in Cuernavaca, a picturesque colonial city known as the "City of Eternal Spring." Psychology major Amy Voigt said, "Every day that I wake up in Mexico is my favorite. I can honestly say that I am unable to choose just one day as my favorite. This is an opportunity of a lifetime that I will cherish in my heart forever."
Voigt, a Weekend College student who came to Mexico with her seven year-old son, added, "As an older, non-traditional student, I have felt extremely welcomed and accepted in the program and homes we live in. The thing I have liked most is allowing myself and my son to engage in a learning experience in which we learn something new about ourselves and others every day."
All of the students appreciate the fact that they have been able to meet graduation and major or minor requirements while studying abroad in Mexico; core requirements are offered such as language courses, religion, the business keystone, a fitness course, and LAFs in fine arts and other areas.
Maren Daniels, an art education major said, "I have been pleased by Augsburg's program in Mexico in relation to my graduation requirements. I feel like I have been working my way to graduation. In addition to taking a fabulous Mexican art class that includes numerous excursions, I am taking REL 200 and WST 357, which meets an LAF in the humanities. I am also fulfilling a fitness requirement by taking the Latin dance class. It's been really fun to learn Spanish and dance at the same time, and it's a great way to get exercise. I am being challenged here."
Social work major Chelsea Crivello said, "Studying abroad in Mexico doesn't set me back one bit. Every class I am taking in Mexico meets the requirements of the social work major." Similarly, Alicia Fowler said, "Every class that I am taking here in Mexico is counted and goes toward my Augsburg credits. The courses correlate with those back at Augsburg, only in a Mexican context."
Social work major Deidre Smith said, "I would encourage all students to study abroad, no matter where they are going or for how long. There are things that cannot be learned in the classroom, and things that cannot be learned in the U.S." Paige Onstad, also a social work student concurred. "Do it!! I had not planned on going until I heard my friends keep talking about and I figured, why not? Sometimes when I'm here I think about what a great decision it was because I am having an amazing semester both in and outside of the classroom."
Picture: Students in the Migration and Globalization: Engaging Our Communities course in the Palacio de Cortés in Cuernavaca. Courtesy CGE blog.