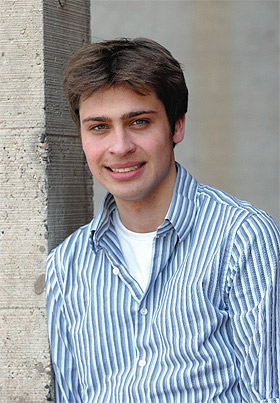 Until a few weeks ago, Grant Rostad had never traveled outside North America and had never lived more than lived 20 miles from his parents' home. Now the Augsburg senior is "across the pond" doing an internship with Ernst & Young in London.
"It's the craziest thing I've ever done," says Rostad. "If you had asked me about this my freshman year, I wouldn't have even thought of it."
An accounting and finance major from Bloomington, Minn., Rostad applied for the internship after a friend recommended he participate in a program abroad. He's working in Strategic Growth Markets (SGM) doing assurance and auditing for the firm.
Rostad says his first experience abroad has helped him gain confidence in himself. "I'm turning into my dad," he said. His father had a similar experience working in Japan. "He told me before I left to go out and try to meet as many people as I could." Rostad is constantly working with a team and meeting new people, whether it's in the Underground or on the way to and from his flat.
Besides the fact that an internship with a leading international accounting firm looks great on a resume, Rostad says he is grateful for the experience of living and working abroad. He likes working with the assurance team, traveling to small towns outside London, and meeting people from all over the world.
Back at Augsburg, Rostad is involved with KAUG as the "advertising guy" and says he tries to get involved in many activities. Thanks to a friend and to Leah Spinosa de Vega of Augsburg Abroad, he can now add study in London to his list of accomplishments.
If you are an Augsburg student studying abroad this summer, please let us know so we can share your experience with the community. Email wheelerw@augsburg.edu.