Announcing our Inaugural Interfaith Symposium!
On March 2nd, 2023, Augsburg hosted its first Interfaith Spring Symposium.
This event is an annual  invitation to build community, foster collaboration, and create a more caring world through learning about religious/spiritual/worldview diversity, participating in enriching dialogue, and networking with exceptional interfaith leaders.
This years topic was "Interfaith Leadership and Healing Times of Crisis."  Thank you to El-Hibri Chair and Executive Director of the Interfaith Institute at Augsburg, Najeeba Syeed, who gave the keynote lecture.
And thank you to who all who attended both in-person and virtually! We hope you will join us for future events.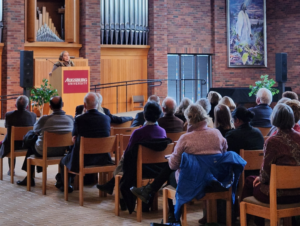 Missed the lecture?
Stay tuned. We will be posting a recording a Director Syeed's lecture soon.