Email: interfaith@augsburg.edu
---
Staff
Najeeba Syeed
El-Hibri Endowed Chair and Executive Director
syeedn@augsburg.edu
Prior to becoming the El-Hibri inaugural endowed chair and executive director Augsburg's Interfaith Institute, Najeeba Syeed was a professor and expert practitioner in the fields of conflict resolution, mediation, and interfaith studies. An award-winning educator, she has taught extensively on interreligious education and published articles on faith and community-based conflict resolution, restorative justice, and interfaith just peacemaking. She previously served for 10 years as an associate professor at the Claremont School of Theology. She also held faculty positions at Starr King School for the Ministry and Chicago Theological Seminary, where she was most recently associate professor of Muslim and interreligious studies. She has served as the co-chair of the American Academy of Religion's Religion and Politics Section and was a member of the Academy's Religion, Social Conflict, and Peace Section.
Syeed also brings significant executive experience in organizations focused on conflict resolution in community, higher education, and government settings, including the Western Justice Center Foundation and the Asian Pacific American Dispute Resolution Center. Her peacemaking work in the area of gang intervention, school based conflict resolution and community peacebuilding has been recognized with numerous prestigious awards. In 2021, she served as chief of staff to the first Asian American woman elected to the Los Angeles city council. She holds a law degree from the Indiana University School of Law and a bachelor of science degree from Guilford College.
"I am honored to serve as the inaugural El-Hibri Chair and Executive Director of Interfaith at Augsburg. This is a unique opportunity to extend and amplify Augsburg's remarkable interfaith work and to honor the generous and visionary commitment of the El-Hibri family, " said Syeed.
"My life's work combines a commitment to scholarship, teaching, and community organizing," she added.  "Listen, learn, partner, and co-create is the process I utilize to lead and build with fellow faculty, administrators, students, community leaders, and stakeholders from around the globe."
Jane Ulring
Managing Director
ulringj@augsburg.edu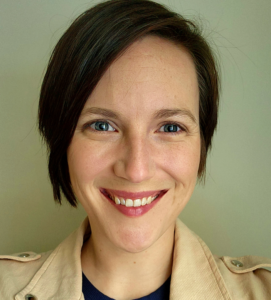 Jane Ulring is a graduate of Augsburg University where she earned her Bachelor's in Philosophy, and Union Theological Seminary (UTS) where she completed her Master of Divinity in Social Ethics. While in seminary, Jane interned for a LGBTQIA affirming ecumenical inter-campus ministry, serving a diverse group of NYC's students. As an intern, she loved working with college-aged youth and accompanying them in their growth.
Upon graduating from UTS Jane was awarded Union's Interreligious Engagement Prize for academic excellence in the IE field. Within the broader field of IE, Jane's personal passions lie at the intersection of interfaith activism, care for creation, and mutual healing from colonial violence. She is committed to work braiding religious diversity, public service, and justice for Earth's communities. She has volunteered and worked for numerous causes and witnessed firsthand how intentional interfaith collaboration can propel local initiatives forward. In October 2021, Jane accepted the position of Program Manager working for Interfaith America where she managed faculty partnerships, interfaith curriculum development grants, and fellowships. She is excited to return to Augsburg in service of the university's and Minneapolis' community, and welcomes the opportunity to strengthen Augsburg's commitment to building a thriving religiously diverse commons.
Mark S. Hanson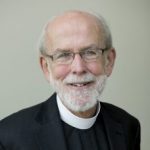 Fellow
hansonms@augsburg.edu
Serving as the Founding Director of Interfaith at Augsburg, Rev. Mark S. Hanson led Augsburg University's commitment to interfaith leadership being a core aspect of Augsburg's academic mission. Prior to his current appointment, Hanson served as presiding bishop of the ELCA and president of the Lutheran World Federation. He is continuing his work as a fellow for Interfaith at Augsburg.
Fardosa Hassan
Assistant Director
hassanf@augsburg.edu
612-330-1734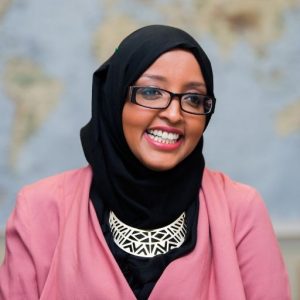 FARDOSA HASSAN graduated from Augsburg in 2012 with a degree in sociology and international relations and is completing her Master of Public Leadership at Augsburg this year. She was very active in interfaith work while she was a student here and received the Courageous Woman Award. She was recognized by President Barack Obama and invited to the White House to take part in the Interfaith Campus Challenge. Previous internships include the Kenya Parliament and Lutheran Social Services.
Fardosa also works in Augsburg Campus Ministry as the Muslim Student Program Associate and as the Interfaith Youth Connection Program Coordinator at Interfaith Action of Greater Saint Paul and is the Assistant Director of the Augsburg Interfaith Institute.
---
Interfaith Advisory Committee
Fardosa Hassan, Muslim Student Program Associate
Matt Maruggi, Associate Professor of Religion
Lori Brandt Hale, Professor of Religion and Department Chair
Audrey Lensmire, Associate Professor of Education
Sarah Erkkinen, Assistant Vice President for Institutional Advancement
Katie Clark, Assistant Professor, Executive Director of the Health Commons
Lori Brandt Hale, Professor of Religion, Department Chair
Patrick Mulvihill, Assistant Provost for Global Education and Experience
Sarah Degner Riveros, Spanish Faculty, Department of Languages and Cross-Cultural Studies