Phone: 612-330-1403
Email: interfaith@augsburg.edu
---
Staff
Mark S. Hanson
Founding Director
hansonms@augsburg.edu
Serving as the Founding Director of Interfaith at Augsburg, Rev. Mark S. Hanson leads Augsburg University's commitment to interfaith leadership being a core aspect of Augsburg's academic mission. Prior to his current appointment, Hanson served as presiding bishop of the ELCA and president of the Lutheran World Federation.
Fardosa Hassan
Assistant Director
hassanf@augsburg.edu
612-330-1734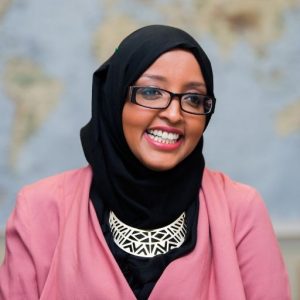 FARDOSA HASSAN graduated from Augsburg in 2012 with a degree in sociology and international relations and is completing her Master of Public Leadership at Augsburg this year. She was very active in interfaith work while she was a student here and received the Courageous Woman Award. She was recognized by President Barack Obama and invited to the White House to take part in the Interfaith Campus Challenge. Previous internships include the Kenya Parliament and Lutheran Social Services.
Fardosa also works in Augsburg Campus Ministry as the Muslim Student Program Associate and as the Interfaith Youth Connection Program Coordinator at Interfaith Action of Greater Saint Paul and is the Assistant Director of the Augsburg Interfaith Institute.
---
Interfaith Advisory Committee