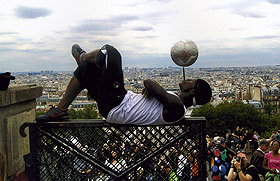 Matt Anderson is a senior majoring in international business and business administration with a minor in philosophy. He is originally from Plainview, Minn. Matt's photo, "Soccer at Le Sacré-Coeur," won first place in the Portrait category in Augsburg's International Photo Contest. Thanks, Matt for the story about your experience and this photo!
—–
This past summer, I got the opportunity to study abroad in Paris, France. Through the Knowledge Exchange Institute, I enrolled in two classes that challenged me in the areas of European business and French society. Along with the classes, I had the experience of understanding French culture via walking tours of the city led by my professor.
Throughout my time, I also traveled to Versailles, Brussels, and London. Although all of these cities were great, Paris was the most enjoyable for me. Being challenged each and every day by new surroundings, culture, and lifestyle was an experience I'll never forget and one I learned valuable lessons from.
Living in a Parisian flat near the center of the city, I was able to discover new things every day. Whether I'd decide to go see a major tourist attraction or a lesser-known spot, every day was an adventure. Attractions like the Louvre, Centre Pompidou, Musée d'Orsay, Montmarte, Notre Dame, and the Eiffel Tower were some of the most memorable. The Andy Warhol exhibit at the National Gallery was brilliant, and since Warhol is my favorite artist, I may have visited far too often. Meeting new people from every country imaginable was absolutely amazing, and I continue to stay in contact with them.
The photo I submitted for the Augsburg International Photo Contest is titled "Soccer at Le Sacré-Coeur." I took the photo near the end of my trip while touring the area of Montmarte. This was one of the most impressive displays of talent I've ever seen.
Performing below the Basilica of Sacré-Coeur, the young man managed to balance on a gate while gracefully performing soccer ball routines choreographed to music, never allowing the ball to reach the ground. I can't imagine the practice that went in to perfecting this talent, but it was paying off with extremely generous, cheering observers throughout the afternoon. The photo captures him spinning the ball on top of a pencil in his mouth, overlooking the awe-inspiring city of Paris.