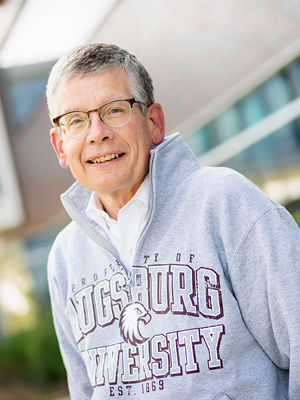 My wife, Abigail, and I first met Anne Frame and Bill Frame, Augsburg's ninth president, some 18 years ago when we were chosen to be part of a new program, sponsored by the Council of Independent Colleges and designed by Bill, that helped college presidents and their partners to explore the links between their callings or vocations and the missions of the institutions they served. At that point, I was president of Rockford College in Illinois, and of course, Bill and Anne were at Augsburg. It was a remarkable experience for all of us involved, and we remain friends and colleagues with many of those who shared the program with us. It was during this time that we first witnessed the delightful partnership that Anne and Bill had created—in their marriage, in their leadership of the program, and in their work at Augsburg. Those of us in the program came to count on Bill for thoughtful and weighty treatises (one of us once exclaimed, "Give me a thesaurus!" when Bill's vocabulary got to be a bit much), while Anne's gracious and calm presence brought us back to the joy of the work at hand.
Little did we know that just a few months after the program concluded, Abigail and I would be elected as Anne and Bill's successors at Augsburg. It was during the leadership transition and over the past 15 years that I have come to know the many ways in which Anne's presence and engagement with the Augsburg community during Bill's presidency have made a lasting impact.
Anne Frame passed away this past summer, but her legacy lives on in the many ways her life and work have graced the Augsburg community. I would highlight just a few:
Anne and Bill made the case for and then created a place of wonderful hospitality and fellowship at Augsburg House, the residence for Augsburg's president and family, but more importantly a place at which to gather students, faculty, staff, alumni, and friends to celebrate and build community. In fact, Anne and Bill set important traditions at the house that we still celebrate, including a festive holiday party for neighbors who are often inconvenienced by all the cars parked along West River Parkway for our gatherings!
Anne loved to engage with students, participating in activities like Late Night Breakfasts at the end of each semester and City Engagement Days at the beginning of each academic year. It was deeply meaningful to students to see the president and family involved in the life of the campus.
Anne also served as a board member for the Augsburg Associates, a group of committed volunteers who organized fundraising events to support student scholarships. The annual Velkommen Yul celebrations remain a highlight of the academic year, lifting up our Norwegian heritage.
Finally, Anne accompanied Bill on many international trips—to Augsburg's sites in South Africa and Namibia, to Norway as part of our relationship with the Norwegian Nobel Institute, and perhaps most memorably to China with a group of Minnesota private college presidents and partners to explore a relationship with a newly formed liberal arts college on the mainland, now known as United International College.
After Bill and Anne retired from Augsburg in 2006, they continued to be engaged in the Augsburg community, attending events, visiting donors, cheering us on in our various efforts to make Augsburg the remarkably diverse institution it is today. At the same time, it was a joy for me to see the meaning that Anne found in returning to her chosen profession—her calling—as an accountant for various organizations in the Tacoma, Washington, area. In that way, Anne continued to model for all of us what it means to follow the divine call, wherever it leads us—even when the call is surprising and unexpected.
We celebrate the ways in which presidential leadership over 150 years—shared in partnership with remarkable spouses—sets a foundation for the work we do today!
Faithfully yours,
Paul C. Pribbenow, President