Community volunteerism is so much a part of the fabric of Norwegian life that they have a special name for it: dugnad. Pronounced doog-nahd, it's the tradition of neighbors gathering for all kinds of communal pursuits—planting and tending to a community garden, spending time chatting with elders at a senior center, or painting a school building. Dugnads are something everyone not only plans for, but looks forward to.
Since the mid-1980s, Augsburg University has been home to a team of women who drew on their Norwegian or broader Scandinavian heritage to create their own dugnad. The group became known as the Augsburg Associates and helped to raise significant funds for their community.
Now, after 37 productive years of service, the Augsburg Associates are disbanding. But their legacy will live on for decades to come.
The sounds of service
"The intent, when it started, was to help out on campus where they needed help," said Eunice Dietrich '65. "The original Associates were spouses of faculty members and other women who had an ear to what was going on."
Dietrich, a former Associates board chair who earned a degree in home economics at Augsburg, said assistance was needed across all facets of campus life. From stuffing envelopes for alumni and donor mailings to setting up a "nice meeting space" for the university's Board of Regents when they gathered, the Associates saw needs and then filled those voids.
But it didn't take long for the work to morph from occasional events to addressing a situation requiring a sound solution.
"The Associates came out of the Lutheran tradition of 'We'll do anything for service,'" said Jerelyn Cobb '63. So in the 1980s, when an idea began to circulate about bringing an organ to campus, the Associates orchestrated a plan.
"In those days, people still didn't have a lot of money, but they could give us donations of goods," Cobb said.
That's how Trash and Treasure Sales began. Dishes, linens, and other household items were packed into boxes and readied for sale. Sporting goods and games were brought in. And furs, jewelry, and even gowns from the Dayton's department store's prestigious Oval Room were cleaned, pressed, and readied for a chance at a new life.
The items were enough to fill a semitrailer, then eventually two.
"Every Wednesday night, I'd have people come over, and we'd sort everything," Cobb said. "All the dishes in one box, all the clothes in another, the sporting goods in another corner."
Then when the date of the sale neared, items were transferred from the trucks to the site of the sale.
"The football team would come, and for two blocks we would line up next to each other and pass boxes into the gymnasium."
The first sale raised $600, Cobb recalled. The next year: $4,000. Then $10,000, $15,000, and $28,000.
When everything was done and counted, the Trash and Treasure Sales netted a quarter of a million dollars. And Augsburg got its organ.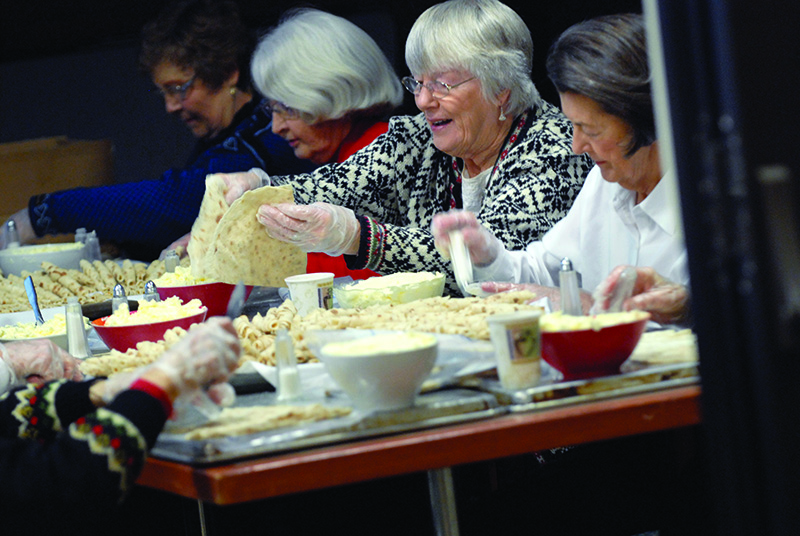 Projects funded or supported by Augsburg Associates
Trash and Treasure Sales
Welcome party for the 2011 visit of Their Majesties King Harald V and Queen Sonja of Norway
Velkommen Jul buffets and boutique sales
Norwegian coffee at Taste of Augsburg Homecoming events
Christensen Center's welcome desk construction
Foss Center's Green Room renovation
Christensen Center's Augsburg Room and Marshall Room renovations
Lindell Library's special collections room creation
Hoversten Chapel's Dobson pipe organ purchase
Christensen Scholars program funding
Various scholarships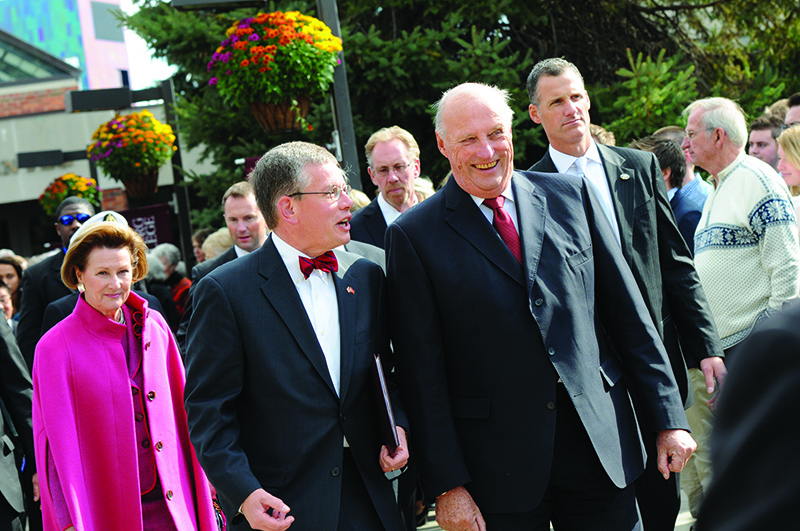 President Paul Pribbenow (center) talks with King Harald V and Queen Sonja of Norway during their visit to campus in 2011. (Archive photo)
Welcome king, queen, and Christmas
Norwegian words echoed off the walls of classrooms and hallways when Augsburg was founded, so there was little surprise, though great delight, when King Harald V and Queen Sonja of Norway visited campus in 2011. The Associates were there to mark the day with special care—while wearing traditional Norwegian bunads, the proud folk outfits worn by men, women, and children on such occasions of cultural significance.
But before Their Majesties graced the campus, the Associates had already begun making sure the heritage of the school's founders was celebrated and remembered.
Velkommen Jul, an annual celebration welcoming the seasons of Advent and Christmas, took hold with attendees donning thick, gorgeous Norwegian sweaters and sampling delicious traditional foods including krumkake cookies. The celebration has become a loved tradition in the Augsburg community, even among students who don't necessarily have Scandinavian heritage.
Money raised at Velkommen Jul and through estate sales and other efforts ultimately went to fund scholarships as well as the Christensen Scholars, a cohort of students who explore theology, faith, and vocation while engaging in community-based learning experiences.
That, said Augsburg University President Paul Pribbenow, is a lasting legacy for the organization: "Over many years, the Augsburg Associates have been faithful and generous supporters of Augsburg. Through their tireless efforts, the Associates have raised scholarship funds and have helped countless students pursue an Augsburg education.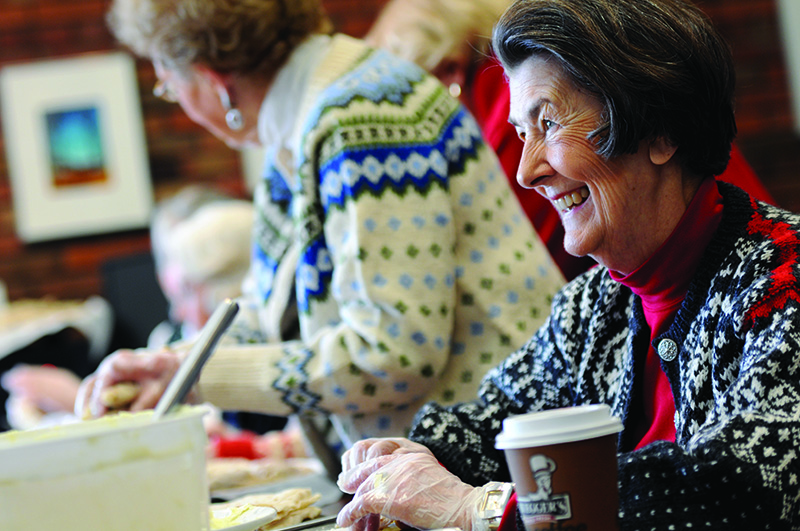 Augsburg Associates roll lefse, a traditional Norwegian potato flatbread, for Velkommen Jul in 2011. (Archive photo)
"The annual Velkommen Jul celebrations, graciously hosted by the Associates, highlighted our Norwegian roots, even as they welcomed new generations of diverse students, faculty, and staff. Personally, I am deeply grateful for the members of the Associates who have supported me and my family over the past 15 years as we worked together to advance Augsburg's mission," Pribbenow said.
Though the time of the Associates' dugnad has come to a close, some of the group's members are continuing their volunteerism with another group: Augsburg Women Engaged. Since it was formed by a group of Auggie women in 2009, AWE has strengthened connections in the Augsburg community and encouraged philanthropy to keep the university's hands-on education accessible to a broad range of students. These overlapping commitments shared by AWE and the Augsburg Associates demonstrate the deep-seated commitment to service that is so emblematic of Auggies of all stripes.
For the women doing the work, the Associates were more than a service organization—they were family.
"You give and you get, you feel good about what you've done. You don't start out for that reason, but oftentimes when you're volunteering, you get more out of it than what you give," Dietrich said. "These women were so dedicated and did this work with such joy."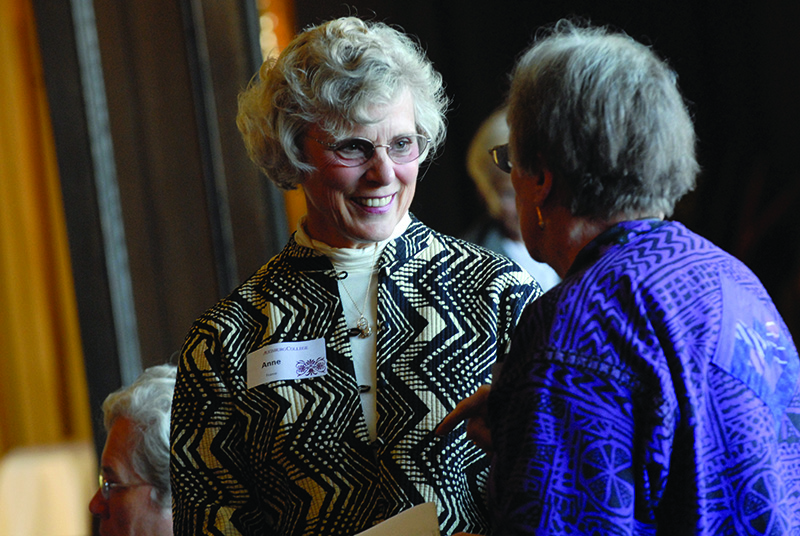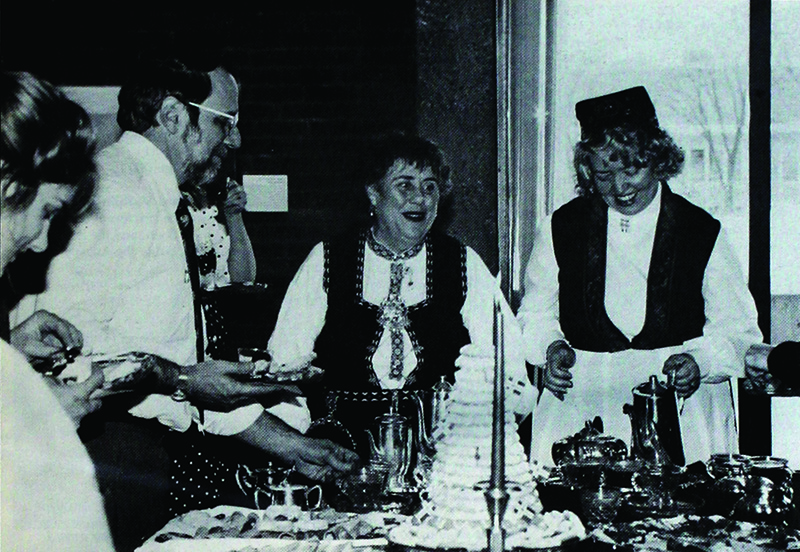 Augsburg Associates oversee food and drinks at Velkommen Jul in 1992. (Archive photo)
DID YOU KNOW?
The Augsburg Associates have raised about $400,000 through their group initiatives.
Members of the Augsburg Associates and their spouses have given more than $50 million to the university as a whole.
Within their 600-person membership, there were 38 households that were members of the Sven Oftedal Society, a group of some of Augsburg's most generous donors.