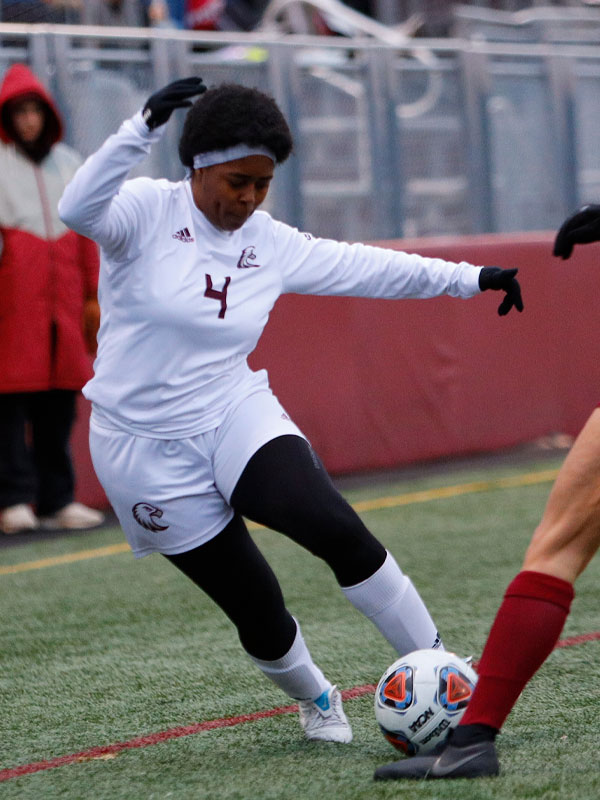 In 2016, first-year student Olivia House '20 kneeled during the national anthem before one of her first Auggie soccer matches. She was alone—the only Black person on the team, and the only person kneeling on either side of the field. For four years, House continued to kneel as a respectful gesture to highlight pervasive racial injustice. Fans and opposing players ridiculed her, she was the first on the bus after away games, and teammates unintentionally bruised her with microaggressions: "You'd look so pretty if you straightened your hair." "So-and-so acts way Blacker than you." "I always forget you're Black."
"Even though I was vocal and open about what I stood for, my teammates didn't see even half of who I was. I left so much of my identity at the door because there would be too many questions, too many things I'd have to explain about my identity and community," said House, a designer and art director for a creative agency in Chicago. "Having to code switch from diverse classrooms and social advocacy groups to being the lone Black person on the team was exhausting."
Augsburg is among the most diverse private colleges in the Midwest—with students of color making up the majority of the last four incoming undergraduate first-year classes. On campus, House said she found her vocation: "to demonstrate the power of design to communicate stories and create a platform for voices who haven't been heard." And yet, her experience demonstrated more work is needed, even at the most equity-minded of institutions, and particularly in athletics, where 71% of student-athletes are white, according to a 2020 Augsburg internal survey.
"Me simply stepping onto a soccer field as the only Black player is political in and of itself, without me saying a single word," she said. "Had I 'just played the game' and 'kept politics off the field,' I would have perpetuated the myth that athletes' sole purpose is to entertain. You can't ask us to put all of our lives on display except for our thoughts and opinions. It doesn't work like that."
Since House's first year, the women's soccer team has welcomed other student-athletes of color, and multiple soccer players and coaches have begun kneeling during the national anthem as matters of diversity and justice have remained prominent in conversations both on campus and across the United States.
Augsburg Women's Soccer Head Coach Michael Navarre watched House address a crowd on the quad in September 2020 as a speaker at Augsburg Bold, a series of presentations for students to hear about important topics for the broader community. After House detailed a summer of racial justice protests and rubber bullets, of murals and oral history projects, Navarre commended House as the spark that ignited the team and inspired other student-athletes to take a stand.
"At the time, we felt as though we were supporting Olivia and our other players of color, but it wasn't until the killing of George Floyd—just a few miles from Augsburg—that we truly began the difficult work that needed to be done," said Navarre, who has led the women's soccer team for 23 seasons. "That self-reflection and education illuminated how much more we could have been for Olivia and others, and how much more we are now because of her. Our team is driven to be leaders for social justice advocacy and action."
'An age of athletic activism'
Days after the killing of George Floyd by Minneapolis police, Navarre asked the women's soccer players to connect virtually each week to discuss topics and resources shared on what has become an 11-page document of articles, podcasts, self-assessments, and videos to spur awareness, community engagement, and education.
Midfielder Jenn Bobaric '22 designed a Black Lives Matter patch, and the team collaborated to design a warm-up shirt that read "Auggies against injustice." The team supported several fundraisers and donation drives in honor of Floyd and Daunte Wright, a 20-year-old biracial Black man who was fatally shot by police during a traffic stop in Brooklyn Center, Minnesota. Molly Conners '22 led a collection of personal items and clothing for neighbors who frequent Augsburg's Health Commons locations, which are nursing-led drop-in centers that offer resources and support.
Taylor Greathouse, women's soccer volunteer assistant coach and human resources assistant, said the team took to social media as a way to educate and advocate for others. "Instagram, in particular, was a way for our players and our program to demonstrate our alliance to diversity, equity, and inclusion," Greathouse said. "For example, we have student-athletes personally impacted by the unrest in Myanmar and Colombia, and we wanted our shirts, statements, and discussions to address issues of injustice around the globe.
"I have learned more in the last two years about my own privilege than I have in my lifetime. It's not enough for individuals to view diversity merely as racial diversity. We are doing ourselves and our students a disservice if we do not first educate ourselves about intersectionality," Greathouse said, referring to the study of intersecting identities and dimensions of social relationships.
Across the Athletics Department, teams created T-shirts, facilitated discussions, visited memorials, and engaged in community activism. Augsburg Athletics partnered with Augsburg Day Student Government to hold a town hall featuring the voices of student-athletes of color and other members of the Augsburg community. Chris Dixon, the university's first director of athletic diversity and inclusion, facilitated this and other discussions and opportunities for community engagement.
"When I arrived in 2019, I knew my position was an important one, but little did I know just how vital it would be to help our student-athletes, coaches, and staff process, learn, grow, and begin to heal—together," said Dixon, who also serves as assistant coach for the men's and women's track and field teams. "We are in an age of athletic activism, and Augsburg is invested in this work to bring awareness and take a stand. We empower our students, coaches, and staff to have difficult conversations and use their status as leaders to advance causes that matter."
'We can't wait for the tide to shift'
To focus the department's efforts and conversations, Augsburg Athletics formed a Diversity and Inclusion Task Force in Fall 2020. The group of coaches and staff works closely with university administration and student-athlete advisory groups. Major initiatives include rewording of the national anthem introduction, offering training sessions, and developing a self-reported race survey of Augsburg student-athletes that revealed 71% of student-athletes are white, 12% are Black, 8% are Latinx, 5% are multiracial, and 4% are Asian. Results from a similar survey of coaches and staff are pending.
"We didn't need surveys to point out that we lack diversity in athletics, but we wanted to get a self-reported baseline to assess how our students perceive themselves and the department," Dixon said. "This work is personal to me as a Black father the same age as George Floyd when he died. Athletics has always been a battleground for people to advance causes. We reach audiences who might not be exposed to these issues otherwise, both in the locker room and in the stands."
Dixon said that, although it's difficult to turn inward and recognize gaps, Auggies are eager to learn and adopt best practices in recruiting and building inclusive team cultures. "We celebrate diversity efforts at the national and international levels of these sports, but we can't wait for the tide to shift. We are striving to be more present in diverse neighborhoods and partner with programs that introduce these sports to people with a range of backgrounds."
In Fall 2020, the women's hockey team gathered at George Floyd Square, where 38th Street and Chicago Avenue intersect in Minneapolis. The 24 student-athletes, coaches, and staff walked around in silence as they took in the flowers, pictures, and artwork that Michelle McAteer, women's hockey head coach, described as "a mix of pain, sorrow, and inspiration."
"Our players were shocked at the long lists of African Americans killed by police, going back 20 years. We huddled and listened to each other, and the athletes' perspectives were so powerful," McAteer said.
The team also gathered on Martin Luther King Jr. Day in January. Alongside McAteer, Assistant Coach Ashley Holmes shared information she learned during a diversity, equity, and inclusion training.
"We recognized we are two white women, and it was not easy or comfortable, but that is the reason why we should be doing this," McAteer said. "We need to make these types of discussions more natural and ongoing. Avoiding talk and action because it's not natural or easy is a big part of the problem. We're not trying to lecture or convince but share information we've learned in a meaningful way."
McAteer said players have begun kneeling for the national anthem, sharing information on social media, and educating family members and friends. The team routinely partners with the DinoMights, an organization that mentors Minneapolis youth through hockey.
Women's hockey forward Lilia Scheid '22 said this year changed her. "I've learned that I need to make my voice heard in the community because making change takes every single one of us," she added. "I've learned what it means to be 'not racist' versus 'anti-racist.' Staying silent only hurts marginalized groups even more, so it's important to have these tough conversations and speak out against racial injustice."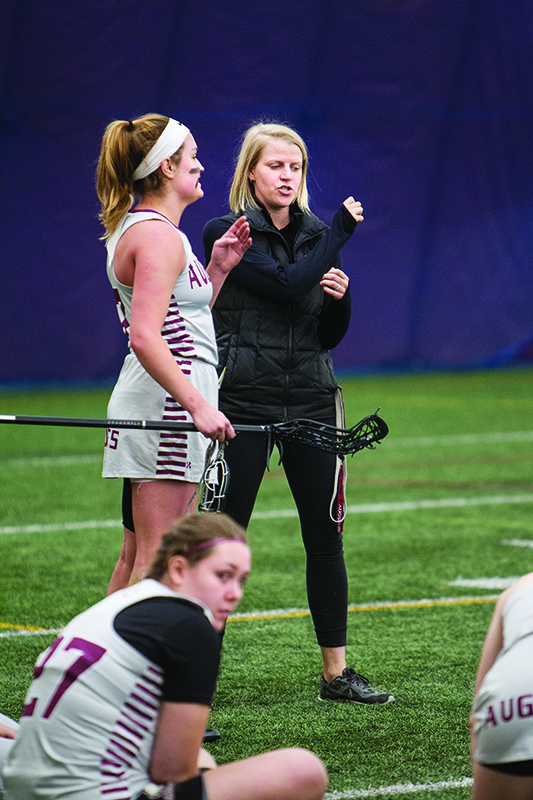 Women's lacrosse has been equally engaged. Teammates wore rainbow jerseys in support of a transgender player, who helped lead a discussion about transgender issues and terms. Augsburg Women's Lacrosse Head Coach Kathryn Knippenberg said the team is working to be more than performative allies. "If one of my athletes feels called to protest but doesn't have a ride, I will pick them up or find them a ride. If they want to kneel or don't want to kneel, they know they have my support," she said.
"Yes, we are here to win, but we are also here to equip student-athletes with valuable life skills, to prepare them for conversations and experiences they are facing and will continue to face."

—Kathryn Knippenberg
"We want them to live out Augsburg's mission to be informed citizens, thoughtful stewards, critical thinkers, and responsible leaders who are engaged in meaningful, transformative work."
Allowing vs. actively supporting
All Augsburg teams agreed to adopt new wording to introduce the national anthem before each contest: "Augsburg University Athletics would like to recognize that the American experience has not been the same for everyone under the flag. As we continue the fight for equality and justice for all, we now invite you to respectfully express yourself for the playing of our national anthem."
"It's not easy getting an entire department and body of student-athletes to agree on wording, but it was an important initiative of our Diversity and Inclusion Task Force," Dixon said. "By having these words in front of the national anthem, we are acknowledging that we—as a university—actively support people in how they want to express themselves. There's a difference between this statement and simply 'allowing' people to kneel or whatever."
Coaches and staff are expected to complete the Augsburg Diversity and Inclusion certificate program, which requires 18 credits of specified training and encourages additional training for advanced standing each year. In 2020, coaches and staff completed the NCAA Division III's LGBTQ OneTeam Program, which stresses the importance of LGBTQ inclusion in college athletics and provides an overview of common LGBTQ terms, definitions, and concepts. The peer-driven educational program, which Dixon facilitated, also shares best practices to ensure all individuals may participate in an athletics climate of respect and inclusion, regardless of gender expression, gender identity, or sexual orientation.
"Social justice issues are incredibly important to us in the Athletics Department, and when our student-athletes are actively engaged in educating themselves about the current and historical context of what is happening and they are attempting to use their platform as student-athletes to create awareness and positive change, I feel incredibly proud of them," said Kelly Anderson Diercks, who served as associate athletic director and director of compliance until July 2021. "Our student-athletes bring many identities and intersectionalities to Augsburg and their respective teams. To be the best we can be, we need to be able to show up fully as our true selves. This means we need to have spaces to talk about all those identities and intersectionalities and how the events facing our world play out differently for us all."
Recognition of these different identities and experiences led to Dixon's position; Augsburg hired him as part of a 2019 NCAA Ethnic Minorities and Women's Internship Grant, which the university also received in 2012. In 2014 and 2021, the department received the NCAA Strategic Alliance Matching Grant, which also supports the hiring and mentorship of ethnic minorities and women in athletic leadership positions.
Alicia Schuelke '20 MAE, former assistant coach for men's track and field, said students are thrilled with Dixon's enthusiasm and vision for the role.
"In a world where, many times, the odds are stacked against us, leaders of color provide hope and strength," said Schuelke, a physical education teacher at Columbia Academy Middle School in Columbia Heights, Minnesota. "I came to Augsburg for the MAE program, but I was pleasantly surprised to find how diverse the campus is, and it is my absolute favorite part of my learning experience.
"If we can move the needle toward a more diverse group of leaders that better represent our country's demographics, then students of color will begin to understand that the sky's the limit in terms of their own hopes, dreams, and aspirations."
House said she is encouraged by the department's work to advance equity and inclusion. She appreciates the university's willingness to be vulnerable and invite her and other people of color to share their experiences during this raw, unsettling time. But like any athlete knows, one must dedicate lots of hours and effort to see results.
Augsburg Athletics is putting in the work.
---
Top image: (Photo by Warren Ryan)