BY WENDI WHEELER '06
In theatre, as in life, finding success is often about who you know. But knowing the right people isn't enough. In order to build the foundation for a thriving career in theatre, students need to form and maintain connections with the people and the places that make up the "theatre scene."
Perhaps this is one of the most important lessons that Augsburg theatre students learn. Through participation in AugSem, the Artist Series, internships, and by attending some of the hundreds of productions staged throughout the Twin Cities every year, students are challenged to go away from Augsburg, and sometimes outside of their comfort zones, in order to make connections in the theatre community.
Connecting to the city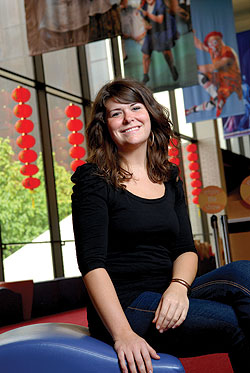 From the beginning of her Augsburg education, Tessa Flynn '05 says she was encouraged to get involved in the city. A theatre arts and mass communication major, she was particularly interested in the role of theatre in the public school system. She was fortunate to land an internship with the Children's Theatre Company following her sophomore year, an opportunity that served as her introduction to critical literacy in the classroom.
The Children's Theatre's Neighborhood Bridges program was started in 1997 by Jack Zipes, fairy tale scholar, and the Children's Theatre Company artistic director, Peter Brosius. Using a variety of mediums such as theatre arts, storytelling, and creative writing, students work through issues in their lives and develop critical thinking and communication skills. "It's like a little poison, this whole critical literacy thing," Flynn says. "It gets in your system, and your teaching is forever changed."
Before Flynn's last year of school, sociology professor Garry Hesser encouraged her to get involved with the Project for Pride in Living college house in the Phillips neighborhood. She lived there with other college students and tutored middle school students from the community. "I saw that my students needed to break a cycle of violence and poverty, and I became even more convinced that theatre could be an important part of that process," Flynn says.
Now Flynn is the community engagement manager and a teaching artist with the Bridges program at Children's Theatre. She works with students in grades 3–8 and has 22 classrooms where she spends two hours a week. Flynn says the Bridges program engages multiple learning styles and allows students to recognize their individual skills. "When I see students shine in Bridges, who in other areas of the school day are thought of as low-achieving or who hide in the shadows, I am convinced that this is important work."
Flynn says she is grateful for the opportunities she had at Augsburg. "I don't know if I would be where I am now if not for the encouragement of faculty to get involved in the city."
Katie Koch '01/'05 also made many connections in the city that led her on a circuitous path—from campus to downtown Minneapolis to New York and back to Augsburg with a few more stops in between.
Koch started out as a music major, but when her high school drama teacher took a position as stage manager at Hey City Theatre, longtime home of Tony n' Tina's Wedding, Koch was given an opportunity to assist him.
She worked as the assistant stage manager and as an actor in Tony n' Tina's Wedding at Hey City for three years while she was in school. "I would be in Augsburg Choir with my hair in pin curls," Koch said, "because I literally had to go straight from rehearsal to the theater."
She says it was the advice of Sonja Thompson, a piano instructor and vocal coach at Augsburg, that finally convinced her she could leave the music department. "She said, 'You're doing all this work in theatre … you don't have to be a music major,'" Koch says.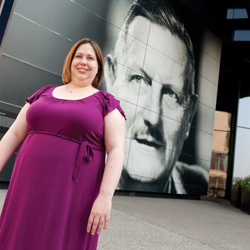 Instead of declaring a new major, Koch left school to stage manage the next show at Hey City, Smokey Joe's Cafe. She then became an assistant stage manager for the Minnesota Opera, went on to work with Glimmerglass Opera in Cooperstown, N.Y., and freelanced as a stage manager from Milwaukee to Miami. Eventually she came back to Augsburg and completed a degree in theatre.
Koch, who was by then a theatre veteran, found herself in the classroom with younger students. "It was interesting to be tossed in with a group of young, eager students," she says. But she formed relationships with students and even became a mentor to some. "It was exciting to watch such a talented group of artists learn and get ready to begin their careers."
After school, Koch worked at the Ordway Center for the Performing Arts until a friend encouraged her to respond to a posting for the assistant to the director of the Guthrie. She went through several interviews including a very brief interview with Joe Dowling who, she says, asked her mostly about the professionals she'd worked with in her career. "I guess he'd already made the decision to hire me," she says. She's worked with Dowling now for three years.
Koch maintains connections to Augsburg, sometimes serving as a guest lecturer and hosting Augsburg student groups who visit the Guthrie.
"A huge advantage for Augsburg and the theatre department is the city," Koch says. "Being in the city, you get to have the Guthrie and so many other theaters as an extension of the classroom." She adds that anytime she gets a chance to talk to Augsburg students, she tells them to take advantage of the opportunities to see high-quality performances in the city. "I say you need to sit in the seats and watch … this is your practicum."
Going behind the scenes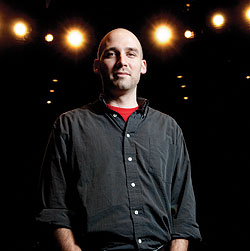 Each year many aspiring actors come to Augsburg hoping to make a name for themselves onstage. And while many do just that, they also sometimes discover and develop their calling to work behind the scenes by getting involved backstage.
This was the case for Lee Fisher '06, Michael Kelley '05, and Justin Hooper '07. All three were very talented actors who performed in a variety of roles while at Augsburg, but each one also learned a lot about his craft while working on the technical side of shows.
Fisher, who has taught English and directed the theatre program for five years at Robbinsdale Armstrong High School in Plymouth, says that being a stage manager was an important part of his education. "When I was behind the scenes, it wasn't about me. As an educator that has been very helpful," he says. "Success happens when the focus is on what the students need and how I can help them."
Today he directs two major productions a year and frequently draws on his connections with Augsburg theatre faculty for advice about organizing shows. He's sought out professors Michael Burden '85, Martha Johnson, and Darcey Engen '88 for help on developing a curriculum and organizing a show, and he says he wouldn't be able to do what he's done without their help.
Fisher also stays in touch with education and English faculty who were instrumental in his education because he values the professional connections. "I knew my experience at Augsburg wouldn't end after graduation," Fisher says. He adds that his Augsburg professors continue to be sources of guidance and friendship.
Kelley and Hooper also had eye-opening experiences working backstage at Augsburg. Kelley says he came to college wanting to be a professional actor but became interested in other career possibilities after working in Augsburg's scene shop for four years. And Hooper says his experience was all-encompassing because he worked on- and offstage. "There was always a lot of good discussion," he adds, noting that theatre majors tended to spend a lot of time together and to continue their classroom discussions outside of class. "You see that everything in theatre is so connected."
Hooper is grateful for the opportunities he had to work with and get to know guest artists while he was a student. "In theatre, it's all about who you know," Hooper says. In addition to meeting professionals through faculty connections, he and all theatre students work with actors, directors, and designers from the community on Augsburg productions. "That commitment to bringing in outside artists puts Augsburg one step higher than other college programs."
The connections they made while studying theatre at Augsburg have contributed to their busy and sometimes complicated professional careers. Since graduation, they have acted in and directed shows, painted and designed sets, and written original and adapted works. They've been from Winona, Minn., to Acadia, Maine, and back. And now, in addition to maintaining their day jobs, the two are putting their blood, sweat, and tears into managing 3AM Productions, a small local theatre company.
At 3AM, Kelley says they draw on their connections with other artists in the community to create unique and multidimensional productions. "We want every show to be something people aren't used to seeing," he says. He adds that they strive to provide a well-rounded "big theatre" experience to the patrons who are supporting their small theatre. "I think it's what we do well."
Finding your stage
It takes more than theatre majors and faculty and staff to stage a production. Often many non-majors get involved in theatre in college but don't end up in "the business" until later in life.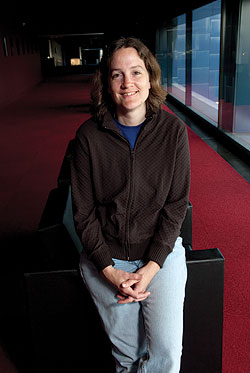 Carla Steen '91 is one student whose path to professional theatre went through the English and history departments at Augsburg.
As a first-year student, she ran the light board for Julie Bolton's production of Macbeth—with a set designed by Burden (then a graduate student at the University of Minnesota) and starring Engen as Lady Macbeth. But that was the end of her participation in theatre at Augsburg as a student.
Instead, Steen, who has worked at the Guthrie for 12 years as a dramaturg and publications manager, studied literary criticism with English professor Doug Green and worked on a senior honors project under his direction. She also researched Shakespearean history and sources for her history senior seminar taught by Richard Nelson, now professor emeritus.
"In many ways, that was the beginning of me thinking that research for theatre was an interesting thing I could do," Steen says.
During and after college, Steen worked in the box office at the Ordway Center for the Performing Arts. An actor friend there suggested she become a dramaturg, and eventually she went to Columbia to pursue an MFA.
Because she had very little experience in the "creative side" of theatre, Steen says her MFA was an immersion experience. "I said, 'Oh, so this is how all this works.'"
Today Steen says it is interesting to come back to Augsburg because as a student she wasn't really involved with the theatre department. She has taught and been a guest lecturer at the College, and she tries to see at least one production a year.
Steen says theatre students in the Twin Cities are fortunate because of the opportunities to meet and see high-quality actors, directors, and artists. "When students see other actors on the great stages of this city, they can read their bios and see their training, and that helps them see how to get from Augsburg's stage to another."
Another student who played a minor role at Augsburg and went on to a thriving career in theatre is Jenni Lilledahl '87. As a student, Lilledahl took courses with Ailene Cole, now professor emerita. "She seemed like she lived and breathed theatre and was completely consumed with passion for the forum," Lilledahl says. "She influenced me as an artist, and I always admired her from a distance."
Though Lilledahl took courses to obtain a minor in theatre, she felt the need to study in a more lucrative field. "I remember hearing voices saying, 'You have to pay the bills and have a reliable income.'" Lilledahl majored in communication and public relations.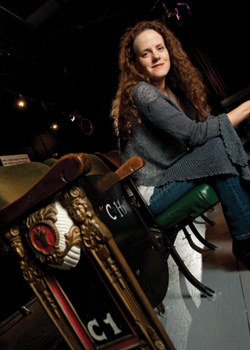 After graduating and working in corporate public relations, she decided to try the "comedy thing," so she started taking improvisation classes and met her future husband, John Sweeney. Eventually she jumped off the corporate ladder so that she and Sweeney could pursue their dreams, and the couple moved to Chicago and worked at The Second City.
Then in 1997, along with Mark Bergren, the couple bought the Brave New Workshop from its founder, Dudley Riggs. "John and I had three or so years of experience in theatre but had a lot more business experience," Lilledahl says. "I guess we were sort of the oddballs of the theatre community, but Dudley appreciated that we could manage the business as well as the artistic side."
As the current co-owner of Brave New Workshop and executive director of the Brave New Institute, Lilledahl oversees the theatre's school, which reaches more than 150 students a week, and she conducts improvisation workshops around the country. She is also on the board for Gilda's Club Twin Cities, an organization that provides emotional and social support for families impacted by cancer.
Lilledahl returns to Augsburg at least once a year to speak in chapel. Often her advice to students, which she says is based on years of seeing who gets work and who doesn't, is to get as much stage time as they can—wherever, whenever, and however—and to have a life outside of the theatre.
"We hire people because they are active and are creating their own work, not waiting for someone," she says. "And they also have some other passions that aren't about theatre." Lilledahl adds that an actor's experiences outside of theatre help them bring life to a script and creativity to the stage.
And perhaps that is what makes all these alumni successful.
At Augsburg students are trained as actors, directors, and technicians, but they also learn how to become involved in their community as artists and as informed citizens. They understand that making connections is important to their careers and to their personal lives as well. They're encouraged to explore many aspects of theatre, to develop their craft, and to work and learn at Augsburg and in the city. More than blocking and movement or scene study and character analysis, these are the lessons that will stick with them as they make their mark on the world's stage.