By Jeff Shelman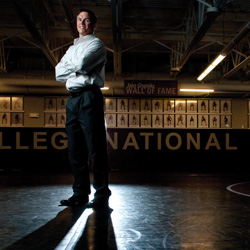 It was spring 2007 and Mark Matzek '05 couldn't sleep. He was 25 years old, had just finished his first full year of teaching mathematics at Apple Valley High School, and suddenly was faced with a significant life decision.
Ever since deciding to become a high school teacher, Matzek's goal was to return to his hometown of Ellsworth, Wis., coach his nephews on the wrestling mat, and teach math to his nieces. With only two coaches over the past 60 years, Ellsworth had become a wrestling power in Wisconsin, and continuing that interested Matzek. But Matzek was also an Auggie. The three-time All-American and two-time national champion had spent two years as a part-time assistant coach at his alma mater.
So, three years ago Matzek had to make a choice. A math position opened in Ellsworth and plans would be made to make him the coach-in-waiting. At the same time, Jeff Swenson retired as Augsburg's wrestling coach, the assistant coach was promoted, and Matzek was offered the full-time assistant coach position.
"I kept waking up thinking Augsburg was the right choice," Matzek says.
Turns out it was.
Back on top at No. 1
Fast forward three years and Matzek doesn't have some of the worries that many 28-year-olds have. He doesn't worry about whether that promotion is really going to happen. He doesn't fret about that next job. And he isn't in that wondering-what-is-next mode that seems to go along with that time of one's life.
Fresh off a Colorado vacation filled with mountain climbing, Matzek couldn't be more comfortable with where he is. And for good reason. Sitting in his Kennedy Center office, Matzek has two pieces of serious hardware within arm's reach. The first is for the NCAA Division III wrestling national championship that Augsburg won in March. The second is for Matzek being named Division III Coach of the Year.
"There is no 'what's next'," says Matzek, the youngest coach to ever win a Division III title. "This is where I want to be. It's Augsburg. This is the premier small wrestling school in America. This is a dream job."
And this winter, the Augsburg wrestling program truly became Matzek's program. With former coach/program architect/athletic director Jeff Swenson '79 simply a spectator, Matzek led the Auggies to one of its most successful seasons in school history.
The Auggies simply didn't lose. A team with great balance, Augsburg was perfect in dual meets; it won every tournament it entered and the Auggies closed the season by winning their 11th national championship in the past 20 years. It was a season that included dual meet victories over the teams that finished both first and second in the Division II championship and a drama-free Division III national championship in which Augsburg clinched the title before the championship matches began.
While there were certainly questions about whether Matzek would be able to keep the Augsburg wrestling program at the same level—the fact that he looks both younger than his age and younger than some of his wrestlers didn't help—there is little question now.
"I couldn't be happier for Mark; they got the monkey off their back," Swenson says. "You win one and then you don't have to answer the question any longer. And I couldn't be happier that I had nothing to do with it."
Matzek says he didn't feel pressure to win that first title, but he also knows that there were people nationally who expected a misstep. "If Augsburg was ever going to falter, it was going to be the last two years," he says. "And we finished second and first."
Bumps along the way
It was a little more than two years ago when Swenson walked into Matzek's office and asked him to serve as the program's interim coach. It was the end of July, the school year was less than six weeks from starting and Matzek was handed the keys.
"Was I prepared as well as others in the nation? No," Matzek says. "But I didn't want it to go outside the Augsburg family. I didn't really know what I had agreed to until I went home and told my wife."
The next eight months were a blur for Matzek, who at times was just trying to stay a step ahead of his wrestlers and make it to the next day.
Because in addition to leading the Auggies, he was also part of the way through a graduate program at Concordia-St. Paul, a program that was much more manageable when he was an assistant coach.
"I had three full-time jobs," he joked. "I had Augsburg, I had my master's program, and I had my wife. Our guys would study and I'd be there working on my homework at the same time."
While athletics may not be as cutthroat at the Division III level as it is, say, in the Big Ten, contests are still scored and it isn't intramurals.
"I didn't want to just hold on and be a bridge from one coach to another," Matzek says. "I wanted to win the title for those guys. It was a year of extreme highs and extreme lows for me. I was learning to manage all of the different guys, manage personalities and figure out that not all athletes were like me when I was in college."
Matzek was certainly more than just the guy to get Augsburg by. The Auggies defeated rival Wartburg, won the Division III National Duals, and entered the NCAA Championships ranked No. 1 in the country.
"I knew we didn't have as good of a tournament team as we did a dual meet team," Matzek says. "We had a couple of injuries, and we had a couple of matches that didn't go our way. After the first day I knew it was going to be tough."
The Auggies finished second, but Matzek did enough to ensure his future as Augsburg's head coach. While the search committee did bring in two outside candidates to interview for the position, Matzek was hired.
"Given the circumstances, he did a great job," Swenson says. "We were a lowly-ranked team and he took us to the No. 1 ranking and a second-place finish. There was a real strong assumption with the committee that he had done a good enough job."
In the right place now
While Matzek has been a head coach for only two seasons—and only one season in which he knew the job was really his—he has impressed the guy who is both his boss and the architect of the Augsburg program.
"I think Mark has become a quick expert at preparing his teams for competition," Swenson says. "I think he gets it. I believe he has taken the Augsburg system and tweaked it to have Mark Matzek's name on it. He's done it by having a keen sense of what athletes need.
"He's a lot closer in age to his wrestlers. He knows how it feels to go through this. He's really in tune to when the guys need to be pushed, need a day off, need rest."
Like anyone in a new job, the second year was easier for Matzek than the first. He had a better understanding of what the job entailed, there were fewer surprises, and he could learn from both high points and challenges of his first year. And when the Auggies reached the NCAA Championships, Matzek knew the work had been done.
"I don't want to sound cocky or arrogant, but we expected [the national championship], we expected to win it," he says. "It wasn't a real surprise."
While Swenson was happy for Matzek, Matzek was happy for his boss. "It was big for Augsburg wrestling to win it without Jeff in the wrestling room, it was a big relief for him and the search committee," Matzek says. "They took a chance and it worked out."
And, as a result, Matzek is exactly where he wants to be.
Mark Matzek at Augsburg
2001-05: Student-athlete
Two individual national championships
Three-time All-American
The team won two national titles and had two runner-up finishes.
2005-2008: Assistant coach
Augsburg won the 2007 national championship and finished third in both 2006 and 2008.
2008-09: Interim head coach
Team rose to No. 1 in the national rankings and won the National Duals.
The Auggies finished second at the NCAA championships.
2009-10: Permanent head coach
The Auggies completed a perfect season, winning every dual meet and tournament.
Augsburg won its 11th Division III national championship in the past 20 years.
Matzek was named Division III Coach of the Year.