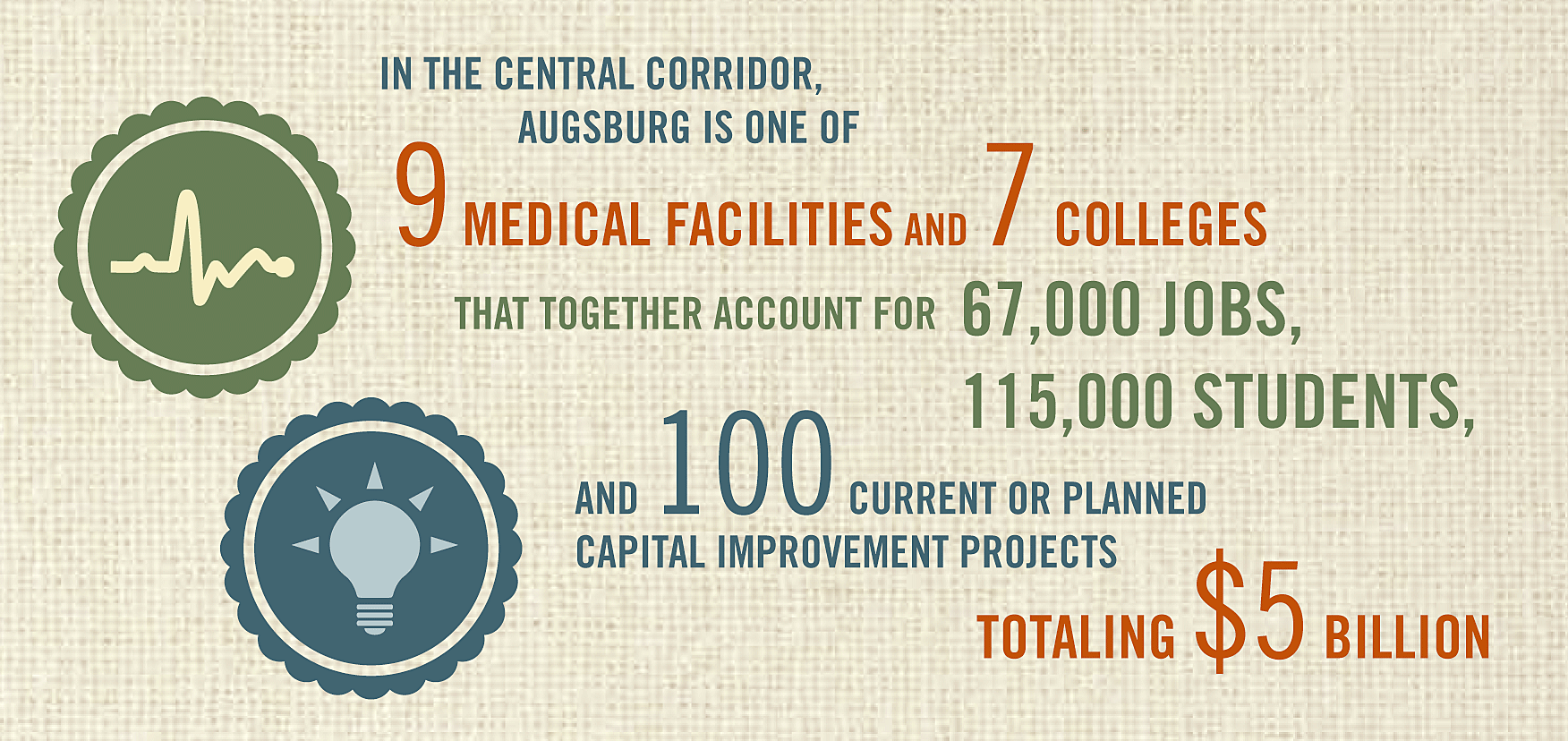 BY JAY WALLJASPER
An increasingly globalized economy leaves communities everywhere anxious about losing good jobs. Even the prosperous Twin Cities is no exception, as the closing of the St. Paul Ford plant and the transfer of Delta Air Lines employees show.
It's bad news for the whole region when jobs leave, including local institutions like Augsburg that benefit from being located in a thriving community. An increase in unemployment, poverty, and social dislocation in neighborhoods surrounding the campus would raise new challenges for the College in attracting students, faculty, and contributions.
But there's good news, too. Some of the Twin Cities' biggest employers aren't going anywhere.
How can we be sure? Because "anchor" institutions like colleges, medical centers, and cultural institutions serve the people of a particular area and are in fact defined by their location and the people they serve. For example, try to imagine Fairview Hospital moving to Beijing or Augsburg to New Orleans. They would not be the same in another place because they anchor the communities in which they are located.
Many communities coast-to-coast see these "eds and meds" institutions as crucial, not just for keeping jobs but for keeping neighborhoods vibrant. Anchor institutions are the largest employer in 66 of the 100 largest U.S. core cities, according to a study from the Initiative for a Competitive Inner City.
"Colleges and hospitals are embedded in their community and have a real stake in seeing that it thrives," explained Augsburg President Paul Pribbenow, who is chair of an ambitious new anchor initiative along the light rail Central Corridor. Large-scale anchor strategies have been proven to work under rigorous conditions in Philadelphia, Detroit, Cleveland, Baltimore, and Syracuse—where economic challenges far surpass those here in the Twin Cities. But anchor strategies are not confined to cities with dire social and economic conditions. A set of Boston hospitals has established successful training, employment, and housing programs to boost surrounding neighborhoods; other projects are underway in Phoenix, Atlanta, and Washington, D.C.
Augsburg stands out as a leader in the Twin Cities' anchor institution strategy—thanks to longstanding programs that partner students and faculty with the community to increase public safety, boost local education, provide health-care services, promote economic development, work with immigrant groups, train neighborhood youth, improve the urban environment, and feed people in need.
Steve Peacock, Augsburg's director of community relations who works closely with many of the projects, said the programs fit with Augsburg's distinctive mission as an urban liberal arts college. "It's one of the things that distinguishes us. We offer an opportunity for students to be engaged in the neighborhood. For us, it's not just a charitable activity. It creates shared value."
Augsburg recently became one of a dozen anchor institutions—ranging from Allina and HealthPartners to the University of Minnesota—that were first to sign on to the Central Corridor Anchor Partnership, a joint effort funded by the McKnight Foundation to strengthen communities along the light rail line between downtown Minneapolis and St. Paul. Pribbenow pointed out the immense economic and civic potential of nine medical facilities and seven colleges in the corridor that together account for 67,000 jobs, 115,000 students, and 100 current or planned capital improvement projects totaling $5 billion.
Eric Muschler, the McKnight Foundation program officer involved with the project, noted that Augsburg's long involvement in the West Bank community offered inspiration for the overall Anchor Partnership. "[Augsburg has] been thinking about this longer," he said.
"This is not do-gooderism," Pribbenow stressed. "This is moving beyond the charity model. We have real interests that are at play with the neighborhood. For us, this is about our students. It contributes to their education, their safety, and a vital urban environment where they live. This is not just what we give to the community, it's about our shared interests and mutual benefits."
Five years ago, Augsburg took a leading role in the creation of the Cedar-Riverside Partnership, where stakeholders including West Bank businesses, Fairview Clinics-Riverside, University of Minnesota, neighborhood organizations, the City of Minneapolis, and Hennepin County explore new ways of working together in the neighborhood. Pribbenow currently serves as the partnership's chair.
"At first the group was all about safety," Pribbenow said, noting how partners raised funds to increase security at a community center, supported a neighborhood crime prevention group,
and helped plan a community safety center that opened at a nearby housing complex.
"If you talk to the police department, they will tell you that all of this work by many institutions and community organizations has improved the safety and vitality of the neighborhood in a surprisingly short amount of time."
That initial success showed everyone what could be accomplished cooperatively. The group's attention then widened to the coming Central Corridor light rail line. Hennepin County Commissioner Peter McLaughlin told the group, "If you get this right, it will undo the damage that was done" when Interstates 94 and 35W essentially walled off Cedar-Riverside from the rest of the city.
"This work is about resurrecting a neighborhood," Pribbenow noted. "Cedar-Riverside could become a destination for the whole region."
That's also a goal of the Central Corridor Anchor Partnership: to make sure that adjacent neighborhoods capitalize on the transformative benefits of this nearly $1 billion public investment.
Pribbenow outlines four major initiatives to strengthen Central Corridor communities, which in turn strengthen anchor institutions such as Augsburg.
1. PROCUREMENT—A Central Corridor Funders Collaborative study found that 16 major anchor institutions already spend more than $300 million in goods and services from neighborhood businesses. Finding practical ways to increase this local spending—both individually and as a group—makes a good investment, said Augsburg's Peacock. "Local purchasing benefits the local economy, which means a healthier neighborhood."
When it came time to reupholster the chairs in Hoversten Chapel, for instance, Augsburg found a small Native American-owned business in the nearby Phillips neighborhood to do the job. A class of Augsburg MBA students is now investigating more opportunities on this front.
2. WORKFORCE DEVELOPMENT—The same principle of keeping resources circulating throughout the community applies to the goal of hiring more neighborhood residents at anchor institutions. Of course, as Peacock noted, this depends on finding people with the right skills. "How do we connect residents to the training and certification programs that are needed for the jobs?" That's where Augsburg's nursing and physician assistant programs come in, preparing young people to work at the nine medical facilities along the light rail line.
For several years, Augsburg has gone one step further in developing the future health-care workforce by hosting Urban Scrubs Camp (in conjunction with Fairview and the state-funded
HealthForce Minnesota) to excite young people about careers in health care. Augsburg's many community partners invite interested high school students to spend a week on campus in order to get a feel for work in these fast-expanding fields and for college life. St. Paul College, at the other end of the Central Corridor, is now adopting the idea.
3. ENGAGED LEARNING—Augsburg holds honors from the National Society for Experiential Education (2012) and the White House's Presidential Award for Community Service (2010), which demonstrate the College's leadership in this area. "Since the 1960s, we've taken advantage of the city itself as a classroom," Pribbenow noted. "It's part of what make us distinctive."
Nursing students, for instance, gain invaluable experience working at the school's drop-in health centers at Riverside Plaza and Central Lutheran Church. Hundreds of students also have volunteered at the Cedar Riverside Community School, a K-8 charter school at Riverside Plaza, and the Augsburg Fairview Academy public high school in the Phillips neighborhood. All Auggies can be involved with the Campus Kitchen, a student-led project that distributes 2,000 meals a month to homeless shelters, youth programs, and senior and community centers. Similarly, Augsburg's community garden finds students, community groups, and neighborhood residents growing vegetables side by side.
Trinity Lutheran Congregation, which was founded by Norwegian immigrants 140 years ago and today is home to many Eritrean and Ethiopian immigrants, is housed right on campus in a unique arrangement that further strengthens the ties between college and community. Students are involved with the congregation's tutoring program for immigrants living in Cedar-Riverside and in interfaith collaborations with Augsburg's many Muslim neighbors.
4. PLACEMAKING—Neighborhoods do not stay vital on economic development alone; a strong sense of place contributes greatly to their success. Augsburg reaches out into the community in many ways to improve the built environment and enhance the distinctive character of the neighborhood. This goal is woven throughout the College's campus master plan. The Oren Gateway Center, which opens onto Riverside Avenue, is symbolic of the College's commitment to community connection. Another welcoming gateway is being considered long term for property Augsburg owns on Riverside Avenue on the east side of campus.
Riverside Avenue itself underwent a remarkable makeover in the last few years—with improved bike lanes and a new street configuration to calm traffic—thanks in part to the College's cooperation with the city of Minneapolis. "There are improvements on Riverside that would not be there if we had not sat down with the city and said we wanted them," Pribbenow said. It is exactly this type of leadership, collaboration, and active engagement in community building that Augsburg and its anchor partners will now extend to the entire Central Corridor region through this innovative new anchor institutions initiative.
Jay Walljasper, a senior fellow with Augsburg's Sabo Center for Citizenship and Learning, specializes in city and community issues. He is author of The Great Neighborhood Book and All That We Share: A Field Guide to the Commons. Read more at jaywalljasper.com.

Augsburg's recent participation in an "anchor" approach to community revitalization does not rely simply on theory. Large-scale strategies have been tested successfully under rigorous conditions in U.S. cities where economic challenges surpass those in the Twin Cities.
PHILADELPHIA
Anchor strategies were pioneered in West Philadelphia.
The University of Pennsylvania redefined its relationship with the community from isolation to interaction.
Successful initiatives included launching an incentive program for workers to live in the area, reviving commercial districts, creating more than 600 jobs, and more.
DETROIT
Housing initiatives transformed an area notorious for abandoned properties into a desirable neighborhood.
Hospitals convinced a medical products vendor to move its distribution center from the suburbs to the city, creating 140 jobs.
The Henry Ford Health System established a five-year program in area high schools that trains and certifies students for jobs in 10 health care occupations.
CLEVELAND
Anchor institutions teamed up to create a series of worker-owned cooperatives.
Cleveland Clinic, Case Western Reserve University, and University Hospitals will benefit from light rail improvements and a new high-speed bus line.
A growers cooperative was formed to produce local food.
A future project may include a transportation company to shuttle patients to hospitals.
SYRACUSE
The city's Near Westside, one of the 10 poorest census tracts in the United States, is transforming into a center for technology, design, and art.
Syracuse University raised $56 million for its plans to better connect downtown with its campus.
Other communities with anchor initiatives underway: Atlanta, Boston, Cincinnati, Phoenix, Washington, D.C.