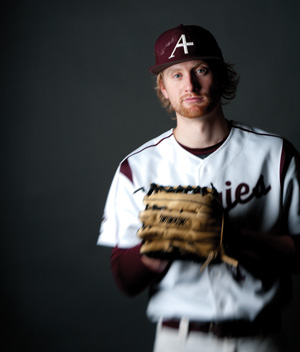 BY WENDI WHEELER '06
If Paul Hallgren '13 isn't at Parade Stadium, home of the Auggie baseball team, he might be in Augsburg's Writing Lab helping a student with a paper. He could be studying in the Honors program lounge or having a high-minded discussion in the Quad with colleagues in the Philosophy Club. And if he's not in the aforementioned places, it's possible that he is at an event representing the College as an Augsburg Steward.
This busy outfielder and double major in philosophy and English is able to balance his studies with his other activities and responsibilities in part because he's bright and talented, but he also gives a lot of credit to his coaches and professors.
"I love that I can have direct correspondence with my professors and that they know me and know I'm involved on campus," Hallgren said. "They are always willing to make sure I have what I need."
Hallgren was able to meet some of his future professors when he was recruited by Coach Keith Bateman to play baseball and came to Augsburg for a campus visit. "I felt that they were genuinely interested in me in ways that professors at a large institution might not be," Hallgren said.
Hallgren has played with the Auggie baseball team since his first year at Augsburg and said that being an athlete with off-season practices helped him adjust to the rigor of a college schedule. "I was responsible for putting my schedule in order and making sure I got everything done," he said. If not for athletics, Hallgren supposed he might have been a bit lazy.
But "lazy" is one word most would not use to describe Hallgren. During his first year at Augsburg, he provided research assistance to professor Larry Crockett for Crockett's paper on pragmatism, and last year he spent a semester in Scotland studying English modernism
and Scottish literature.
Through the Augsburg Stewards program, Hallgren learns leadership and networking skills by connecting alumni to the College and working with current students to encourage their continued involvement with Augsburg after graduation.
As a tutor in the Writing Lab, Hallgren helps undergraduate and graduate students with all stages of the writing process and in all academic areas. "I really enjoy reading others' papers and helping them learn how to convey their thoughts in a coherent way," Hallgren said. "I hope they come away from a session feeling more confident in themselves and in their ability to write."
Hallgren said these extra activities have shaped him and his Augsburg experience. "I feel like I'm a much more well-rounded individual as a result of participating in other activities."
This spring, find Hallgren and the Auggie baseball team at Parade Stadium, 400 Kenwood Parkway in Minneapolis. The regular season begins in late March and ends in early May. And see the new baseball dugout built with donations from the Augsburg A-Club, a service organization of former and current Augsburg College athletes and friends of the College.