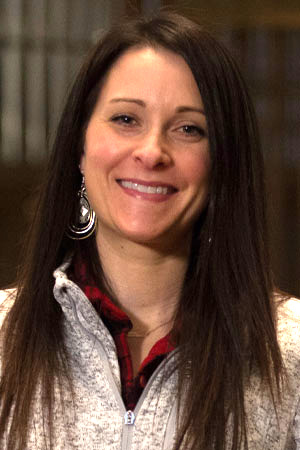 Katie Clark '10 MAN, '14 DNP sees resilience every day as executive director of Augsburg's Health Commons, which are drop-in health centers led by the nursing program with a model focused on caring for those in the community who are marginalized. Guests are not required to show identification, and medical professionals don't wear scrubs or stethoscopes in order to increase relatability and public trust in health care workers.
Her focus at the Augsburg Central Health Commons is with individuals who are experiencing homelessness or who are marginally housed in Minneapolis, and the Health Commons in the Cedar-Riverside neighborhood provides care for residents, many of whom are East African immigrants. As an assistant professor of nursing, Clark teaches primarily in the graduate nursing program through courses that emphasize social justice, health disparities, and civic engagement.
The Augsburg nursing program, Clark said, is unique because faculty and students are embedded in the community. Other schools often see that work as "extra service" and send students to nonprofits, but Augsburg considers place-based work as central to the educational experience.
Hospitality and healing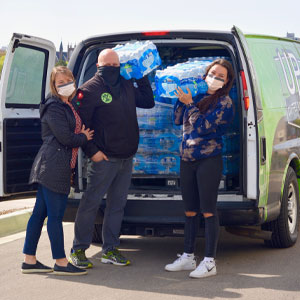 "We help students serve and explore the world we live in, and we're with them when they do it," Clark said. "They get uncomfortable and lean into the biases they may have and really get involved in a community to understand the issues from the people who experience them."
"You can't come up with answers if you don't know the problems."—Katie Clark '10 MAN, '14 DNP
When COVID-19 hit, the Health Commons at Central Lutheran Church in downtown Minneapolis was one of the only drop-in health centers that continued to stay open. At the height of the pandemic, Clark said staying open meant standing outside, passing out hygiene kits, and bringing meals and supplies to encampments of unhoused people.
"Many of our students are adult learners seeking bachelor's, master's, and doctorate degrees. Some of them have dealt with furloughs or are at the bedsides of patients, holding up the [touchscreen] tablet for family members to say goodbye, and adapting to constant changes in health care environments. Then they have school in addition to their own stressors at home, like juggling kids or responding to family members who say, 'COVID isn't real.' These students want to get involved and tackle the issues in their communities, and they are doing it! I get chills talking about it."
Ellen Kearney '23 DNP is one of Clark's students in the Doctor of Nursing Practice: Family Nurse Practitioner program and also a registered nurse at a Twin Cities intensive care unit. Kearney admitted that despite extensive safety measures, it was scary to be indoors at the Health Commons with patients early in the pandemic. But the work—her passion—is critical, she added.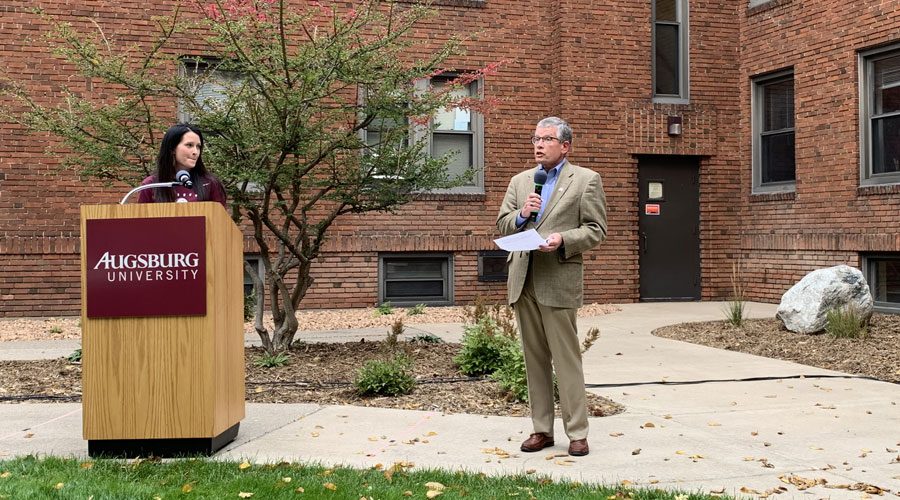 "Before COVID-19 we were able to serve between 50 and 100 people each Monday and Thursday," said Kearney. "Now we can only see 12 people each day we are open. But because our hours have not changed, it has been nice to have a longer period alone with each guest if they chose to stay and talk. I've been able to learn about one guest's upcoming trip to her home country in Africa and her worries about traveling, and I have been able to follow up with one older man while I do his foot care. It has been hard to not open the doors fully, especially now that the weather is colder and knowing there are so few public spaces open, though it is clear that we need to stay capped for everyone's safety. While the scale of the Commons is small, the impact is large."
When Augsburg temporarily restricted students from working at the Commons, volunteers and Augsburg alumni, like Emily Pierskalla '20 DNP, stepped in to keep doors open. The most challenging aspect of working as a registered nurse is ricocheting through stages of grief, which Pierskalla said is emotionally, mentally, and physically exhausting. She avoids news about COVID-19 and social media because it can trigger haunting memories.
"I have flashbacks of the faces of patients I've seen die while their loved ones cry watching through an iPad or seeing my own co-workers struggling to breathe after getting sick," said Pierskalla, who has worked for eight years at Hennepin County Medical Center in Minneapolis. "It has taken a lot of therapy, self-care, and effort to keep the burnout from causing me to become bitter and angry, or worse, apathetic to the world and society."
She has also worked as a nurse practitioner at CVS MinuteClinics, administering COVID-19 tests and helping people understand their test results and quarantine recommendations—efforts that have immediate practical effects.
"When I'm at the Commons or out in the camps, I actually feel like I'm helping to create the world I want to live in."—Emily Pierskalla '20 DNP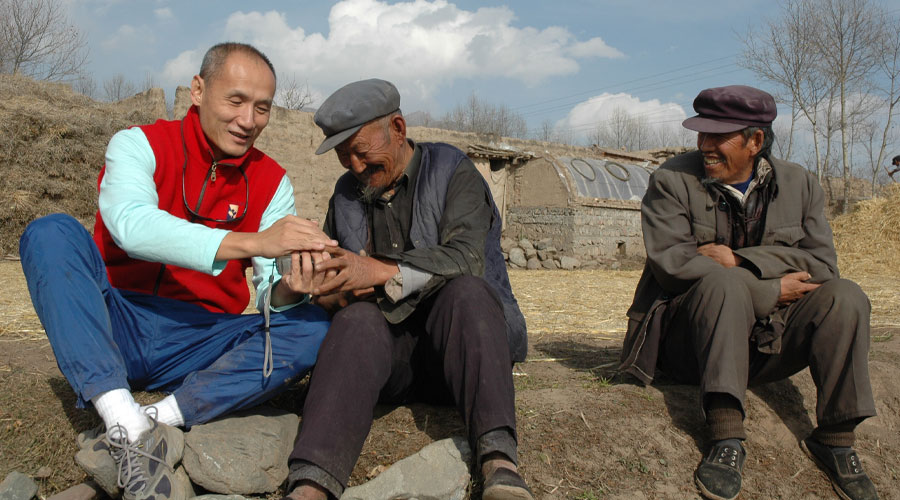 Advocates for change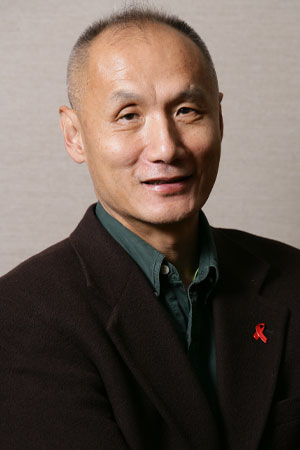 Auggies are working across the globe to create policies and medical solutions to realize that better world. Dr. Ray Yip '72 is a global health specialist serving as special advisor to the Gates Venture on China Partnership Development. For the past 22 years, he has assisted the Chinese government in improving its public health system, with a focus on disease control and response capacity. When COVID-19 began spreading in January, Yip was in Beijing.
"I was impressed with how aggressive the outbreak was in Wuhan, and I predicted that China would be able to get it under control by April. To my pleasant surprise, China achieved that seemingly impossible task by mid-March."
In February, he returned to his home in upstate New York, from which he has advised several organizations about COVID-19-related issues and provided a range of companies with updates about the progress of vaccine development worldwide.
"This pandemic, which we knew would happen sooner or later, requires strong government leadership as well as commitment and partnership with the private sectors for the solutions."—Ray Yip '72
"More than 23 years with the Centers for Disease Control and Prevention told me the United States had the know-how and capacity to contain this epidemic. After all, I was sent to China to help them to build such capacity. My prediction was so off, I hate to admit it. We all suffer dearly from the dire consequence of horrible mismanagement, which largely has to do with leadership failure. It was particularly painful to watch the CDC get sidelined, and public health measures became politicized."
The heroes of the pandemic, Yip said: health care workers.
"Most people do not realize the risk and danger of those health care workers taking care of the COVID patients, especially in the early phase when protective gear was in short supply. A disproportionate number of them got infected and died. If I were my younger version, I would not hesitate to join them in on the front lines. I am grateful for their service and sacrifice."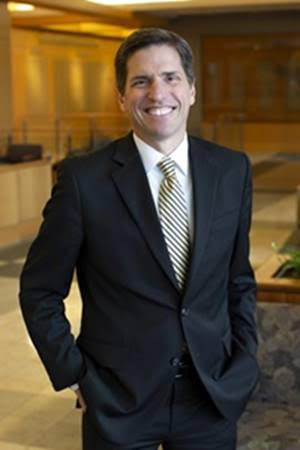 Dr. Paul Mueller '84, regional vice president for Mayo Clinic Health System's Southwest Wisconsin region, oversees thousands of such workers attending to patients in two hospitals and eight clinics. He manages COVID-19 response through policy decisions and exploring new treatments while treating the disease in his own patient panel.
"It is weighty from a psychological standpoint, as you try to be a leader in such an ever-changing, high-stakes environment, knowing the lives you impact," said Mueller, who has served as an Augsburg regent and as the campaign chair of Great Returns: Augsburg's Sesquicentennial Campaign. "But every day I walk the halls of our hospitals and clinics and see the resilience and ingenuity of our staff who have delivered on the promise of medicine. Nurses greet me with a smile behind personal protective equipment. They are busy but feel called and up to this work. With a can-do attitude, we are caring for patients in the darkest of times, administering novel treatments, and preparing to safely roll out vaccines.
"We're still in the thick of it. If you think of it like a marathon, we are at mile marker 19. But if we can maintain resilience and hope, we will finish the race and be better for it."—Paul Mueller '84
"This pandemic has shown us that we all breathe the same air, and it is the one thing that is unifying our entire planet. While the virus rages on killing people, we continue to see the brilliance of the human spirit—beacons of hope and optimism, compassion and resilience, integrity and ingenuity."
Caring for patients, fueling research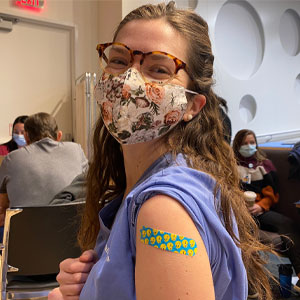 Brittany Kimball '13 is a third-year resident at the University of Minnesota in internal medicine and pediatrics. The pandemic has taken its toll on her and other residents, as expectations are in flux and workloads are stressful and exhausting. Virtual visits are difficult because of a lack of internet and personal connectivity, Kimball said. Loneliness has infected the hospitals. Last week, Kimball watched a nurse gently care for a patient isolated from visitors, playing his favorite music as he died.
"The COVID-19 pandemic has certainly compounded patients' conditions. Children are missing well visits and immunizations. Cancer patients require COVID-19 tests prior to chemotherapy, sometimes missing a treatment because they have the virus. Many of my primary care patients with diabetes are wary of clinic visits, thus making it harder to [measure doses of] their medications," said Kimball, who earned a bachelor's degree in biology from Augsburg.
"Most troublesome, the pandemic has compounded inequities for already marginalized people. Some of my patients don't have internet, while others don't have access to a regular phone. For some patients, limited English proficiency can make getting set up on a virtual platform more difficult.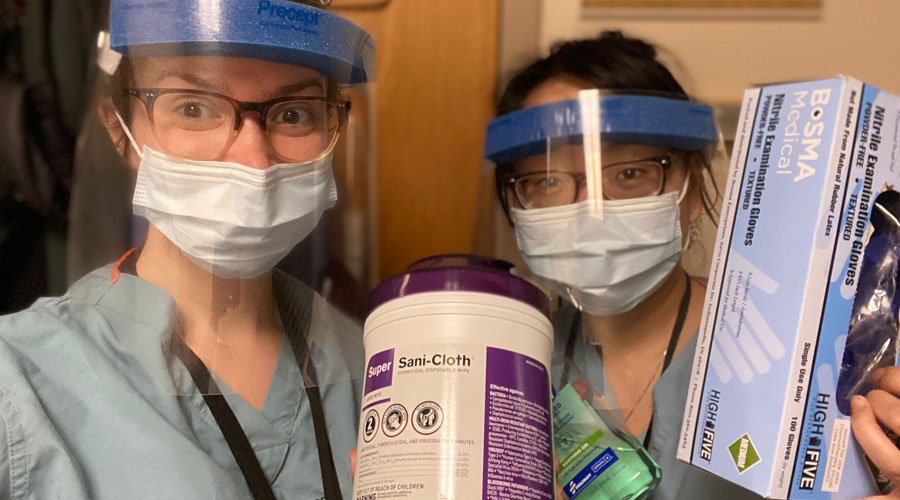 "Patients dealing with addiction and trying to maintain sobriety have told me that their usual coping mechanisms—like getting together with other people who are sober or participating in a faith community—have become inaccessible. For patients living in poverty, balancing virtual school and frontline jobs has been incredibly stressful and sometimes impossible. It's often people living in poverty that are doing frontline work that makes them more likely to be exposed to the virus, like working in a restaurant, public transit, or in a store."
"We need to figure out how to make telemedicine more equitable."—Brittany Kimball '13
Her dream has long been to be a doctor, so despite the challenges, she pushes on—driven to pursue a fellowship in hematology-oncology. As a Hodgkin's lymphoma survivor, Kimball is particularly interested in caring for adolescents and young adults with cancer and blood diseases. "As an 18-year-old in my first semester at Augsburg, I was figuring out dating while bald, chemo after classes, and trying to study when my brain felt foggy and my body felt sick," she added. "Sometimes I needed a bit more guidance and support than a typical adult patient, but not in the same way that a much younger child might. Teens and young adults don't fit neatly in the pediatric or adult-centered models of care, and I hope I can make that better."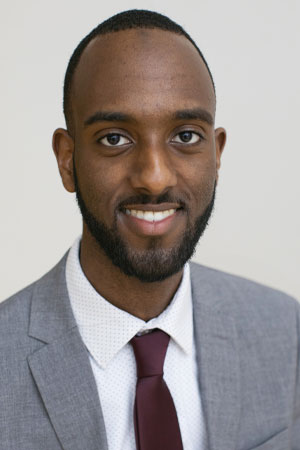 Hamdi Adam '18 is similarly driven to make a difference. As a doctoral student of epidemiology at the University of Minnesota, Adam followed his bachelor's in biology from Augsburg with a master's degree in public health at the University of Minnesota. Adam studies cardiovascular diseases, diabetes, and neurocognitive disorders. He is focused on investigating the impact of COVID-19 on chronic conditions, which can lead to higher risk of mortality, especially among people with existing risk factors, like high blood pressure and diabetes.
"At some point down the road, I'll probably get the chance to utilize COVID-19 data to assess the relationship between COVID status and various chronic disease conditions in population-based research studies and hopefully add valuable and timely information to the base of existing literature," said Adam, who—as a first-generation Oromo American—is interested in applying his research to address health disparities affecting people of color. "It feels good to know that your studies and work are for the betterment of people. With research, sometimes you feel like your work is so detached from the true health problems you are attempting to address, but I like to think that epidemiologic research provides the basis for informing more direct actions, such as health policy development and effective community-based interventions."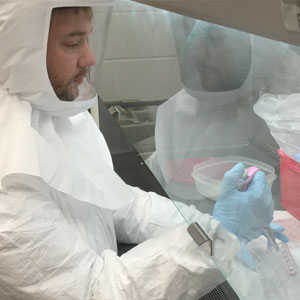 Another researcher, Will Matchett '13, earned a doctorate in virology and gene therapy from the Mayo Graduate School of Biomedical Sciences. He works as a postdoctoral fellow at the University of Minnesota, where he will spend up to five years acquiring training that will allow him to run his own lab. Between April and August, his research focused exclusively on developing a SARS-CoV-2 test to measure the specific antibodies that block the virus from entering cells. Since September, his focus has shifted to testing a COVID-19 vaccine being developed at the University of Minnesota.
Increasing and diversifying COVID-19 testing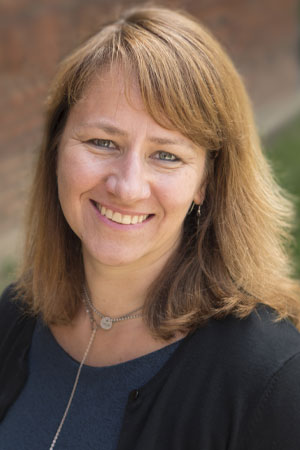 Does all the medical terminology sound like a foreign language? That's how Elaine Eschenbacher '18 MAL described her first few weeks as the higher education operations lead for Minnesota's COVID-19 Testing Work Group. Since 2009, she has worked at Augsburg, the last six of those years as director for the Sabo Center for Democracy and Citizenship. But since June, the Sabo Center has put her "on loan" to Minnesota's State Emergency Operations Center to work with a team of experts to launch Minnesota's testing plan in collaboration with colleges and universities. Subgroups are assigned to areas such as long-term care, child care and schools, community testing, hotspots, case investigation and contact tracing, research, data, purchasing, and contracts.
"My work at Augsburg prepared me for this role in a variety of ways. The role is necessarily collaborative and involves recognizing that different people have different roles to play and respecting those different perspectives and sets of expertise."—Elaine Eschenbacher '18 MAL
"Civic engagement work is like that, too. I've also been thinking a lot about the Master of Arts in Leadership program, which I completed in 2018. This work is like having a master class in leadership and public health every day."
In April, Minnesota Gov. Tim Walz announced a "moonshot goal" of 20,000 tests per day in the state, at a time when only about 2,000 tests were being performed daily, Eschenbacher said. The testing work group increased capacity and made that moonshot goal by the end of June.
"Since then, we've been continuing to increase and diversify COVID testing, and make sure that the people who most need it have access to it. During the week of Thanksgiving, our daily average for testing across the state was more than 57,000," she added. "Testing is an important tool in controlling the spread of COVID-19, and making testing accessible regardless of income or location is an important equity issue."
Eschenbacher has spent her days planning and data-modeling as it relates to higher education, consulting with specific institutions in the wake of outbreaks, guiding higher education testing, and organizing partnerships for case investigation and contact-tracing. She facilitates webinars and other information pieces about saliva testing, serves as state incident commander for community testing events, and helped coordinate mass testing of 18- to 35-year-olds prior to Thanksgiving. More recently, she has served as incident commander for a community vaccination site.
"It feels like a cliché to say this, but it is an absolute honor to do this work. We talk a lot about vocation at Augsburg, and I guess I would say that vocation can sneak up on you. I never would have dreamed of doing the work I've done since June, but it feels like purpose."
These are only a handful of the Auggies who are living out their passionate purpose to bring an end to this crushing pandemic and, in the meantime, to soften the blow.
---
Augsburg stories on COVID-19:
Top Image: Augsburg's coronavirus guidelines, including face coverings and physical distancing in classrooms and public places, helped protect Auggies from COVID-19. Professor and Chemistry Department Chair Joan Kunz instructs in the Hagfors Center. (Photo by Courtney Perry)