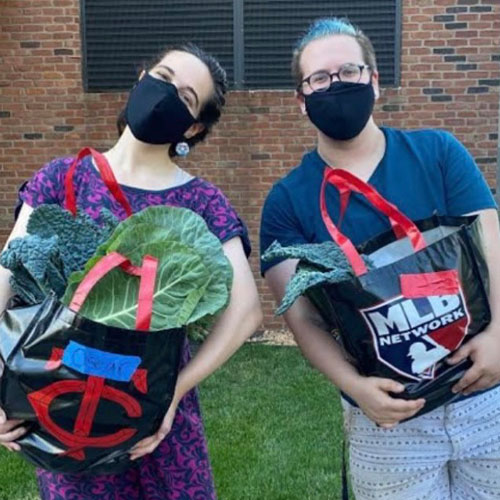 One November afternoon, Natalie Jacobson, coordinator of Augsburg's Campus Kitchen, opened an email from someone she didn't recognize. It was short and to the point: First-year Auggie Sam Kristensen '24 explained that he had collected 17 bags of canned and nonperishable food items from those who dared to enter his Halloween yard maze through a fog-lit skeleton shack and animatronic troll swamp. The business major said he was glad his ghoulish creativity could feed dozens of Augsburg students and residents in surrounding Minneapolis neighborhoods.
"The email made my week," Jacobson said. "We've been consumed with coordinated relief efforts; Sam's email was a great reminder that everyone and anyone can make a difference."
Kristensen is one of hundreds in the Augsburg community who have come together in both planned and unplanned ways to support those in need during the COVID-19 pandemic, which to date has infected an estimated 28 million and killed more than 500,000 Americans. From staff and students sewing and donating face masks to medical personnel advancing policies and caring for patients, members of the Augsburg community are making a lasting impact on the front lines of disease prevention and support. These are a few of the many stories of Auggies combating the virus and its effects with compassion, faith, and ingenuity.
Serving up hope
Jacobson manages donations like Kristensen's offering while working with a team of students and volunteers to facilitate integrated food access programs to address hunger on and near campus. According to the National Association of Student Affairs Administrators in Higher Education, more than 38% of students at four-year institutions are food insecure, and 15% are homeless.
Before the pandemic, Augsburg students accessed free food at the Campus Cupboard in the basement of Science Hall. Students could stop in five days a week to select a bag of fresh and non-perishable items, no questions asked. The Campus Kitchen also made outreach efforts to support community gardens and meals, rescue unsold produce at farmers markets, and educate the public about food as wellness.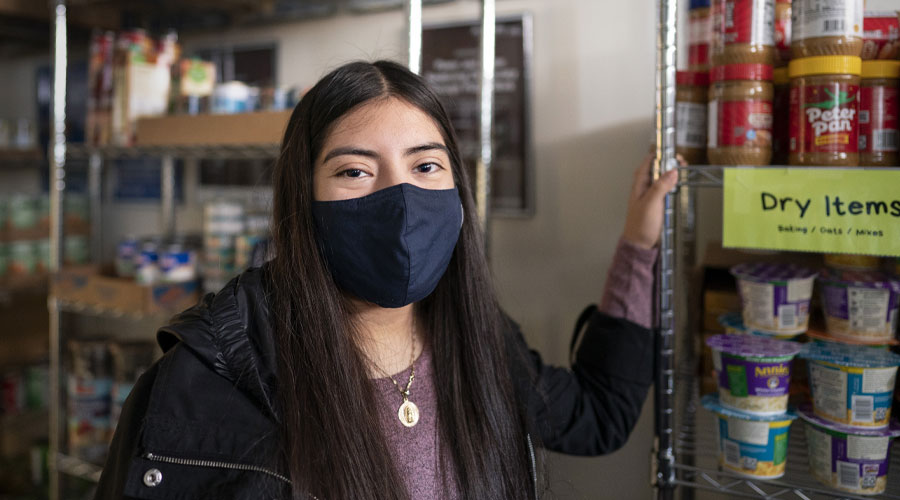 When the pandemic hit, Campus Kitchen turned up the heat. The team moved its refrigerators, freezers, and shelves of food to a large conference room in Augsburg's Sabo Center for Democracy and Citizenship. Campus Cupboard transitioned to an online order form, with student workers, like finance major Yamile Hernandez '22, delivering orders on campus or making contactless deliveries to students living in the Twin Cities. The cupboard serves between 25 and 75 students each week.
"It's rewarding to know we're helping others, especially in such hard times, and we're using up food that would have gone to waste."—Yamile Hernandez '22
"Many people have found themselves without a job or having less work, which makes it difficult to keep up with expenses," said Hernandez. "Having access to healthy, free food helps alleviate a bit of that stress."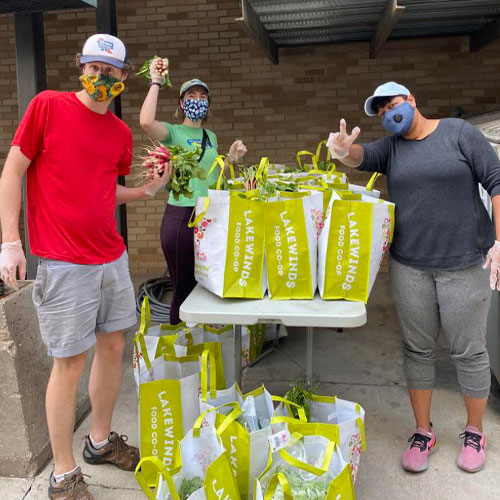 Campus Kitchen intensified efforts to address health and wellness disparities in neighborhoods surrounding Augsburg. Because so many organizations and community centers were already in partnership with Augsburg, Jacobson said, they were quick to respond to increased needs during the pandemic.
"We heard about an opportunity to apply for CARES Act grant funding on a Tuesday, and the application was due that Thursday. Campus Kitchen rallied together with the Health Commons, West Bank Community Development Corporation, and the People's Center to pull an application together, and we received $22,000, which we spent in a week on nonperishable food items, personal and household cleaning products, as well as food storage equipment, including refrigerators and freezers. The grant will enable us to provide students and neighbors with access to healthy foods on a regular basis and at an increased capacity."
In March, the Sabo Center launched the Neighborhood Food Initiative in partnership with M Health Fairview. The initiative brings together a variety of community partners to support collaborative approaches that increase access to healthy food in the Cedar-Riverside neighborhood.
"Since the summer, we have distributed food weekly to the West Bank CDC and People's Center," Jacobson said. "Many households in Cedar-Riverside now see this service as a key piece of meeting their basic food needs."
Drives of support 
Augsburg parking lots have been preferred drop-off locations for food and supply drives. In June and again in late September, Augsburg Women Engaged supported weeklong drives to support the Campus Cupboard and ShareShop, which provides students with free or for-rent bedding, games, clothing, kitchenware, appliances, and other home goods. The group collected 400 pounds of food and household supplies, plus $5,405 for the Campus Kitchen.
On June 1, Steve Peacock, community relations director at the Sabo Center, and a cadre of masked volunteers lined up in a parking lot near the edge of campus. The group collected donations from an estimated 550 cars that drove through during a two-hour drive to collect a number of items, mostly personal hygiene products and diapers, for the Brian Coyle Neighborhood Center nearby.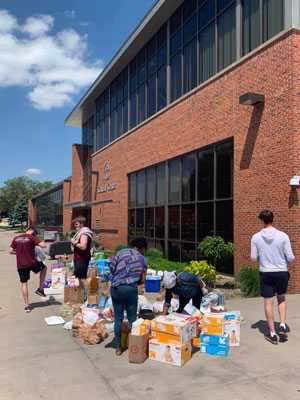 "We were absolutely overwhelmed by the outpouring of support and donations," Peacock said. "While we were out there, collecting items, we saw athletic teams lined up to collect supplies on the other side of the athletics complex. It's a testament to the innovative, community-focused, and generous spirit of Augsburg."
"Our mission to support students and be an anchor for the community seems relevant and central to our lives now more than ever."—Steve Peacock
Augsburg has also encouraged donations to the Student Emergency Fund, which was established last March to support students with financial hardships and provide relief for basic needs, including food, rent, transportation, and medication.
In the wake of George Floyd's death in May, Holy Trinity Lutheran Church in the Longfellow neighborhood of Minneapolis has distributed food to hundreds of neighbors each week. This summer, Augsburg Pastor Justin Lind-Ayres showed up with more than 25 Auggie students, staff, and faculty, most of whom didn't know each other, to serve food. "This was just one microcosm of the work Auggies have and continue to do across the Twin Cities," Lind-Ayres said. "The student body inspires and teaches me what it means to be 'informed citizens.'"
'Auggies are resilient'
Lind-Ayres and the Campus Ministry team have worked to provide moments of hope and belonging throughout the year. They shared prayers on their blog once a day from March to May and now post prayers weekly as a way for Auggies to lift up concerns and hopes for people and situations. On Fridays, the team has hosted 8 minutes and 46 seconds in chapel and on Zoom for "Silence, Prayer, and Pastoral Presence" to remember George Floyd and others and to focus on the call for racial justice. The Muslim Student Association, under the direction of Fardosa Hassan '12, has provided opportunities for safe, socially distanced Friday prayer.
In addition to leading reduced-capacity in-person worship in Hoversten Chapel, recorded worship, and virtual discussions, Lind-Ayres and University Pastor Babette Chatman '06 serve on the COVID-19 Response Team. This diverse group of staff members gathers up to five times each week to review COVID-19 cases on campus, engage in contact tracing, provide support for students in quarantine or isolation, and figure out ways to keep the community safe.
"We spend a lot of time on the phone or texting with students offering words of encouragement, answering questions, and troubleshooting issues together as we manage the realities of COVID-19 on campus," said Lind-Ayres.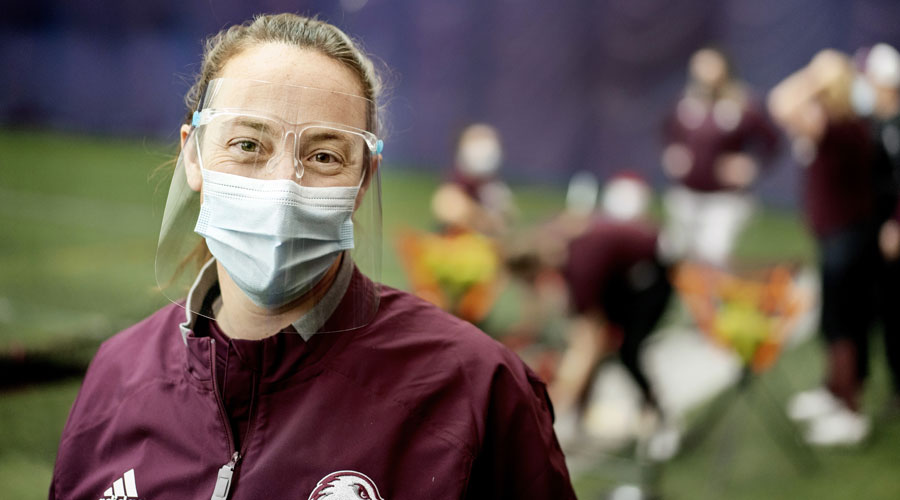 Melissa Lee '04, assistant athletic director and softball head coach, serves on the COVID-19 Task Force. Lee is one of several staff members responding to the helpline set up for Auggies to access the latest information and resources. In the spring, she and others were answering helpline phone calls and emails in shifts seven days a week. As traffic has decreased, phone calls go directly to voicemail. Team members respond to messages and emails as soon as possible.
To parents, students, faculty, and staff, Lee said, "Continue to be gritty. Continue to be safe. We can and will all get through this together. Auggies are resilient."
---
Augsburg stories on COVID-19:
Top Image: Auggies gather and distribute food and donations through programs like Campus Kitchen and Campus Cupboard. (Photo by Courtney Perry)