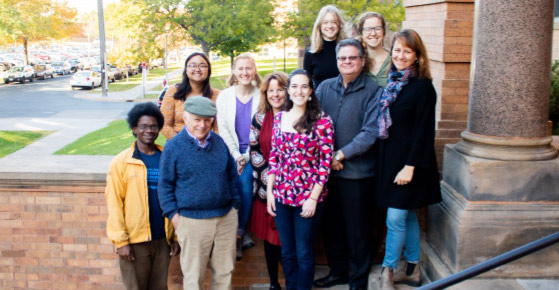 Visit us
The Sabo Center is located in the lower level of Anderson Residence Hall, just across the street from Old Main. Go to the door marked 720 (to the left of the stairs) on 21st Avenue, go down the stairs, and head into the office suite immediately on your left. View a campus map.
Staff
Elaine Eschenbacher, Executive Director
A civic leadership educator with over twenty years' experience, Elaine leads the Sabo Center's work to integrate civic and community engagement, experiential education, and democracy building. Prior to joining Augsburg University in 2009, Elaine served as associate director of the Center for Democracy and Citizenship at the University of Minnesota's Humphrey School of Public Affairs.
eschenba@augsburg.edu
612.330.1492
---
Natalie Jacobson, Campus Kitchen Coordinator
Natalie coordinates Augsburg's Campus Kitchen program, which works to make healthy food accessible in Cedar-Riverside and on Augsburg's campus. In her role, Natalie recruits, trains, and mentors students, co-manages food operations of daily meals at community partner organizations, coordinates the Campus Cupboard food shelf and Food Lab, coordinates community partnerships, and supports the on-campus community garden.
jacobsn@augsburg.edu
612.330.1484
---
Monica McDaniel, Sustainability Officer
mcdaniem@augsburg.edu
612.330.1253
---
Steve Peacock, Community Relations Director
Steve joined Augsburg in 2008 with nearly 20 years' experience in community development. As Director of Community Relations, Steve identifies and facilitates opportunities for Augsburg to strengthen its engagement as an anchor institution and community member in the Cedar-Riverside neighborhood of Minneapolis.
peacock@augsburg.edu
612.330.1583
---
LaToya Taris-James, Student Leadership Programs Coordinator
LaToya provides program and administrative support for Sabo Center student leadership programs including Campus Kitchen and LEAD Fellows—helping Augsburg students identify and foster their leadership skills and connect with the community around us. LaToya has a long history working in youth development and youth ministry in the Twin Cities, is a native of Minneapolis and enjoys connecting and building community with others.
---
Harry Boyte, Senior Scholar of Public Work Philosophy
Harry is Senior Scholar of Public Work Philosophy and co-founder with Marie Ström of the Public Work Academy. Harry founded the Center for Democracy and Citizenship at the University of Minnesota, and along with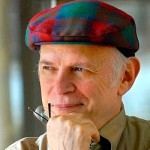 Dennis Donovan co-developed the international youth civic education initiative Public Achievement. Harry is a well-regarded lecturer, writer, and intellectual organizer on the topics of democracy and education, civic studies, public work, and organizing history.
boyte@augsburg.edu
612.330.1453
---
Dennis Donovan, National Organizer for Public Achievement
Dennis is the national organizer of Public Achievement, a theory-based practice of citizen organizing to improve the common good co-developed by Dennis alongside Harry Boyte. Dennis has worked as an educator since 1973, and as a speaker, trainer, and consultant with K-12 schools, colleges, universities, and community groups since 1997. Based at the Sabo Center, Dennis's work has local, national, and international reach.
donovan@augsburg.edu
612.330.1496