---
SUPPORT OUR WORK!
Donate now to support Food Justice at Augsburg and in the Cedar-Riverside community!
*Designate your donation to Campus Cupboard*
---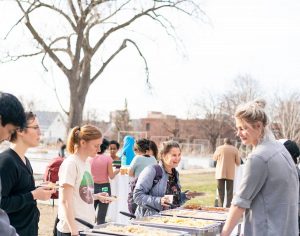 The Campus Kitchen at Augsburg University works to make healthy food accessible on our campus and in and around the Cedar Riverside Neighborhood to provide for basic needs, service learning, leadership development, and genuine engagement between the University and the community. We have three components that all work to make learning happen through connections with food and the community:
Food to Share: Meals served and grocery bags distributed by student employees, volunteers, and service learners to youth programs, seniors, and community centers. Most of the meals are created from the surplus food from Augsburg's dining services, and some is prepared from scratch. Grocery bags and other food distributions are sourced mostly from Twin Cities Food Justice and Loaves and Fishes.
Food to Grow: Over 80 community garden plots for neighbors, organizations, and the Augsburg community organizations to grow their own food. Communal plots are open for anyone to harvest from, and excess produce is incorporated into the meal program. Managed by Augsburg's Environmental Stewardship team.
Food to Know: Educational programming for students, neighborhood youth, and others help make the connection between food, health, and the environment. Participants develop cooking and gardening skills in addition to exploring other food issues.
Questions? Want to get involved? Email jacobsn@augsburg.edu or campuskitchen@augsburg.edu