Everything we do is built on education. Learning happens differently in our various programs. It could be cooking tips from local vegetable growers at Mill City Farmers Market, trying new recipes in the Food Lab during our cooking classes, working alongside lifelong gardeners in the community garden and watching how they design and manage a small but precious plot of soil, or the conversations we have when serving and eating with our neighbors. Read on to learn how you can get involved!
Campus learning
Food Lab Workshops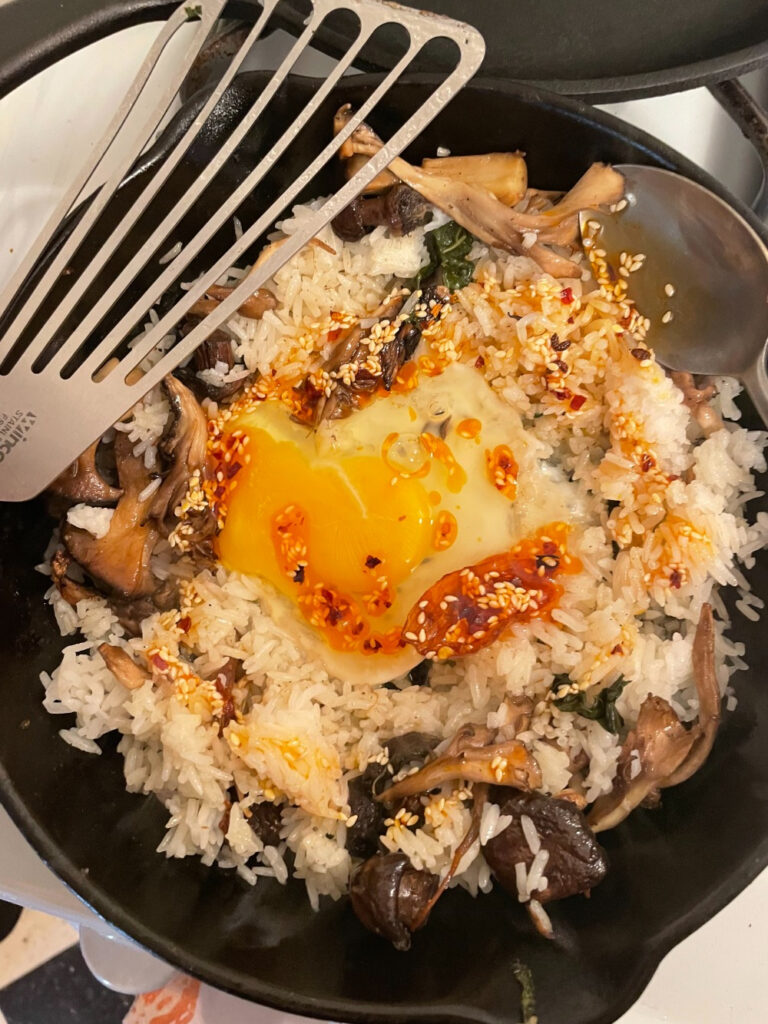 Campus Kitchen hosts cooking workshops in the Food Lab (Hagfors 108) almost every week throughout the year. Email campuskitchen@augsburg.edu to get added to the Food Lab email list and learn about upcoming events, and follow us on social media @ck.augsburg for exciting announcements and recaps.
The Food Lab is stocked with all kinds of cooking equipment, from stand mixers and sous-vides, to an apple cider press and a cotton candy machine! We've got all the basics covered too, plus a couple stove tops, a standard oven, and plenty of hot plates so everyone can get hands-on and involved at our cooking workshops. We also have a stock of basic ingredients, and everything necessary is provided (for free, of course!) at every single workshop and event we host.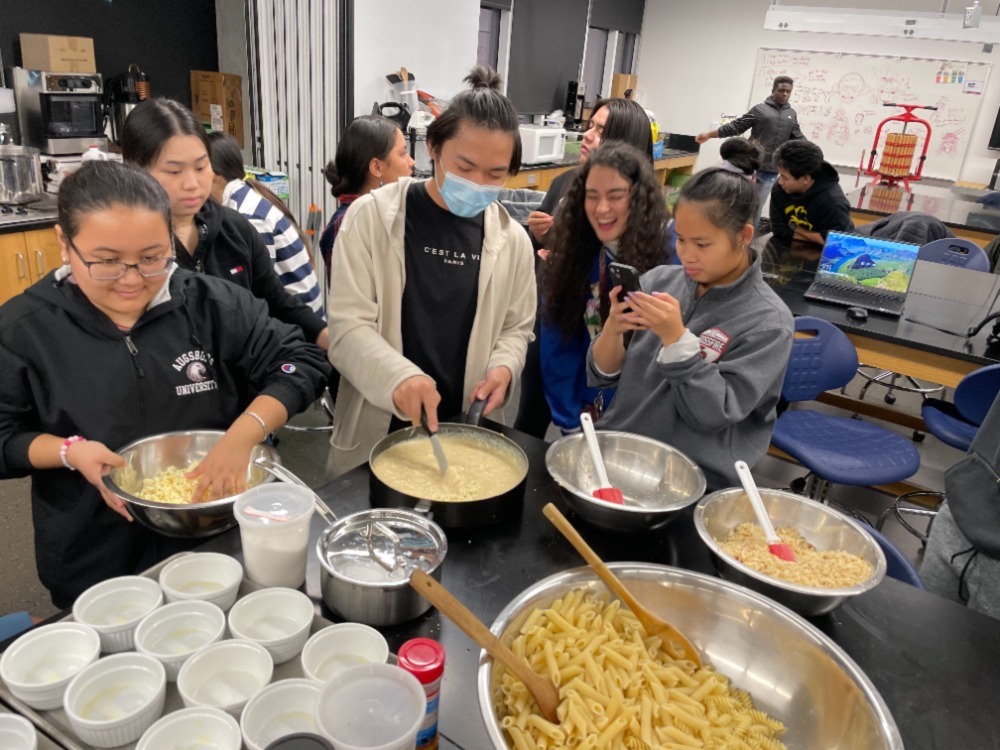 Some workshops we've hosted recently include: Cooking Fundamentals, Foods that Remind Me of Home, Upgrade Your Ramen, Homemade Ice Cream, Mandu (Korean Dumplings), Fried Rice, Hot Chocolate and Cookies, Salmon Bowls, Jollof Rice, Baked Mac n Cheese, Paejon (Korean Pancakes), Pupusas, Pickles, Pad Thai, and so much more!
Have an idea for a workshop? Let us know at campuskitchen@augsburg.edu or @ck.augsburg on Instagram!
Academic Courses
Campus Kitchen shares the Food Lab with the academic side of Augsburg. Courses offered in the Food Lab include (but are not limited to):
SCI 123 Food and Cooking: A survey of the underlying physics and chemistry relevant to food and its preparation. Topics include: molecular building blocks of food, phases and phase transitions, emulsions, foams, gels, fermentation, taste, soil, plants, self-assembly, microbes, and nutrition. 
HIS 170 Food: A Global History:

This course explores the human and historical dimensions of food. The cultivation and control of food supplies is. a basic function of all organized societies and polities. Shared food traditions and tastes shape cultural identities of particular groups. In short, food is at the center of human existence, and human history can be told as a story of how food has been produced, distributed and consumed. Taking a broad approach, the course traces changes in taste, production, trade and consumption, from the Paleolithic period to the twentieth century. With case studies drawn from China, South Asia, Europe, and the Americas, it offers a global narrative of world food history. Students will learn about the fascinating histories of certain key foodstuffs (e.g. sugar, wheat, chocolate, potatoes, bugs, etc.) and examine a number of critical themes, including consumerism, taste, industrialism, famine, and dieting. Learning will be enhanced by experiential components, including cooking, gardening, and visiting lectures. The course will introduce the concepts of historical thinking, using the "IGRASP" methodology (Inquire / Gather / Reflect / Analyze / Synthesize / Present). 

The Spring '22 iteration included a 9-day study abroad experience to Italy in March.

RLN 205 Interfaith Eating and Ethics: This course explores food as a central human experience, connecting people across the table and across the globe. Food serves as a core component of culture and religious traditions, from sacred meals to dietary laws to feasting and festivals. Food consumption and production also raises questions of ethics and social justice. The central questions of this course are: how do people use food to make sense of themselves, create meaning, and spiritual and human connection? And how do people use religious and spiritual commitments to think about food sustainability and justice?
Booking the Food Lab
If your group wants to use the space and supplies for your own gathering or event, contact us at campuskitchen@augsburg.edu to book a time or schedule a customized workshop with our support!
neighborhood learning
As an Anchor Institution, it's also important to us to make our resources available to Cedar-Riverside community members outside of the University.
Somali Women's Group
Pillsbury United Communities Youth Internship
Once a month, we welcome members of the PUC Youth Internship cohort to the Food Lab for a special cooking workshop. In addition to learning valuable kitchen skills, the interns get to explore a college campus and learn from our Campus Kitchen student leaders.