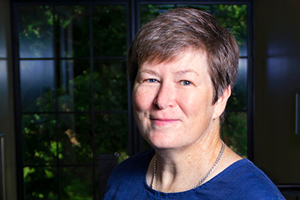 In early July, Augsburg welcomed Paula O'Loughlin as the university's provost and senior vice president following the retirement of Karen Kaivola. O'Loughlin previously served as provost and dean of the faculty at Coe College in Cedar Rapids, Iowa, and in leadership roles at Gustavus Adolphus College and the University of Minnesota–Morris. As the university's second-ranking officer after President Paul Pribbenow, O'Loughlin holds a critical leadership position, with responsibility for the institution's largest divisions, academic affairs and student experience and success.
"When we ensure access to higher education, we support social mobility in the aggregate and the opportunity to write one's own story for the individual," O'Loughlin said. "Augsburg's well-known intentional pursuit of these values calls me to join this community. The university is doing amazing work, and I'm excited to become a part of it."
Although she had yet to formally join the university, O'Loughlin attended the May meeting of Augsburg's Board of Regents. During the meeting, the board approved faculty emeritus status for:
Carol Enke, instructor of health, physical education, and exercise science;
William Green, M. Anita Gay Hawthorne professor of critical race and ethnicity studies and professor of history;
Tom Morgan, professor of business administration and leadership studies;
Diane Pike, professor of sociology; and
Phil Quanbeck II, associate professor of religion.
Sarah Griesse, who retired as dean of students earlier this year, was granted staff emerita status. The board also recognized four outgoing regents and thanked them for their distinguished service: the Honorable LaJune Lange '75, Toby LaBelle '96, Rev. Dr. David Tiede, and Steven Larson '71.
---
President Paul Pribbenow and Provost Paula O'Loughlin at Augsburg's 2022 opening convocation. (Photo by Rebecca Slater)