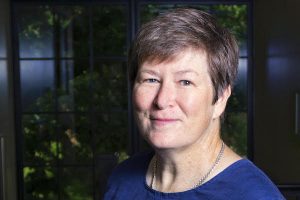 Augsburg University is pleased to announce that Paula O'Loughlin will become the university's new provost and senior vice president of academic and student affairs effective July 1, 2022.
As provost, O'Loughlin will assume a critical leadership position as the university's second-ranking officer after President Paul C. Pribbenow. She will serve as a member of the president's leadership team and oversee the institution's largest division, academic and student affairs, which aligns the academic program and other elements of the student experience under a unified approach to student learning and development.
"The Augsburg community is deeply impressed by Dr. O'Loughlin's career-long focus on preserving and widening access to excellent higher education; her experience with staff and faculty development; and her commitment to transparency, shared governance, and the healthy communal life of higher education institutions," Pribbenow said. "She was the top choice of each stakeholder group she met with during her candidacy."
"Members of the provost search committee are excited to welcome Dr. O'Loughlin to Augsburg University," said Tim Pippert, chair of the committee and Joel Torstenson endowed professor of sociology. "We were drawn to her straightforward communication style and her sincere desire to be part of our vibrant campus community. Her commitment to our mission made her an excellent choice as our next provost."
O'Loughlin will have wide-ranging responsibilities, including working with faculty, staff, administration, and the board of regents to implement the Augsburg150 strategic plan; providing oversight of planning, development, and administration of the academic program for graduate, undergraduate, and international programs; overseeing campus life, residence life, student support services, and advising; accreditation; academic and student affairs budgeting; and leadership of—and advocacy for—the faculty.
"When we ensure access to higher education, we support social mobility in the aggregate and the opportunity to write one's own story for the individual," O'Loughlin said. "Augsburg's well-known intentional pursuit of these values calls me to join this community. The university is doing amazing work, and I'm excited to become a part of it."
O'Loughlin has served as provost and dean of the faculty at Coe College in Cedar Rapids, Iowa, since 2016, and also served the institution as interim dean of students and Title IX coordinator. Prior to Coe College, she served in leadership positions at Gustavus Adolphus College and the University of Minnesota–Morris. She has also taught at Carleton College, Macalester College, and the University of Minnesota–Twin Cities. O'Loughlin earned her PhD in political science from the University of Minnesota and her bachelor's degree in government from Smith College in Northampton, Mass. Throughout her career, she has been recognized for excellence in teaching, service, and scholarship.
"Dr. O'Loughlin's skills, experiences in Minnesota's higher education landscape and in Lutheran higher education, values as a leader, and unique perspective will contribute to Augsburg as we continue our mission to educate students to be informed citizens, thoughtful stewards, critical thinkers, and responsible leaders," Pribbenow said.
About Augsburg
Augsburg University offers more than 50 undergraduate majors and 11 graduate degrees to approximately 3,200 students of diverse backgrounds at its campus in the vibrant center of the Twin Cities and nearby Rochester, Minnesota, location. Augsburg educates students to be informed citizens, thoughtful stewards, critical thinkers, and responsible leaders. An Augsburg education is defined by excellence in the liberal arts and professional studies, guided by the faith and values of the Lutheran church, and shaped by its urban and global settings. Learn more at Augsburg.edu.