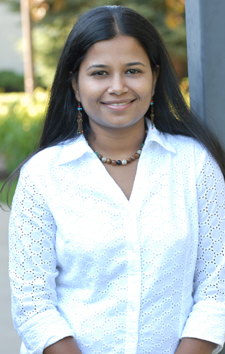 The Social Work program at Augsburg executes the vision of service learning and excellence in education at its best. A brilliant pool of scholars and humane teachers make the department stand out from many Social Work programs around the country. With diverse faculty expertise and versatile choice for courses and concentrations, the Social Work program at Augsburg is in the forefront of Social Work training and research.
The word "Guru" originated in my native country India. It means someone who is a spiritual guide and leads by example.  I draw my teaching inspiration from the connotation of the word.
I believe teaching is about building trusting relationships with students. I encourage my students to become life-long learners and critical thinkers. My facilitation style is based on participatory and active learning. I like to stir up thoughts and interests and help students identify their strengths. Humanity and flexibility in teaching without compromise on the learning quality is something I constantly work to get better at.
Education
PhD, Indiana University School of Social Work
MSW from Tata Institute of Social Sciences, Mumbai, India with specialization in Urban and Rural Community Development
B.A (Honors) English from Hans Raj College, Delhi University, India
Current Research Interests
Health Disparities Research
Gender and Poverty in developing countries
Marginalized Populations