Session I (seven weeks):  Mid-May through Early July AND/OR Session II (seven weeks):  Early July through Late-August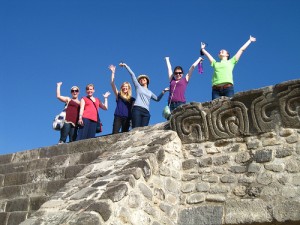 CGE-Mexico offers two seven-week summer sessions focusing on Spanish language and Mexican culture in which students can take two courses per session, plus a non-credit Latin Dance course. You may choose to participate in just one or both summer sessions for a total of eight or sixteen semester hours.
This community-based program includes multiple guest speakers, excursions to historical, cultural, and archeological sites, and group discussions designed to help you learn about the diverse cultures and current issues of Mexico. Weekend excursions include trips to Mexico City, Taxco, Puebla, and the Teotihuacan pyramids.
Location
The program is located in Cuernavaca, a picturesque city in central Mexico. It is well known as the "City of Eternal Spring" and as a center for innovative grassroots organizing. It is located about a  1½ hours drive south of Mexico City.
Course Offerings
Each course is the equivalent of 4 semester hours. In each summer session, students may choose two of the following available courses:
One or two of 16+ Spanish language courses
Spanish language options are:

Advanced Conversation and Composition
Beginning Spanish (1&2)
Business Spanish
Conversation and Composition
Conversations in a Cultural Context
Contemporary Mexican Literature
Contemporary Latin America Women: Texts and Voices
Intermediate Spanish (1&2)
Latin American Literature
Mexican Civilization and Cultures
Spanish for Ministry
Spanish for Heritage Speakers
Spanish for Health Care Professionals
Students can also undertake an internship or independent study in Spanish

Precolumbian, Colonial, and Contemporary Mexican Art (Art/Spanish 231) in English or Spanish
Internships can be taken for credit with a variety of organizations and businesses; specialized health-related or business internships can be combined with a medical or business Spanish class. Credit offered in business, environmental studies, history, interdisciplinary studies, language and cross-cultural studies, marketing, political science, religion, Spanish, women's studies, or youth/family ministry.
A non-credit physical education course in Latin dance
Be sure to check out all the course syllabi!
Spanish language instruction is provided by Mexican instructors at UNIVERSAL Center for Language and Social Communication, a high-quality language school near our Cuernavaca study center.  UNIVERSAL has served as the Spanish language school for Augsburg College programs in Mexico since 1979. Students take intensive Spanish lessons in small classroom settings, and the school also offers opportunities for private tutoring, specialized classes, or exchanges with Mexican students.
Housing and Homestays
Housing options include living in a CGE house, a homestay with a Mexican family, or a combination of these two living arrangements. Lesbian- and gay-friendly, vegetarian, and alcohol-free homestays are available.
Student Life in Mexico
The CGE campus in Mexico is a 15-minute walk from downtown Cuernavaca and the main city plaza, in the neighborhood of San Antón. CGE is well established in San Antón and has many friends and close connections in the neighborhood, including some of the homestay families. CGE is located at the top of one of the large ravines that runs through the city, offering a dramatic view from the nearby bridge that leads to downtown. Because of the ravine, there is a 100 foot waterfall right in the neighborhood, a local eco-tourist attraction.
Right across the bridge, students will find a large public garden/park, an independent movie theater, the Cathedral, and several popular cafés. CGE-Mexico's campus includes two houses across the street from each other with ample living and study space for students, a library, computer labs and wireless internet, kitchen and dining areas, and outdoor patios and gardens. The Universal language school, where students take Spanish courses, conveniently is located right up the street and has a swimming pool and racquetball court.
Blogs and Video
Be sure to take a look at our CGE-Mexico Field Blog to learn more about our programming and students' daily life.
Our You Tube Channel is a great resource for delving into program highlights.  Check out all the videos, including the below, which features our students discussing their general experiences with a focus on cultural learning.
Supporting a Diverse Community of Co-learners
The Center for Global Education strives to create for its participants an intentionally diverse community of co-learners where a variety of cultures and backgrounds is represented.
If you have questions about issues of diversity, multiculturalism, or oppression in regards to the site to which you will travel, please let us know during the enrollment process.
Pre-requisites
None.
Deadline
Acceptance decisions are made on a rolling basis with a final deadline of  April 1. Late applications are accepted on a space-available basis.
Cost
$5,500 per session (2014-15 academic year). Students who are enrolled in an upcoming CGE semester-long program or have already completed a CGE semester-long program will receive a 10% discount on the cost of the program.
Augsburg students: please review Summer Financial Aid to make sure you understand what types of financial aid you have available during the summer.