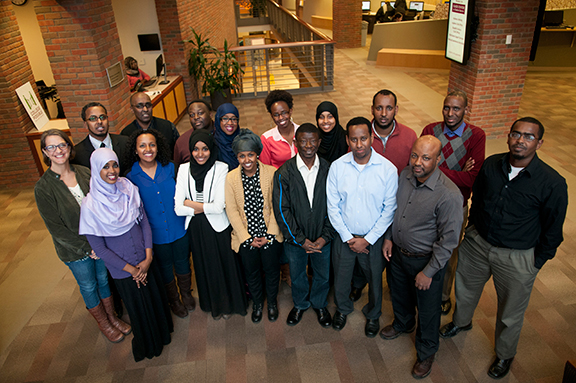 In early June, the House and Senate Education Finance Committees of the Minnesota State Legislature approved the Collaborative Urban Educator (CUE) bill, which allocates $190,000 per year to the East African Student to Teacher (EAST) program at Augsburg College. The main goal of the EAST program at Augsburg College is to graduate and license K-12 teachers of East African origin. The CUE fund also supports teacher training programs at Hamline University, Concordia University, and University of Saint Thomas.
The EAST program also received renewed support from the Marbrook Foundation. In June, trustees of the Foundation approved a grant of $15,000 to provide one-on-one and small group English language support as well as ongoing tutoring for the MTLE exam for the program's multi-lingual enrollees. This is the second year the Foundation has supported the EAST program.
Since the program launched in Fall 2013, three EAST scholars have successfully completed student teaching and obtained a MN teaching license, and two are employed as teachers in MN school districts. There are 13 additional students of East African origin enrolled in undergraduate and graduate Education programs at Augsburg's Minneapolis and Rochester campuses, three as undergraduates and ten as graduate students. With the sustained funding from the State, Augsburg's Education department will now accept a new group of EAST scholars to join the cohort. These students will begin coursework in the Fall semester of the 2015-2016 school year.
Thanks to everyone at the Capitol and in the community who have lent their support and encouragement to the EAST program!