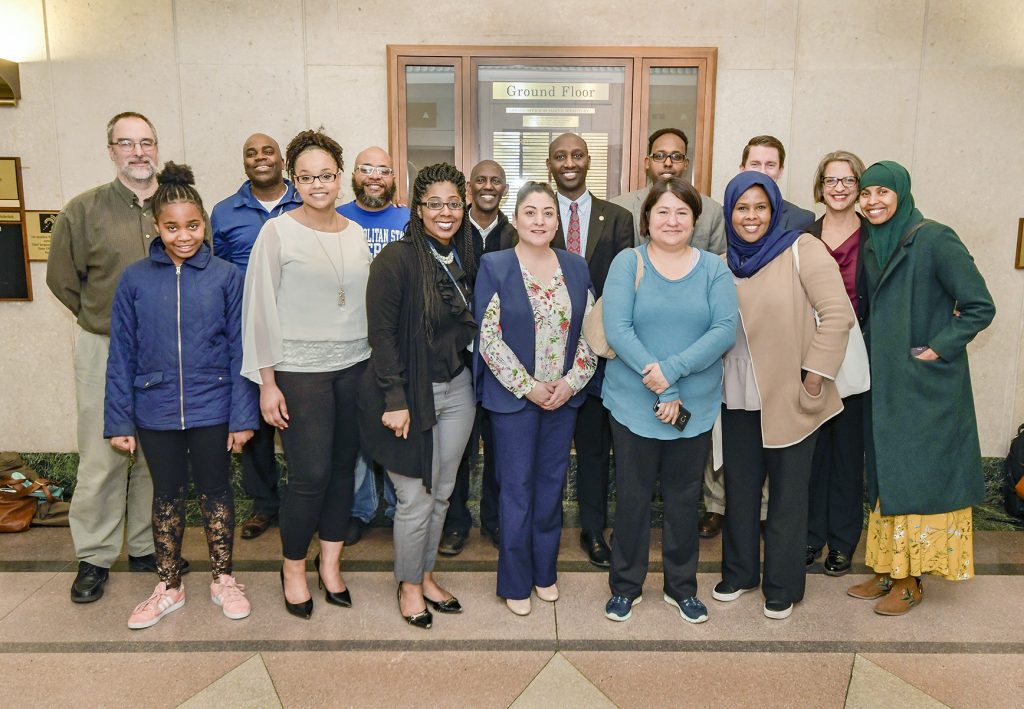 Minnesota lawmakers are again taking action to strengthen policies and programs focused on preparing the next generation of teachers in our state.
Thus far this legislative session, three Augsburg University students have testified in support of the Increase Teachers of Color Act of 2019 and other teacher diversity bills. Abdirizak Jama, Leyla Sahal, and Najma Abdille, all members of Augsburg's East African Student to Teacher (EAST) program, were joined at the capitol by fellow EAST Scholars and by faculty from Augsburg's Education department.
The EAST Program has been a recipient of the Minnesota legislature's generous Collaborative Urban Educator (CUE) funding since 2013. EAST is led by Program Director Dr. Audrey Lensmire and Program Manager Hana Salad. EAST scholars pursue Bachelor's or Master's Degrees in Elementary, Secondary, or Special Education. Ms. Sahal is pursuing a Master of Arts in Teaching with a concentration in Elementary Education. Ms. Abdille is pursuing a Bachelor of Arts in Education with a license in K-12 English as a Second Language. Mr. Jama is pursuing a Master of Arts in Teaching with a concentration in English as a Second Language.
Passing legislation to help attract, prepare, and retain more teachers of color and American Indian teachers in Minnesota has been the focus of the Coalition to Increase Teachers of Color and American Indian Teachers in Minnesota, a group spearheaded by faculty at Metro State University with support from Augsburg faculty and educators around the state.
Research has proven that a racially and ethnically diverse teacher workforce is crucial to the success and learning of students in our state. The EAST Program stresses the importance of culturally relevant mentorship and leadership in the teacher preparation process as well as tutoring and other direct support. To date, 41 students have enrolled in the program.
Augsburg is particularly grateful to Rep. Jim Davnie, Rep. Mohamud Noor, Rep. Hodan Hassan, Sen. Patricia Torres Ray, and Rep. Carlos Mariani, among many others, who have supported teacher diversity legislation during this and previous sessions.
Pictured above are education equity advocates from Augsburg University and Metro State University with Representative Mohamud Noor (center). EAST Scholar Leyla Sahal is pictured at right, alongside Program Director, Audrey Lensmire, and Program Manager, Hana Salad.