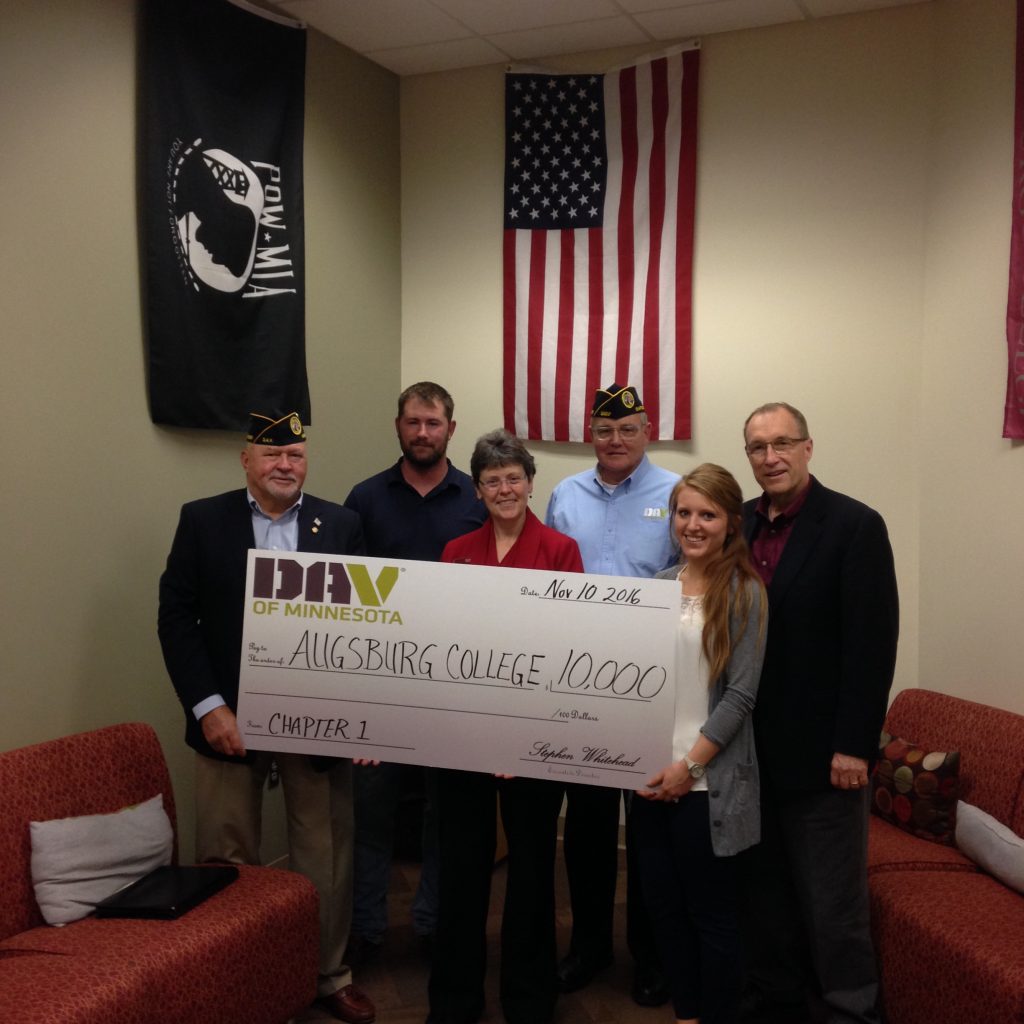 Thanks to a grant from the Disabled American Veterans of Minnesota (Chapter 1, Minneapolis), Augsburg College will offer two $5,000 fellowships to benefits-eligible veterans who enroll in the Master of Arts in Leadership (MAL) program or the Master of Arts in Leadership/Master of Business Administration (MAL/MBA) dual degree program.
Veterans will enhance their leadership skills and résumés through the new DAV Fellow in Public Scholarship program, which focuses on translating military skills into civilian leadership experience.
"We recognize the unique leadership skills that student veterans bring to their academic studies," said Augsburg College President Paul Pribbenow. "We also recognize that even though VA benefits offset most or all of tuition costs, there are still financial barriers to pursuing a graduate-level degree and securing a high-impact internship or job."
One of the key elements of the program is its focus on experiential learning.
"By carrying out a mentor-supported action project, fellows will hone both their leadership strengths and their ability to affect change in their communities," said Alan Tuchtenhagen, director of the MAL program. "From public speaking and research to coaching and mentoring, fellows will have opportunities to apply their knowledge through real work and experience."
U.S. News & World Report recently ranked Augsburg one of the Best Colleges for Veterans, acknowledging the College's participation in federal initiatives that assist  veterans and active service members as they apply, pay for, and complete their degrees. Augsburg also has been named a Military Friendly® School for each of the past two years. Military Friendly Schools are recognized for going above and beyond to provide transitioning veterans the best possible experience in higher education.
"One of the DAV's primary goals is to support the reintegration of veterans into society," said Jim Kline '01 MAL, Senior Vice Commander of DAV of Minnesota (Chapter 1, Minneapolis) and an Augsburg alumnus. "This fellowship will help veterans recognize how the skills they earned in service can be put to use in a business setting."
More than 120 Augsburg students identify as military members or veterans, and more than half of these individuals are eligible for full VA education benefits. These students are enrolled in Augsburg's traditional undergraduate, adult undergraduate, and graduate programs at its locations in Minneapolis and Rochester.
Happy Veterans Day to students, faculty, staff, alumni, and friends who have served.
Pictured Above (L to R): Mark Jaruszewski (Adjutant, DAV of MN, Chapter 1, Minneapolis); Ray Gabrau '18, Augsburg Student Veteran Representative; Ann Garvey, Vice President of Student Affairs; Jim Kline, '01 MAL, DAV of MN, Chapter 1, Minneapolis; Jenna McMorrow, '18 MSW, Veterans Integration to Academic Leadership (VITAL) intern; Alan Tuchtenhagen, Director, Master of Arts in Leadership Program.
Photo taken in the U.S. Bank Veterans' Lounge, Oren Gateway Center 110.