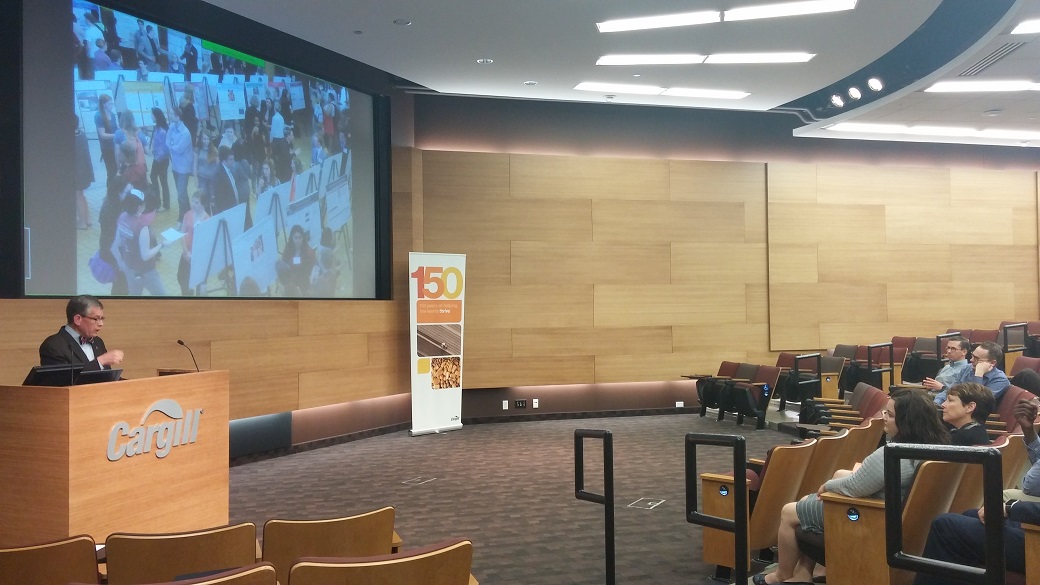 President Pribbenow gives keynote address at Cargill's Ethics Week
Christopher Annand, Masters of Business Administration '09 alum and Director of Global Ethics and Compliance at Cargill, created Cargill's Ethics Week three years ago when he first joined the organization. Each year Christopher has grown the events and programs occurring throughout the week and this year invited President Pribbenow to give the keynote address to a global audience of Cargill employees.
Cargill Ethics Week is an employee celebration facilitated by the Global Ethics and Compliance department in the month of May. For a five day period, the company provides employees a series of events, communications and reflections around Cargill's Guiding Principles, a set of seven principles that provides the foundation for the organization and its efforts across the world. In 2016, Ethics Week featured a kickoff podcast with the Chief Compliance Officer, Marcel Smits, a special Keynote Speaker address from Augsburg College President Paul Pribbenow and even a short cartoon featuring the animated versions of Cargill's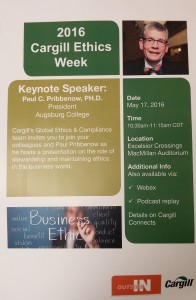 compliance leaders. Although the week has concluded, Cargill employees are reminded of the Guiding Principles on a regular basis, and this summer will welcome an updated version of the Code of Conduct in 22 different languages.
President Pribbenow's presentation, Promises to Keep: An Ethic of Stewardship, challenged the audience to understand when "remarkable gifts and pressing needs meet each other" and how to create abundance in the face of increasing demand for efficiency. Both Augsburg and Cargill are celebrating their 150th anniversary, have a global impact, address food sustainability, and work at being good stewards. Annand said "President Pribbenow's remarks on the role of ethics and stewardship in business clearly resonated with Cargill employees who understand the responsibilities we have with our communities at home and across the globe. Augsburg and Cargill have rich legacies in service and it was a great honor to have President Pribbenow share his observations and reflections with employees in Minneapolis and over 20 other countries."
Cargill has been a champion for Augsburg's mission by previously supporting the American Indian Scholarship Fund and the Minnesota Urban Debate League. Augsburg is proud of the Auggie alumni who have found a purposeful career path at Cargill and are striving to be great stewards of their remarkable gifts.
If you are interested in how your company can partner with Augsburg College contact Lee George, Assistant Director of Corporate and Foundation Relations at George2@Augsburg.edu.