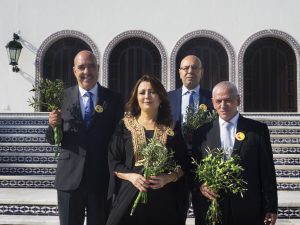 Augsburg College invites regional and national businesses and charitable foundations to consider sponsorship of the Nobel Peace Prize Forum.
Sponsors of this annual event will have a unique opportunity to send a delegation of leaders within their organization to engage in meaningful conversation with leaders and peacebuilders from across the globe.
The 2017 Forum will take place September 13th-16th on the campus of Augsburg College. This year, we welcome Tunisia's National Dialogue Quartet, the group awarded the 2015 Nobel Peace Prize for efforts to establish a pluralistic democracy in Tunisia. Other featured guests include Norwegian Ambassador Kåre R. Aas, explorer Ann Bancroft, Arizona congresswoman Gabrielle Giffords, Global Health Corps' co-founder Barbara Bush, and Yale University professor Elijah Anderson.
Through plenary sessions, workshops, and other events, the Forum will engage in national and international dialogues around the most pressing issues of our time. Dynamic speakers from across the globe will be invited to address the Forum's five pillars:
* Human Rights and Social Justice
* Environmental Sustainability
* Food Security and Economic Development
* Global Health Systems
* Disarmament and Conflict Resolution
More information can be found at nobelpeaceprizeforum.org.
Please contact Lee George at lgeorge@augsburg.edu or 612 330-1629 for more information on sponsor benefits, levels of participation, and more.