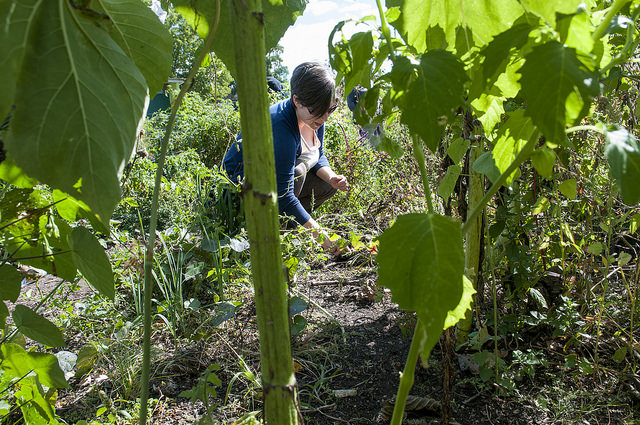 This fall, Augsburg University will launch initiatives to build capacity for integrating environmental sustainability across all curricular, co-curricular, and operational aspects of campus life.  
The initiatives are made possible by a grant from Margaret A. Cargill Philanthropies. The Minnesota-based foundation believes that college and university campuses can serve as models of operational sustainability to the society at large, testing practical solutions that others can adopt.
Augsburg will provide students with additional opportunities to pursue internships and other experiences at sustainability-focused organizations, help strengthen and expand course offerings in Environmental Studies, and work to integrate sustainability and wellness across the academic curriculum. Funds will be made available for student and faculty research, curriculum innovation, and more.
Projects will be supervised by Allyson Green, Augsburg University chief sustainability officer, Associate Professor Joe Underhill, Program Director of Environmental Studies, Emily Schilling, assistant professor of Biology and Environmental Studies, and Christina Erickson, associate professor of Social Work and Environmental Studies and Batalden Faculty Scholar in Applied Ethics.
"The next breakthrough in sustainability could come from a student majoring in communications, philosophy, or education," said Green, who also serves as director of the Campus Kitchen program. "For all of us to live on this planet sustainably and equitably, we need all perspectives, experiences, types of knowledge, and skill-sets to be part of the work. The breadth of this challenge is daunting, and an interdisciplinary approach opens immense opportunities."
Augsburg University President Paul C. Pribbenow believes that efforts to achieve sustainability must give consideration to the environment, the economy, and issues of equity.
"As a college of the Lutheran Church, we're called to prepare our students to address and overcome global challenges such as climate change, hunger and food insecurity, and limited access to clean water," said Pribbenow. "As a liberal arts institution embedded in a diverse, urban environment, we're accustomed to collaboration across disciplines and beyond the classroom. These important initiatives will better position us to meet these challenges head on."
This is the second recent grant the Margaret A. Cargill Foundation has awarded Augsburg. In 2015, the foundation contributed $1 million to the campaign to build the Norman and Evangeline Hagfors Center for Science, Business, and Religion.
Photo: Janet Morales, director of College and Career Partnership Programs, plucks vegetables from her plot in the Augsburg University community garden. The garden, which has about 80 plots, is open to members of the Augsburg University community and the Cedar-Riverside neighborhood.