Gage Center for Student Success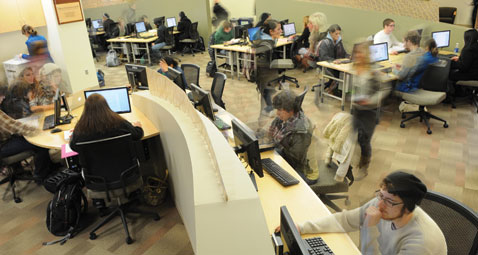 Welcome to the Gage Center! Designed to be accessible to all students, the Gage Center will assess individual student needs and strive to facilitate seamless student support, through the collaboration of Academic Advising, the Academic Skills Office, Disability Services (the CLASS Office), and TRIO/Student Support Services.
The Gage Center houses the Groves Accommodations Lab, which provides assistive technology and testing accommodations for students with disabilities, and the Groves Technology Center, a fully-equipped computer lab that is available to all students.
Tutoring and Supplemental Instruction is coordinated through the Academic Skills Office in the Gage Center. Tutoring can be requested through the Online Tutor Request form on their Website.
The Gage Center is located on the second floor, or "link level," of Lindell Library. The central reception desk is near the stairs, between the computer lab and the private meeting rooms, surrounded by our support offices.