Summer camps at Augsburg provide an exciting opportunity for regional students to experience life on a small college campus and to learn from the College's outstanding faculty and staff. Augsburg's unique location in the heart of Minneapolis gives students perfect access to all there is to see and do in our vibrant, diverse city. Find information below regarding camps and programs sponsored by Augsburg College, and discover additional details by following the provided links.
---
MINNESOTA DEBATE AND ADVOCACY WORKSHOP

Ages: Middle – High School
Register for the Minnesota Debate and Advocacy Workshop
AUGSBURG COLLEGE YOUTH THEOLOGY INSTITUTE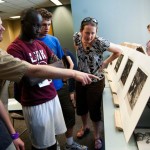 Ages: 15-18
URBAN SCRUBS CAMP
Ages: High School
HealthForce Minnesota and Augsburg College
Want to sponsor a camper? Donate to Urban Scrubs
MINNESOTA HIGH SCHOOL MATHEMATICS LEAGUE
Ages: Grades 8-10
Summer History Immersion Program (SHIP)
July 25-August 6
9 a.m. to 5 p.m. daily
Strengthen your college research skills
Twin Cities high school students entering grades 9-12 are invited to participate in the Summer History Immersion Program (SHIP), a two-week experience conducting and presenting intensive historical research and engaging with the Augsburg College community. Using resources provided by the Minnesota Historical Society and Augsburg College, SHIP helps students of diverse backgrounds build research skills and take part in the student life of a small, welcoming campus in the heart of the city.
Students will have the opportunity to:
• Earn a $500 stipend after successfully completing the program
• Learn from college students, library professionals, and Minnesota Historical Society staff about how to conduct research efficiently and effectively
• Engage in campus activities and learn about the college admissions process
• Enhance scholarly skills through research, analysis, and public speaking
• Stay overnight in a residence hall (optional), chaperoned by program staff
Apply online by Friday, April 15 at surveymonkey.com/r/SHIPAug2016.
For questions or more information, contact Gabe Reese at reeseg@augsburg.edu or
Ann Marie Yacobucci at yacobuca@augsburg.edu.
---
AUGSBURG ATHLETIC CAMPS
Visit the Augsburg Athletics summer camp page for more information on Augsburg coach and student-athlete led programs.
LET US HOST YOUR EVENT
If you are interested in hosting a summer camp or conference at Augsburg College, please visit the Event and Conference Planning website.