David B. Apolloni
Associate Professor and Chair of Philosophy
Hagfors CSBR 130
CB 110
612-330-1543
apolloni@augsburg.edu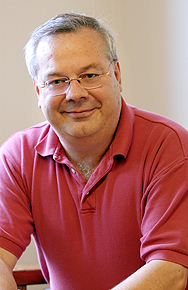 I came to Augsburg in 1989. Augsburg University has given me the opportunity to introduce students to the grandeur of their own heritage, to the history of Western thought (I am a Plato specialist) and to the arts (I teach aesthetics) while appreciating the positive contributions of democracy and capitalism to our civilization (I also teach business ethics), and the contributions of other civilizations.It is a pleasure to teach when students learn and change, and it is a magical moment when they can disagree intelligently with me on controversial philosophical matters. I hope that my courses will help students become more thoughtful and hence better people.
Education
B.A. University of Minnesota
M.Div. Luther-Northwestern Seminary
Ph.D. University of Minnesota
Publications
"Two Kinds of Naturalism," Sophia (September-October, 1996), pp. 13-38.
"Plato's Affinity Argument for the Immortality of the Soul," Journal of the History of Philosophy (January, 1996), pp. 5-32.
"A Note on 'Auta ta isa' at Phaedo 74," Journal of the History of Philosophy (January, 1989), pp.127-134.
The Self-Predication Assumption in Plato (Rowman and Littlefield, 2011).
Reply to Professor Gerson, The Bryn Mawr Review (May, 2012).